The Sol Project Announces SolFest: A Latinx Theater Festival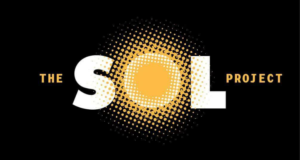 The Sol Project (Jacob G. Padrón, Artistic Director), the groundbreaking theater initiative dedicated to amplifying Latinx voices and building a body of work for the new American theater, is proud to announce dates for SolFest: A Latinx Theater Festival, produced in partnership with Pregones/Puerto Rican Traveling Theater (Pregones/PRTT). The festival will run from June 25-27 at PRTT (304 West 47th Street, New York, NY 10036). Lead support for The Sol Project comes from the Howard Gilman Foundation.

"SolFest is an exciting extension of The Sol Project's mission of amplifying and supporting Latinx voices in the American theater," said founding member of The Sol Project and producer of SolFest, Adriana Gaviria. "We are grateful to launch this summer festival in partnership with the venerable Pregones/PRTT."
SolFest will feature new work by three Latina playwrights: the work of Paola Lázaro on Monday, June 25; the work of Guadalís Del Carmen on Tuesday, June 26; and the work of Karen Zacarías on Wednesday, June 27. All presentations will begin at 7pm, with a pre-show mixer. Writers will receive up to 15 hours of rehearsal, culminating in a public sharing of their work each evening. Unlike traditional new work festivals, which culminate in a full reading of the play, writers will choose an hour of material to share at the end of their process. Each night will include a celebration and toast to each writer.
The festival will also include a special musical performance by MICHA (Michelle J. Rodriguez), who will close out the festival on its final night after the presentation by Karen Zacarías.
Rosalba Rolón, Artistic Director of Pregones/PRTT and member of The Sol Project's Honorary Board, stated, "This partnership with The Sol Project represents a new stage in our commitment to an expanding repertoire of new works by Latinx theater artists. It's especially fitting that we inaugurate SolFest at Puerto Rican Traveling Theater, in the heart of Manhattan's buzzing Broadway/Times Square district, and with a focus on women writers, as we labor to evolve and elevate the legacy of Miriam Colón and our very own Playwrights Unit."
Later in 2018, EL HURACÁN by Charise Castro Smith (Feathers and Teeth) will receive its world premiere production at the Tony Award-winning Yale Repertory Theatre in New Haven, Connecticut, in collaboration with The Sol Project. Directed by Laurie Woolery (founding member of The Sol Project & Director of Public Works for The Public Theater, As You Like It), the production kicks off Yale Rep's 2018-19 season. Performances begin on Friday, September 28, with opening night set for Thursday, October 4. The final performance is slated for Saturday, October 20, 2018.
ABOUT PREGONES/PUERTO RICAN TRAVELING THEATER
Pregones/Puerto Rican Traveling Theater is a multigenerational performing ensemble, multidiscipline arts presenter, and owner/steward of arts facilities in The Bronx and Manhattan. Our mission is to champion a cultural legacy of universal value through creation and performance of original plays and musicals, exchange and partnership with other artists of merit, and engagement of diverse audiences. Pregones was founded in 1979 when a group of artists led by Rosalba Rolón set out to create new works in the style of Caribbean and Latin American colectivos or performing ensembles. Soon established as a Bronx resident company with a home season, Pregones remains in the vanguard of an arts renaissance radiating throughout and beyond The Bronx today. Spurred by stage and film icon Miriam Colón, Puerto Rican Traveling Theater, aka PRTT, was founded in 1967 as one of the first bilingual theater companies in all of the United States. It is credited for nurturing the development of hundreds of Latino theater artists, legitimating creative connections throughout the Spanish-speaking world, and pioneering models for genuine community engagement. Following merger in 2014, our unified New York season plays a decisive role in empowering underrepresented artists and audiences to claim a place at the front of the American theater. Rosalba Rolón, Artistic Director. Alvan Colón Lespier and Jorge B. Merced, Associate Artistic Directors. www.pregonesprtt.org
ABOUT HOWARD GILMAN FOUNDATION
The Howard Gilman Foundation supports the most robust, innovative, and promising performing arts organizations in New York City. www.howrardgilmanfoundation.org.
ABOUT THE SOL PROJECT
The Sol Project is a national theater initiative dedicated to producing the work of Latinx playwrights in New York City and beyond. Founded by Artistic Director, Jacob G. Padrón and driven by an artistic collective, The Sol Project works in partnership with leading theaters around the country to amplify Latinx voices and build artistic homes for artists of color. Through the writers we champion, Sol aims to create a bold, powerful, and kaleidoscopic body of work for the new American theater. The Sol Project launched in December 2016 with the world premiere of Alligator by Hilary Bettis in collaboration with New Georges, followed by the New York premieres of Seven Spots on the Sun by Martín Zimmerman (Rattlestick Playwrights Theater) and Oedipus El Rey by Luis Alfaro (The Public Theater). The founding artistic collective is: Claudia Acosta, Elena Araoz, Adriana Gaviria, David Mendizábal, Kyoung Park, and Laurie Woolery. Brian Herrera is the Resident Scholar. Stephanie Ybarra is the Resident Dramaturg. Our partners include: Atlantic Theater Company, Berkeley Repertory Theatre, Cara Mía Theatre Company, Center Theatre Group, LAByrinth Theater Company, MCC Theater, New Georges, New York Theatre Workshop, Playwrights Horizons, Pregones/Puerto Rican Traveling Theater, Rattlestick Playwrights Theater, The Playwrights Realm, The Public Theater, WP Theater and Yale Repertory Theatre. Our honorary board includes: Raúl Castillo (HBO's Looking), Junot Díaz (Pulitzer Prize-winning author), Priscilla Lopez (Tony Award-winning actress), Sandra Marquez (Steppenwolf ensemble member), Edward James Olmos (Emmy and Golden Globe Award-winning actor), John Ortiz (co-star, Silver Linings Playbook), Tony Plana (ABC's Ugly Betty), Chita Rivera (Presidential Medal of Freedom), Diane Rodriguez (OBIE-winning actress, member of National Arts Council) Rosalba Rolón (Artistic Director of Pregones/PRTT) and Daphne Rubin-Vega (Tony nominated-actress, original company of Rent).
FOR MORE INFORMATION, VISIT