The Shakespeare Forum: A Tribe of Human Development
Love is the strongest choice. Or so sayeth the good folks at The Shakespeare Forum.
It was a cool autumn night in Manhattan and I was in a strange place - a basement space in a business establishment I neither knew nor knew the nature of. I was in a long white room filled with two rows of chairs that were filling up, with expediency. The room was soon at capacity and, still, people were coming in. At Eight pm, a woman stood before the full room to welcome everyone, yet the door continued to creak open for fifteen minutes, as more and more people filled the room. Eventually, there were some fifty or so bodies in the room, bodies sitting in chairs, bodies seated on the floor, bodies propped against the wall.
The Shakespeare Forum's Tuesday Night Open Workshop had begun.
For two hours, that night, actors acted. After some opening remarks from the creators of The Shakespeare Forum, a question was asked: "Who would like to work tonight?" Five actors were chosen, randomly, to rise (in no particular order, as each actor felt at their leisure) and, without introduction, perform a monologue. The monologues were mostly Shakespeare but The Bard was not required - any written word was welcome. After the first actor performed their piece, the woman leading the evening asked one question:
"How may we help you tonight?"
How may we help you? How may we help? May we help? It isn't a question that one actually hears very often throughout one's day. Sometimes a series of days may pass without a person reaching out their hand in the act of service; most of the time, the hands being stretched out before us are hands engaged in the act of taking, rather than that of bestowing. When that lady asked, "How may we help you?" I knew I had found something special. For two hours I watched different moderators help five different actors with five different needs. One was preparing for college auditions. One was freshening up a long-term audition monologue that had grown stale. One was performing because he wanted to act on his birthday. Every actor had a different story, a different need, and every actor had their needs met by the leaders of The Shakespeare Forum.
Helping others, it turns out, is what The Shakespeare Forum does.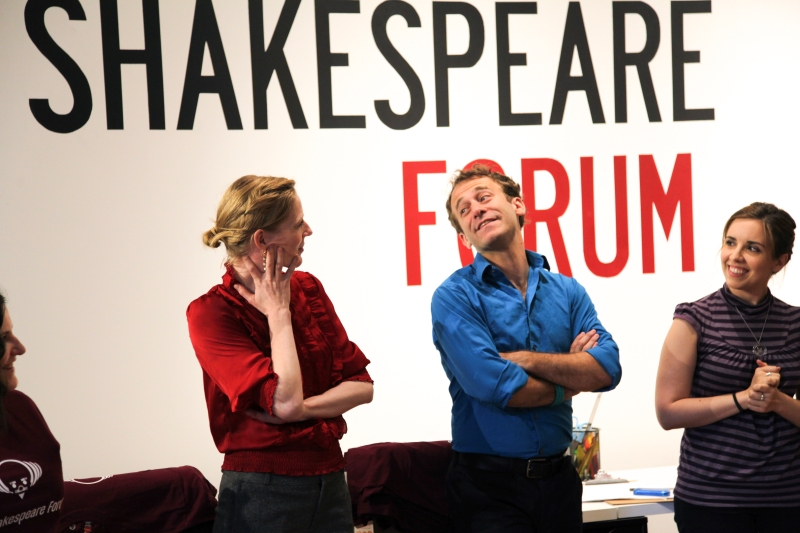 Thirteen years ago in the spring of 2009, Sybille Bruun and her husband Tyler Moss were a happily married couple made up of two theater artists with gifts in education, acting, and directing. They had no children but, unbeknownst to them, they were about to have an enormous family. The children would come later, and those children's lives would be informed by that family, a family filled with Aunties and Uncles and best friends, all born of The Shakespeare Forum. Spurred on by their friend, artist/musician Dotan Negrin, Tyler had an idea to spend one night a week exploring the works of William Shakespeare with like minds. Dotan was using a family-owned loft in Lower Manhattan as a home and a space to host a series of weekly salons focusing on varying topics, a forum where people could objectively discuss the arts: Monday was a general Creative Forum, Wednesday was Musical Theater-oriented, and so on, throughout the week. Moss approached Negrin about devoting Tuesday nights to Shakespeare and the creator of these weekly meetings blessed the idea, sending Tyler down a blissful rabbit hole. An ad in the Backstage trade paper led to the first night of Shakespeare Forum that included four guests... which was fine by Moss - the numbers didn't matter, what was important was the connection. Moss remembers thinking, "While I don't necessarily feel qualified commenting on the structure of a person's poem, I feel like a lot of people could contribute to an evening of Shakespeare. It was nice to discover things together and be excited together, and it grew from there." And grow, it did. From that first meeting with four people, the word of mouth spread like wildfire. Students from Stella Adler, NYU, and Circle In The Square started coming, and, with them, their classmates, until the Tuesday Night Forum of four morphed into an ever-growing family of friends, looking to play and to learn. Life got in the way of Negrin's original concept and the other meetings of the week fell by the wayside, while Tuesday nights in Negrin's loft continued to remain active. Then one year after starting the program, the Mosses moved their workshops into a new room at Space On White (Street), still in the downtown area of the city, and still focused on education and helping others.
Says Tyler Moss, "My experience, generally, in New York had been people having the philosophy, 'How much I can I take from you?' and I just wanted to do the opposite." Bruun, who was working on a degree at Pace as a teaching fellow, was excited about the prospect of incorporating her work at Pace into the couples' work on Tuesday Nights At The Shakespeare Forum. Together, Sybille and Tyler watched as the open room became more popular and more populated until they were averaging twenty people per workshop. A
teacher, Sybille can tend toward thinking in school timelines and has noted that each school semester, the average increased by ten to twenty people, which is how the Forum went from four to seventy within two years. And, then, there was an attendance explosion after the crowd-funded inaugural production of HAMLET, which was something of a surprise to Sybille Bruun. The producing of plays was not in the air during those early Shakespeare Forum years. Sybille and Tyler were interested only in education and in helping others, especially young people, children with special learning needs, which is why The Shakespeare Forum began offering classes, away from the Tuesday Night Open Forum Workshops. For Sybille Bruun, the organization was always about education, from the very beginning, and is so right up to today.
When you gather together a large group of people who love Shakespeare, there is bound to be a significant number of actors, and where there are actors, there is a wish to work, and people began asking Sybille and Tyler when they would begin producing plays. It hadn't been even the slightest thought in the Moss mindset to produce plays but, as the demands for play productions increased, the couple who had, first, met at the American Shakespeare Center in Staunton Virginia asked themselves if this was a direction in which they wanted to go. "People wanted more of what was happening on Tuesday nights than just on Tuesday nights. It's a natural progression of what happens when people like something and they want a little bit more of it," offers Tyler on the development of the theatrical aspect of this organization that was still (a few years in) a passion project for Sybille (who was continuing on the education track) and Tyler (who was working as a soccer coach). All through those first years, Sybille and Tyler did not view The Shakespeare Forum as a business, so much as a service; indeed, to this day, it is not the family's livelihood. Although there came a time when attendees of the Tuesday Night Forum began (optionally) donating five dollars to cover costs, and although teachers at the Shakespeare Forum are compensated for their efforts, Bruun and Moss make their livings away from The Shakespeare Forum and always have. Indeed, money coming into the organization, whether through ticket sales, classes, or donations was always put back into the educational programming.
"The programs were born out of the community of people coming to the Tuesday Night Open Forums. If you wanted an extra class, we were gonna figure out a way to make it work. There were times when we offered a scene study monologue class that only two people wanted, so we figured out a way to adjust what our programming was, and we got to mold that class to, specifically, what those two students wanted. Every program that we did was born out of what we heard were the community's needs and wants." says Tyler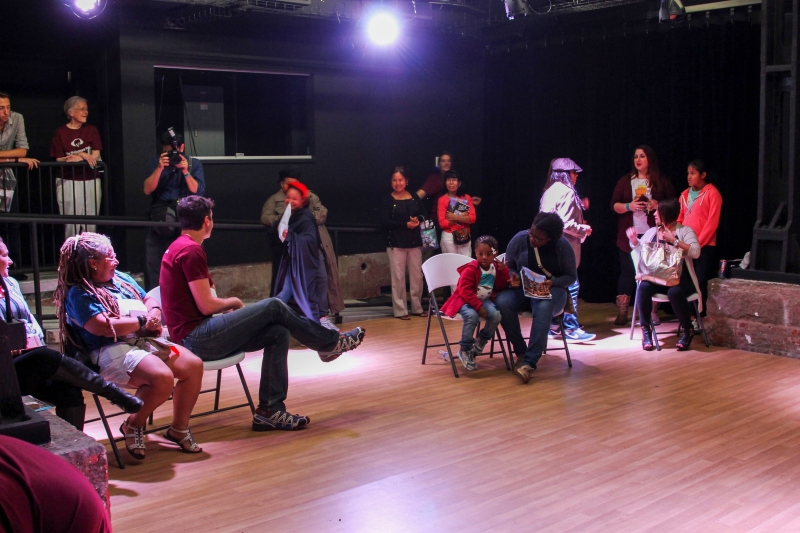 With the Shakespeare Forum community and family growing ever greater, and the requests for classes and play productions becoming more insistent, members of the community began stepping up, calling the Mosses, and offering their particular skills in service to the organization. Before long, Sybille and Tyler had a staff of volunteers, people who believed in what they were doing so much that they wanted to be a part of the organization that, a few plays and a few more years down the road, had found a permanent home in East Harlem, a community where Bruun and Moss were anxious to assist in restoring arts programs to schools where they had been cut. Residents of East
Harlem since 2009, the Mosses had heard tell of the El Barrio Art Space PS 109, a pre-existing old world school building rather reminiscent of Hogwarts, that was being re-envisioned as an arts complex: some of the building would be used to create offices, theaters, rehearsal rooms, and galleries, while the rest would be used to provide subsidized housing for artists living and working within the community. Sybille and Tyler began attending community meetings about the proposed complex, meetings where the leaders of the community began to know the Mosses and what they stood for; those leaders began to understand the couple's desire to help the youth of the neighborhood, and their wish to give something back to the community. Having been captured by the adorable and ardent couple, now parents to twin sons, those community leaders began to look more closely at the work of The Shakespeare Forum, even attending full-fledged productions of plays and some of the Tuesday Night Forum Open Workshops. It was not long before Sybille and Tyler got the good news that their passion project would have a new home and a place where the desire to teach could flourish in a community that, badly, needed it.
Of course, this kind of growth required a serious discussion about what, precisely, the mission statement of The Shakespeare Forum needed to be. There had been successful productions of Hamlet, Midsummer Night's Dream, The Merchant of Venice, and Love's Labor's Lost, complete with proper sets, and opulent costumes, in well-trafficked and respected theater spaces around the city, but those beautiful lush sets and costumes, and the advertising and rentals were, Bruun felt, a bit out of step with the place from which The Shakespeare Forum began.
Sybille Bruun remembers, "By the time we'd done Merchant of Venice and Love's Labors Lost, I looked at the budget and I said, 'We spent $30,000 (which, to me, was a lot of money) on that last play.' And I thought, 'We could have done so much education for that money.' So I called everybody and I said, 'We're not gonna do a show this year. We need to rethink what the community needs. I don't think what we need is another $30,000 production. I think we need to start working with each other in a different way.'"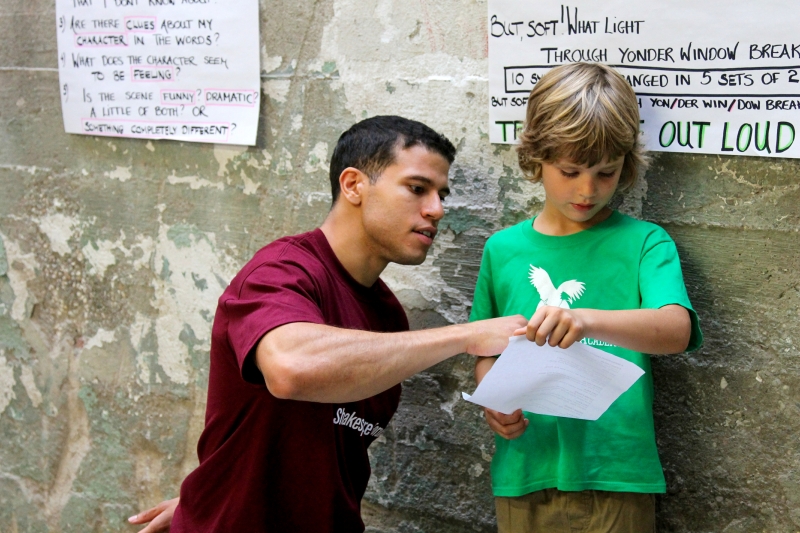 And with that, The Shakespeare Forum went full-on education, with Sybille Bruun Moss, a working member of the Department of Education, walking into local schools and saying, point blank, "Who's in charge? We want to do something here for free." And that 'for free' angle moved them to the front of the line, even though, Bruun observes, 'for free' can, initially, make some uncomfortable. Discomfort assuaged and everyone on the same page, The Shakespeare Forum became an artistic and educational home for East Harlem residents, as well as dedicated members of the pre-existing Shakespeare Forum family. Now, seven years later, the El Barrio space has been the meeting place of the Youth Forum, a program that is in addition to the school programs Bruun has created, where the children of East Harlem have grown up learning and performing Shakespeare, with no prior knowledge of The Bard. One of the first beneficiaries of these free arts programs was the Manhattan Center for Science and Mathematics (MCSM), a Harlem high school that had no arts education to speak of for its students. Each year, whether live in the Forum's black box space, on stage at the school, or online over zoom, the MCSM students have learned, rehearse,d and performed an abbreviated Shakespeare production. Local families have become involved in what the Mosses and their team of volunteers (who, now, are receiving some form of compensation for all their hours of hard work) are trying so diligently and
devotedly to give to the community. There have been day-long Shakespeare Festivals for the kids AND the grown-ups, where members of the Forum family like TV star Filipe Valle Costa and theater pioneer Claire Warden have taught, have socialized, and have given back to a grateful community. Some, like this writer, have openly wept when seeing children that they have watched grow from speaking their first lines of Shakespeare at age twelve to performing as bona fide actors in full productions at age eighteen. And all the while, The Shakespeare Forum family has grown stronger and greater, as some members have moved out of state and into new careers, and others have rotated in, bringing new blood and fresh points of view. Sybille and Tyler met their adopted child, Bowie Dunwoody, at a Tuesday Night Open Forum and proudly watched as Bowie, a trans/non-binary artist and activist, has introduced to the Forum family knowledge, wisdom, philosophy, and openness that is much-needed in an ever-changing world. And, in their El-Barrio space, The Shakespeare Forum began producing plays, once more, but plays with a greater focus on the words, on the material, on the deconstruction and reconstruction of the material, working a cross-pollination of cast members from every demographic and every neighborhood in New York City. Speaking personally, their productions of Henry V and Othello are the best Shakespeare productions this writer has ever seen... in a basement black box space in East Harlem. Of course, that was all pre-pandemic... but even a pandemic could not halt, in its momentum, the movement being created by The Shakespeare Forum.
When the pandemic hit and the quarantine locked down Manhattan, Sybille and Tyler took the classes for the young people and the Tuesday Night Open Forum online, and the community continued to stay active, virtually, teaching and Open Forum-ing with people all over the world ("We were able to help people in India, Israel, the UK, Fiji... literally Fiji!" exclaims Tyler) but, as rewarding as it has been to continue to help any and every person who wanted help, during the pandemic, the Mosses are grateful to be back in-person, once more. Zoom meetings are great but in-person is better, feels Sybille. "What we do best is build community," says Bruun, "and community building happens best in person. People need to be together; we've forgotten how to be together." And they, and their teachers, and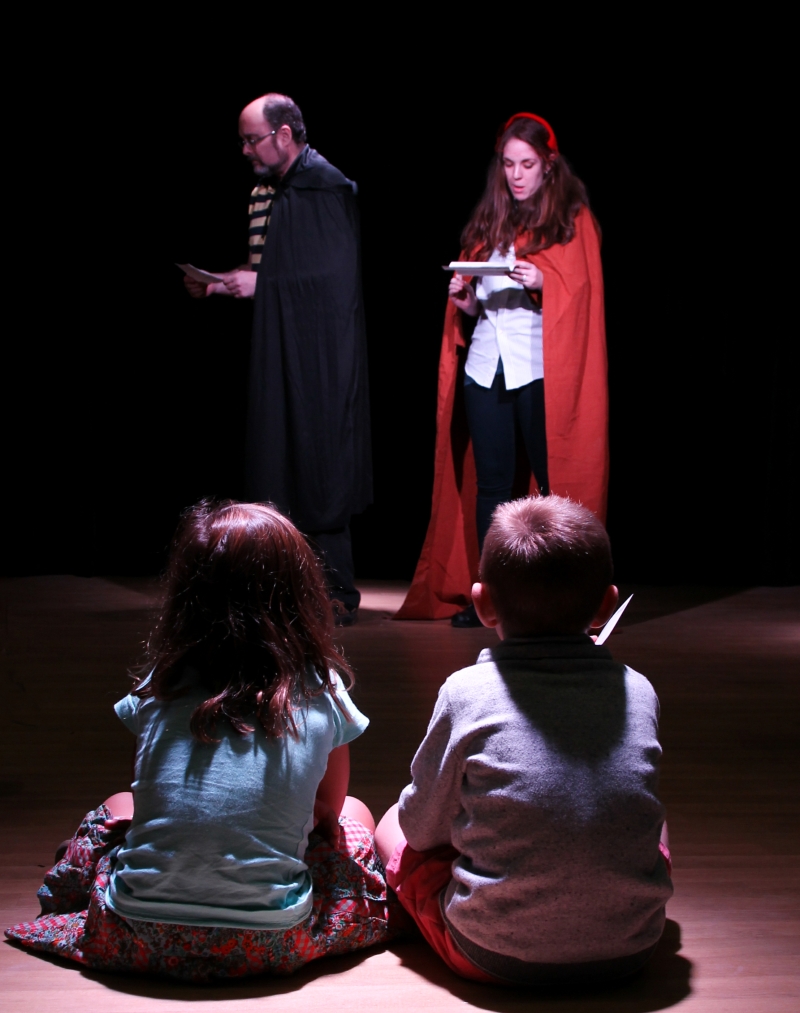 their students, and their fans and followers, are, indeed, back together. The Shakespeare Forum has resumed teaching in person at their El Barrio Space, with Covid precautions in place. The Tuesday Night Open Forum Workshop has resumed in the Midtown-Manhattan space that they have called home for nine years, again, with Covid precautions in place. Actors, teachers, civilians, students, and lovers of The Bard meet on Tuesday nights on Forty-Third Street at eight pm, where people perform Shakespeare or anything that resonates with them, and then they discuss, share ideas, learn, and commune. Students and actors can, regularly, be found in attendance, but so can English teachers and authors, pre-school professionals and personal trainers, and even the occasional stranger off the street who heard that something magical and personal was happening at the Clinton Cameo Studios on 43rd Street. For a recommended donation of five dollars, a person can sit, watch, listen, learn, choose to act, or choose to enjoy two hours of acting... all for five dollars (or for free) - and always with an eye on inclusivity and diversity. In fact, The Shakespeare Forum has a credo that is introduced at the start of the Tuesday Night Workshops, the values by which the organization lives, breathes, and which the members, joyfully and attentively, spread around them:
Values:
Love is the strongest choice.
Black Lives Matter.
Speak in draft. (meaning participate fearlessly)
All families are welcome.
Respect all self-identification (names, pronouns, race, ethnicity, etc.).
Prioritize all access needs - please let people know how they can support you.
Bruun, now a mother to three, takes a strong matriarchal position in her life and in her work, both in the schools and at The Shakespeare Forum, strongly declaring, "My job is to figure out where there's an entry point that can make your heart open and grow a little. Maybe you'll meet a friend - New York is very lonely. New York is a big place, and we all need a tribe. And I think that's what we tried to do, is make that tribe. We found our tribe, and that's why we're still here."
There is a family being built, a community, and a community of artists. This is a place where people of all walks of life can go to feel welcome, a place where people can spread their wings and grow, while feeling safe and seen. It's a place where spirits are being raised, in a time when happiness is a valuable commodity.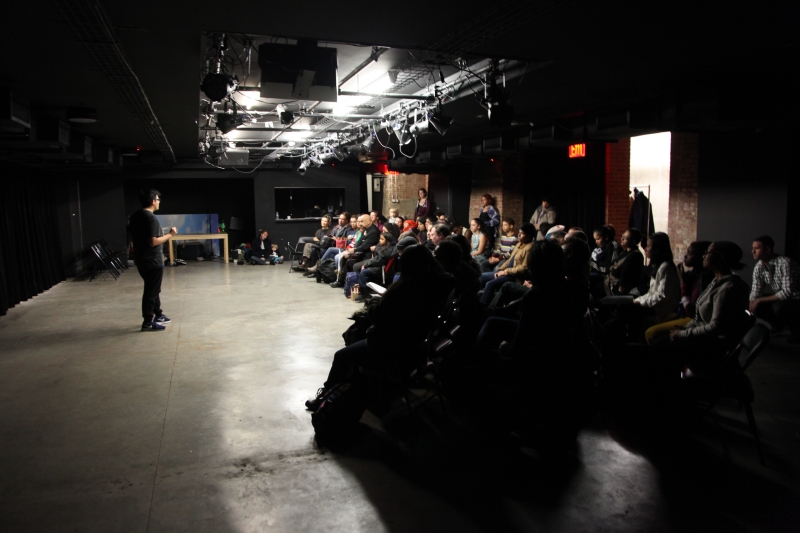 When asked how it feels to have survived so much change, a pandemic, the ever-evolving landscape of the arts, of education, and of the family that makes up The Shakespeare Forum, each of the Mosses has something different, yet similar to say:
Tyler: "The Shakespeare Forum is who comes. We are always adjusting to what the room needs and to the people in the room. We look at who's there, and we say, 'What do you guys in the room need tonight?'"
Sybille: "I care about how to understand, how to get people to be in a space to hear what they need to hear, and help them grow. And I think that we do teach Shakespeare, but I also think we teach skills. We teach how to breathe with yourself and how to be okay with who you are. I think it's a space about acceptance. If people are looking for a community, if they're looking for a home that doesn't expect anything of them other than to show up and be a human that is looking for other humans to connect with, we want to be that home. We want to be that space where people can come."
Learn about The Shakespeare Forum by visiting their website HERE.
Anyone May Attend a Shakespeare Forum Open Workshop on Tuesday nights at Clinton Cameo Studios (307 West 43rd off 8th Avenue) at 8 pm-wheelchair accessible. The Open Forum Workshops are free, a five-dollar recommended donation can be applied by cash in-person or Venmo (@TheShakesForum). Donations to The Shakespeare Forum can also be made HERE.
Masks and Proof of Vaccination are required. Performers may act without their masks at a safe social distance from the audience if they are comfortable doing so.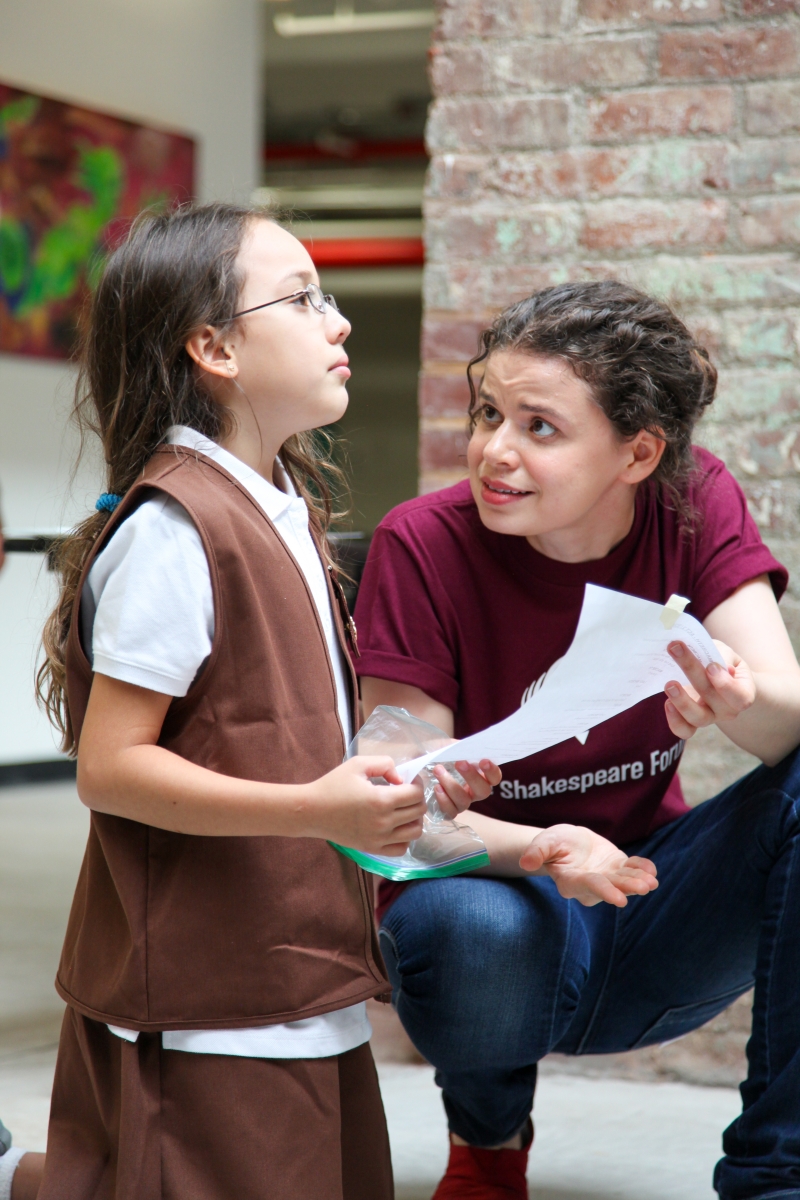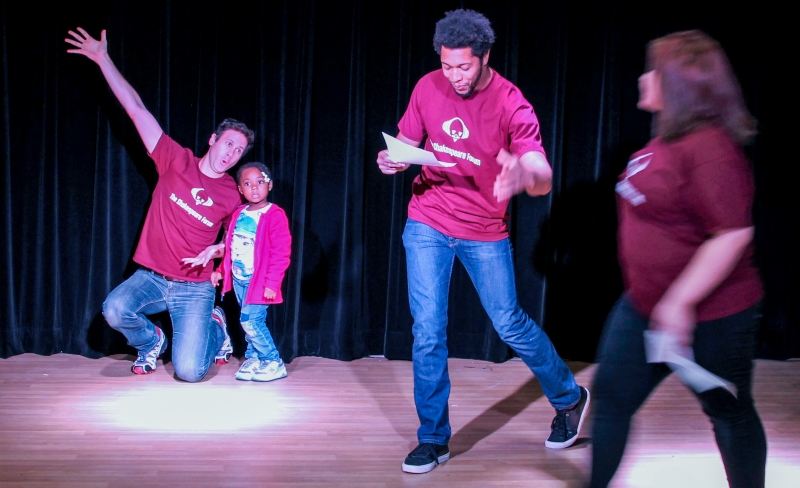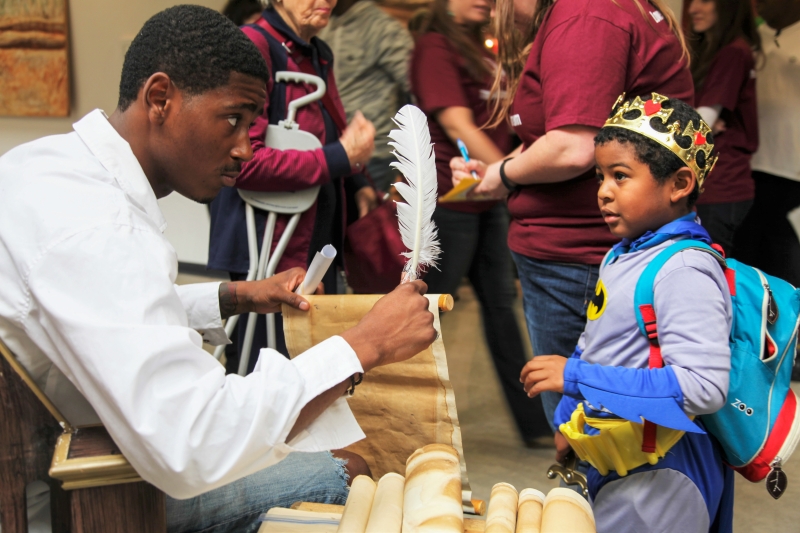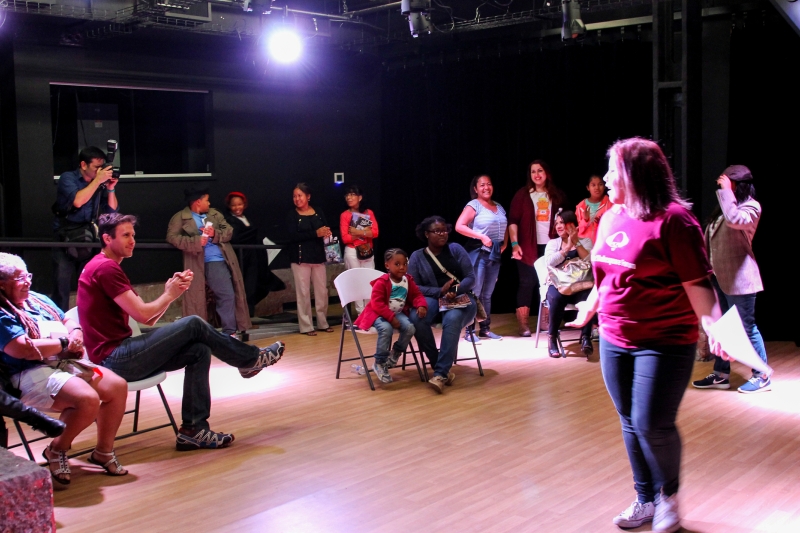 Photo Credit: Stephen Mosher