Photo Flash: Vital Theatre Co Presents THE KLEZMER NUTCRACKER
VITAL THEATRE COMPANY is pleased to announce its family holiday offering, "THE KLEZMER NUTCRACKER," a stunning new production with dancing, wit and magic galore. Based on the book The Golden Dreydl by award winning fantasy author, ELLEN KUSHNER. The production features music by PETER ILLYICH TCHAIKOVSKY, arranged by MICHAEL McLAUGHLIN & David Harris and performed by THE SHIRIM KLEZMER ORCHESTRA, a book by ELLEN KUSHNER, direction by LINDA AMES KEY, and choreography by BETHANY WHITE. All tickets are $25. Performances run December 5th through January 3rd, 2010, Saturdays and Sundays at 11am and 1pm. The show is appropriate for all ages. For reservations, visit www.vitaltheatre.org or call (212) 579-0528. VITAL THEATRE COMPANY is located at 2162 Broadway, 4th Floor, at 76th Street, on the Upper West Side.
"THE KLEZMER NUTCRACKER" tells the story of Sara, who is miserable at the family Chanukah party. But when mysterious Tante Miriam arrives with the gift of a Golden Dreydl, everything changes. The Dreydl is an enchanted princess in disguise and whirls Sara away on an exciting adventure through a magical world. "THE KLEZMER NUTCRACKER" is a delightful spin on the traditional story of "The Nutcracker," and weaves together threads of Jewish folklore with fantasy, humor and holiday cheer for all.
The cast includes LAURABETH BREYA, KIRI CHAPMAN, LAUREN GRAY, ASHLEY MARINELLI, CHRIS RYAN, LUKE TUDBALL, ELIZABETH MARIA WALSH, ANDREW WHEELER and BETHANY WHITE.
ELLEN KUSHNER (Book) is the host and writer of the award-winning national public radio show PRI's Sound & Spirit, a co-production of WGBH Radio, Boston, hailed by Bill Moyers as "the best show on public radio!" With the band Shirim, she created the original radio version of The Golden Dreydl: a Klezmer "Nutcracker" for Chanukah (winner of a Gracie Allen Award), which was then released as a CD on Rykodisc. In 2007 an expanded chapter book, The Golden Dreydl, appeared from Charlesbridge publishing, and in 2008 Vital Theatre commissioned a full-scale theatrical version. Ellen Kushner is also a performance artist and award-winning fiction writer for teens and adults. Her short fiction for young readers based on fairy tale and folklore appears in the award-winning anthology The Coyote Road: Trickster Tales and in Troll's Eye View, and her novel Thomas the Rhymer (World Fantasy Award, Mythopoeic Award) is considered a modern classic of mythic fantasy. Her most recent novel is The Privilege of the Sword (NYPL "Best Books for the Teen Age, Nebula nominee, Tiptree Honor Book, Locus Award). A popular public speaker, she is also a co-founder of the Interstitial Arts Foundation. She lives in New York City.
THE SHIRIM KLEZMER ORCHESTRA (Music) features some of the most respected and experienced virtuosos of the klezmer movement. Band leader Glenn Dickson was the klezmer soloist in the Hollywood film "A Stranger Among Us," and the band was featured on the soundtrack of Woody Allen's "Deconstructing Harry." Based in Boston, Shirim has four recordings out on Newport Classic and Northeastern Records. The members of THE SHIRIM KLEZMER ORCHESTRA also perform in "Naftule's Dream", an avant jazz/klezmer band which has recorded four albums on John Zorn's Tadzick/Radical Jewish Culture label. Shirim is internationally recognized for rocking renditions of classic klezmer and Yiddish music as well as fresh and creative innovations.
LINDA AMES KEY (Director) has directed TWILIGHT LOS ANGELES: 1992; BANG BANG YOU'RE DEAD (Fringe First Winner, Edinburgh Fringe Festival); THE LARAMIE PROJECT (Fringe First Winner); THE LARAMIE PROJECT, Cochrane Theatre, London; ANTON IN SHOW BUSINESS, THREE DAYS OF RAIN, BRINK OF LIFE, THE LARAMIE PROJECT, KATHY AND MO, WHATEVER WILL BE with Dreamcatcher Rep; 365 Days/365 Plays for Gansfeld: EMBRACING FREEDOM, REMEMBER THE DREAM for the Ellis Island Foundation; LONE STAR GRACE, RITA FAYE PRUITTE by Suzanne Bradbeer and FLYER by Kate Aspengren for Six Figures Theatre Company; FULL BLOOM, THE RISEN CHRIS, BETHLEHEM, MY WIFE'S COAT and OVERHEAD for Vital Theatre; A (TOOTH) FAIRY TALE, MY NEW YORK and THE NASTIEST DRINK IN THE WORLD for Vital Family Programming; ALISON'S HOUSE and OF SLEEP AND SHADOW at the Mint Theatre Company, NIGHTS AT THE CIRCUS, CLOWNING THE BARD and CLOWNING THE BIBLE at FringeNYC, DEGAS IN NEW ORLEANS at E.S.T's Oktoberfest. As a producer: Vital Signs 9,10 & 11, Andria Laurie's THE AWAKENING, Sherry Kramer's WALL OF WATER, Katt Lissard's DARK LANTERN and Watermark's Wordfire Festival featuring David Cale and Dael Orlandersmith. She has served as Director of the Mint Process Company, NY Liaison for Mannie Manim Productions, South Africa; Brink Productions, South Australia; State Theatre of South Australia and Melbourne Theatre Company; Artistic Director of Six Figures Theatre Company for five years: US Drama at Greenwich Academy. She was the Producing Director and is now the Education Director of Vital Theatre Company in NYC.
THE KLEZMER NUTCRACKER team includes Choreographer BETHANY WHITE, Set Designer KYLE DIXON, Lighting Designer LOIS CATANZARO, Costume Designer KATE MINCER and Production Stage Manager LEAH MCVEIGH.
Located on New York City's Upper West Side at 76th Street and Broadway, VITAL THEATRE COMPANY commissions four to five new musicals for children each season. Since its founding in 1999, Vital Theatre Company has been honored with two AWARDS FOR EXCELLENCE by the Off Off Broadway Review and received high acclaim from audiences and critics alike for being "a wonderful place for parents to introduce their kids to the glories of live theatre, done well and at modest prices." Now in its 11th season, the company is dedicated to producing entertaining and educational theatre for young audiences. To date, the company has presented 49 original productions for over 156,000 children and their families.
Photo credit: Steven Rosen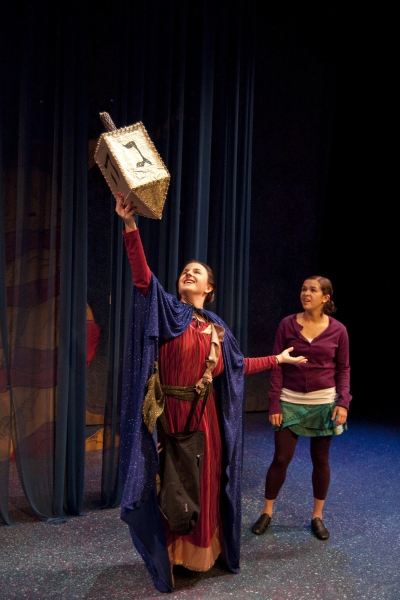 Bethany White and Laurabeth Breya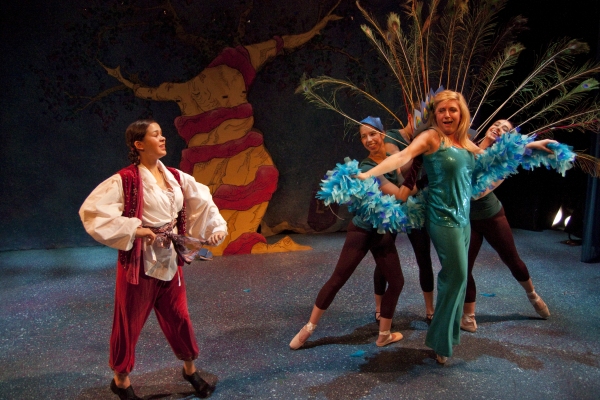 Laurabeth Breya, Elizabeth Maria Walsh, Lauren Gray and Ashley Marinelli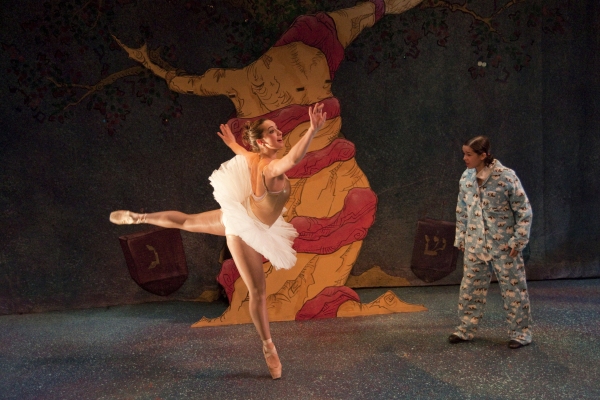 Ashley Marinelli and Laurabeth Breya
| | |
| --- | --- |
| Vote Now for the 2022 BroadwayWorld Off-Broadway Awards | |
| voting ends in | |