Photo Flash: SHEILA Makes World Premiere at A.R.T./New York Theatres
The Associates proudly present the world premiere of SHEILA, created and written by The Associates, and directed by Jamal Abdunnasir. SHEILA runs from January 12 - 27, 2018 in a limited engagement at the Jeffrey and Paula Gural Theatre at the A.R.T./New York Theatres, located at 502 West 53rd Street between 10th and 11th Avenues in New York City. Previews begin January 12 for a January 14 opening.
Performances are Tuesdays - Sundays at 8pm. Tickets are $18 (general admission), $35 (reserved seating) and $10 (students and seniors), and can be purchased at https://www.artful.ly/store/events/13762. Post-show talkbacks with the cast and company will take place on January 18, 23 and 25. The running time is approximately 80 minutes. September 1987. The edge of town. Gloria opens her door to the woman she hasn't seen since she disappeared from home ten years ago. Mary sees the face that has haunted her memories of childhood and dreams of womanhood. But the reflection that the women seek in each other is dimmed and distorted by the years of silence. How did they get here? Did one of them take a wrong turn, or were they driven apart? A thrillingly intimate drama, SHEILA pits two women against the world: not to conquer it-to survive it. But what chance do they have to decide the terms of that survival? The Associates state, "When we began devising this play in 2015, we felt the need for representation of women onstage, both in the theater and the public forum, acutely. We wrote SHEILA because we wanted to turn up the volume on the outrageous paradox of female existence in this country. Now, that need has only grown more impossible to neglect. As the current surge of women's stories hits the news, the critical question behind SHEILA - what choices do these women really have? - is becoming more urgent, more necessary." The Associates devise plays through a collective process of confession, confrontation, and dissent within the company. They create stories at the intersection of their personal nightmares, cultural taboos, and current political landscape, where differences among them become the engine of dramatic action. They often cast their audience as characters within these stories, savoring the reality of their presence in real time and blurring the lines between author, character, performer, and audience. They aim to subvert the contract of theater, which ordinarily insulates audience from the world of the play, so that they can encounter sticky and strange ideas through new forms of dream logic and associative thinking. The cast includes
Peregrine Heard
and
Lauren LaRocca
. The production team includes Brittany Vasta (Set Design), Tyler First and Victoria Bain (Lighting Design), Mark Van Hare (Sound Design), Isabelle Coler (Costume Design), Emily Fischer (Production Stage Manager), Casey Worthington (Producer) and
Stanley Bahorek
(Associate Producer). The A.R.T./New York Theatres are a project of the Alliance of Resident Theatres/New York (A.R.T./New York), which provide state-of-the-art, accessible venues at subsidized rental rates, plus free access to top-line technical equipment, so that the city's small and emerging theatre companies can continue to experiment, grow, and produce new works. Founded in 1972, A.R.T./New York is the leading service and advocacy organization for New York City's 375+ nonprofit theatres, with a mission to assist member theatres in managing their companies effectively so that they may realize their rich artistic visions and serve their diverse audiences well. They accomplish this through a comprehensive roster of real estate, financial, educational, and community-building programs, as well as research, advocacy, and field-wide initiatives that seek to improve the long-term health and sustainability of the industry. Over the years, A.R.T./New York has received numerous honors, including an Obie Award, an Innovative Theatre Award, a New York City Mayor's Award for Arts & Culture, and a Tony Honor for Excellence in the Theatre. The theatre is accessible from the A, C, E train at 50th St. or the 1, A, B, C, D train at 59th St./Columbus Circle. For more information, please visit
http://www.art-newyork.org
. The Associates are five actors, Jamal Abdunnasir,
Peregrine Heard
,
Lauren LaRocca
, Emily Stout and Casey Worthington, who met as apprentices at Actors Theatre of Louisville and rehearse together year-round as playwright-performers. This is their fourth season. The Associates were nominated for a New York Innovative Theater Award for Outstanding Original Script for their production of Black Protagonist. ARTIST BIOS
Peregrine Heard
's (Artistic Director) New York credits include Chuck Mee's Soot & Spit, Piehole's Ski End (New Ohio), Power Couple (
Ars Nova
ANTFest), Frontiéres Sans Frontières (Bushwick Starr), Black Protagonist (124 Bank Street) and Freesome (The Brick). Her regional credits include
Jon Jory
's
Tom Jones
and Remix 38 at the Humana Festival (Actors Theatre of Louisville). Peregrine earned her BA in East Asian Studies from Yale.
https://www.peregrineheard.com
Jamal Abdunnasir is a Brooklyn-based actor. He most recently performed at The Guthrie in Refugia, an original play by The Moving Company. His other regional theater credits include Our Town, Remix 38 (Actors Theatre of Louisville) and Superior Donuts (
Geva Theatre
Center). TV credits include ABC's "Forever." He holds a BA in Theatre from SUNY Geneseo.
Lauren LaRocca
is an actor and theater-maker whose credits include Baltimore Center Stage, Actors Theatre of Louisville, and
Williamstown Theater Festival
. She has helped develop new plays with Yale Repertory Theater, The Oregon Shakespeare Festival, 600 Highwaymen, Clubbed Thumb, The Bushwick Starr, and the NYC Fringe Festival, from whom she received an award for Overall Excellence in Acting. She is currently pursuing a master's degree in Applied Theater from the City University of New York. Emily Stout is a Coloradan in the Big Bad Apple. Her credits include A Christmas Carol and Rules of Comedy at Actors Theatre of Louisville. Along with her work with The Associates, she is a proud member of AEA and Actors Theatre of Louisville's 2013-2014 Professional Training Company. Casey Worthington is a Brooklyn-based performer. In addition to his work with The Associates, he writes and acts on camera with Means of Productions. His work on stage includes 4000 Miles at American Stage and The Totalitarians at Capital Stage.
Photo Credit: Casey Worthington


Peregrine Heard (Mary), Lauren LaRocca (Gloria)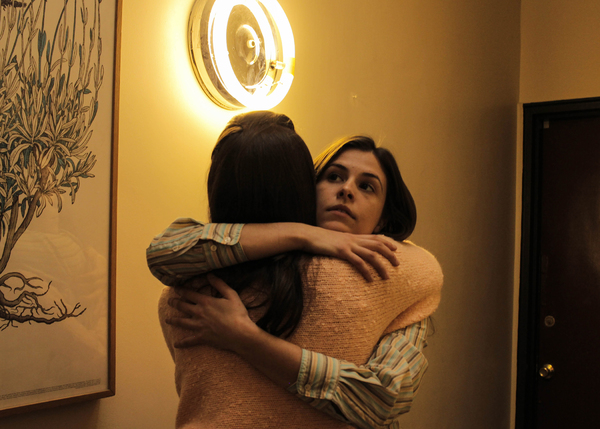 Peregrine Heard (Mary), Lauren LaRocca (Gloria)

Peregrine Heard (Mary), Lauren LaRocca (Gloria)
More Hot Stories For You