New York Musical Festival Announces Performers For Joe Iconis Songwriting Workshop And Student Leadership Project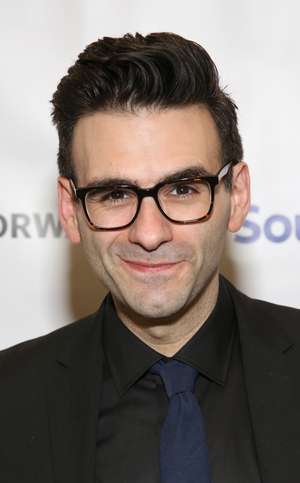 The New York Musical Festival (NYMF) has announced the performer lineup for the 2019 Songwriting Workshop public masterclass, led by NYMF Honorary Chair Joe Iconis and Ben Bonnema, and Head and Heart, a presentation from NYMF's Student Leadership Project. The public masterclass will take place on Tuesday, July 30 at 6pm at The Laurie Beechman Theater (407 W 42nd Street). Head and Heart will take place on Saturday, August 3 at 1pm at The Alice Griffin Jewel Box Theatre at The Pershing Square Signature Center (480 W 42nd Street). For tickets and more information visit nymf.org/tickets.
The Songwriting Workshop led by Joe Iconis and Ben Bonnema (The Apple Boys, Peter Panic, Boys Who Tricked Me) led a dozen participants through an intense songwriting process as they created new and original tunes. On July 30, their music will be presented by Broadway performers in front of Joe Iconis, who will provide feedback and lessons on the craft of songwriting.
The songwriting workshop's public masterclass will feature performances by Cartreze Tucker (Motown Nat'l Tour), Vishal Vaidya (Groundhog Day), Jane Bruce (Jagged Little Pill), Amanda Savan (The Royal Family of Broadway reading), and Crystal Lucas Perry (Ain't No Mo' - Lucille Lortel Winner).
Additionally, NYMF announced the cast and creative team for the Student Leadership Project presentation of Head and Heart, which showcases the talents of composers and performers from ages 18 to 25. This year's concert focuses on the tensions of logic vs. emotion. Head and Heart is directed by Miranda Cornell, music directed by Chloe Geller, and produced by Mackenzie Engeldrum, with stage manager Laurel Ledesma, casting director Chelsea Thiessen, and marketing director Joyce Lee.
Head and Heart will feature performances from Jovan E. Watlington, Christina Jimenez, Bryan Freedman, Melody Munitz, Caroline Mixon, Carmen Bell Wiley, Abiola Israel, Mitchell Turner, Corey Ryan, and Nikolai Granados. Songwriters include Peter Charney, Jack Saleeby, Max Kasler, Gwen Wilkie, Adina Kruskal, Alex Goldie Golden, Belle Shea, Hannah Tobias, Spencer Robelen, Erin Reifler, Adam J. Rineer, RJ Christian, Annabelle Lee Revak, Ethan Riordan, Sarah Kaufman, Alex Shelbourne, O'Neill and Savage, Alec Steinhorn, and Jordan Knitzer.
For tickets and more information, please visit nymf.org.
Now in its sixteenth year, the 2019 New York Musical Festival opened on July 8th and runs through August 4th, with Mainstage productions performing at The Alice Griffin Jewel Box Theatre at The Pershing Square Signature Center, Readings held at The Stavros Niarchos Foundation Rehearsal Studio, and Concerts taking place at the Laurie Beechman Theatre, all on West 42nd Street in New York City. Scott Pyne serves as NYMF Executive Director and West Hyler serves as Producing Artistic Director.
In recognition of his 2019 Tony Award nomination and his history as a NYMF Alum, Joe Iconis (Be More Chill, Broadway Bounty Hunter) is the 2019 NYMF Honorary Chair.
Photo Credit: Walter McBride / WM Photos