Lauren Ann Brickman Goes From Understudy To Star In Lisa Lampanelli's STUFFED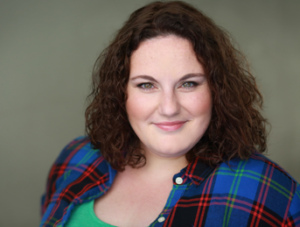 Comedian Lisa Lampanelli and producer Rachel Karpf announced today that understudy Lauren Ann Brickman will star as "Marty" in Lampanelli's new play, Stuffed. Brickman, who stepped in to the show two days prior to first preview, has been performing the show nightly since it began performances on October 5.
"As a newbie in theatre myself, I was shocked and awed at how well Lauren embodied this character and fit seamlessly into the show with only 48 hours' notice," said Lampanelli. "In preview after preview, she proved that she has what it takes to make the perfect Marty - so I am thrilled that she has agreed to step up from understudy and join the cast. I didn't think these fairy-tale stories really happen in the theater, but happily they do."
Brickman is a performer at the Upright Citizen's Brigade, a member of Story Pirates, and co-host of "Falling in Love with Trip & Brick," a podcast on iTunes.
Opening night, originally scheduled for October 19, will now take place on October 31, 2017 at The Westside Theatre (Downstairs, 407 West 43rd Street). Tickets are available by visiting Telecharge.com or by calling 212-239-6200.
STUFFED currently stars Lampanelli, Marsha Stephanie Blake (NYTW's Othello, "Orange is the New Black"), Lauren Ann Brickman (Upright Citizens Brigade, Story Pirates) and Eden Malyn ("House of Lies," "Orange is the New Black"), with understudies Dionne Audain (Top Ten) and Angela Janas (Hamlet, Rosencrantz and Guildenstern Are Dead). Jackson Gay (These Paper Bullets!) directs.
The four characters in Stuffed are a lifelong dieter, a bulimic, a confident overweight gal, and a permanent size-zero. The play features Lampanelli's famously irreverent voice, signature wit, and an extra-large scoop of razor-sharp insight into the crazy-making world of our relationships with food. With Lisa onstage, alongside a talented cast, Stuffed doesn't shy away from tough questions like: Is eating an ice cream sandwich in the shower as emotionally fulfilling as it sounds? When it comes to jeans, what's better -- muffin top or camel toe? And, if Oprah, the most powerful person in the world, can't conquer her food issues, what can the rest of us do but laugh as we try?
The creative team for Stuffed includes set design by Antje Ellermann (Dear Elizabeth), costume design by Jessica Ford (These Paper Bullets!), lighting design by Amith Chandrashaker (FADE, [PORTO]), sound design by Elisheba Ittoop (Duat), and casting by Stewart/Whitley. Additional material was contributed to the play by Ashley Austin Morris.
The New York premiere of Stuffed was produced in 2016 by WP Theater, formerly known as Women's Project Theater (Lisa McNulty, Producing Artistic Director, Maureen Moynihan, Managing Director) and directed by Jackson Gay.
The performance schedule for Stuffed is as follows: Monday at 7pm, Tuesday at 7pm, Thursday at 7pm, Friday at 8pm, Saturday at 2pm and 8pm, and Sunday at 3pm and 7pm.
Tickets range from $75-$85, with premium tickets available from $95-$105.