Jared Zirilli, Pico Alexander, and Nick Imperato to Lead PANTRY BOYS Reading at the Atlantic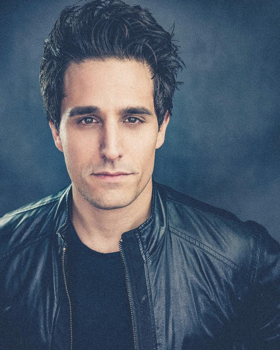 Pantry Boys, a new play by Daniel Sauermilch, directed by Carl Andress (The Divine Sister), and featuring Pico Alexander (Punk Rock at MCC, upcoming feature film "Home Again"), Jared Zirilli (Romance Language, Pretty Filthy with The Civilians) and Nick Imperato (Antony & Cleopatra: Infinite Lives) will be included as part of the Potomac Theater Project's (PTP/NYC) After Dark Series. Stage Directions will be read by Toria Asquith. The reading will take place on Friday, August 4th at 10:15pm, at Atlantic Stage 2, 330 West 16th Street (between 8th and 9th Avenues) 866-811-4111. Admission is free and reservations are recommended via email: PTPAfterDarks@gmail.com.
To see the full After Darks listings, please visit http://www.ptpnyc.org/after-dark.php.
PTP/NYC is a member of the Ghostlight Project. This season's After Dark Series, curated and produced by Eric Marlin, will be focused on the work of the project. PTP/NYC is an Off-Broadway powerhouse of veteran and emerging talent creating socially and politically acute theatre for the 21st century. In its 27 seasons, the voices of PTP/NYC's writers have addressed the necessity and difficulty of art, homelessness, censorship, pornography, AIDS, totalitarianism, apartheid and gender wars- always in passionate, deeply human terms. Playwrights whose work is often seen on the company's stages include Howard Barker, Caryl Churchill, Harold Pinter and Neal Bell.
PTP/NYC offers an annual five-week repertory season encompassing 2-3 full productions, readings and a variety of complementary events. The company was founded in 1987 by Co-Artistic Directors Cheryl Faraone, Richard Romagnoli, and Jim Petosa-three theatre visionaries determined to establish a dynamic and provocative company that would also provide a bridge to professional theatre for aspiring young students. That same year, Faraone and Romagnoli joined the faculty at Middlebury College, where the work of the company was immediately embraced and supported. Comprised of New York professionals along with Middlebury College students and recent grads, PTP/NYC convenes every summer on Middlebury's campus to begin its rehearsal process before moving to New York for the five-week season.
The collaboration between the company and Middlebury remains the only such link between a liberal arts college and a professional theatre in the country. Alex Draper, currently Associate Artistic Director, appeared in the first two seasons as a student and has returned many times since as an Equity actor.
From 1987-2006, as Potomac Theatre Project in DC and Maryland, the company produced 75 main stage productions along with numerous new play readings and late night experimental productions. In 2007, the company relocated to New York and became PTP/NYC.
BIOS
Pico Alexander (David) Pico has been in and out of work and love for a couple years now. People tell him that's okay. Just wrapped on the new Ed Burns flick, "Summertime." Due to appear on screen in "Home Again" opposite Reese Witherspoon and on stage in John Patrick Shanley's "The Portuguese Kid" opposite Jason Alexander at MTC. Film credits include "War Machine," "Indignation," and "A Most Violent Year." Theater credits include "What I Did Last Summer" (Signature) and "Punk Rock" (MCC). He's also done some stuff for the TV and interwebs. Pico Alexander does not excel in writing bios.
Jared Zirilli (Rodrigo) was last seen in New York costarring in the world premiere of Joe Godfrey's newest play, "Romance Language" (Ars Nova). His New York, Broadway, and touring credits include Nick Harding in the world premiere of "Pretty Filthy" with The Civilians, the original Broadway cast of "Lysistrata Jones," Brent in "Fat Camp," Brit in Queen's "We Will Rock You," and "Wicked." His regional credits include Lt. Sam Weinberg in "A Few Good Men" (Alley Theatre), Nate in "LMNOP" (Theatre Under The Stars, Goodspeed Musicals), Roger in RENT (Hangar Theatre), Matthew in the Washington, DC, premiere of "Altar Boyz," and Giuseppe in "The Light in the Piazza" (Maine State Music Theatre). His reading credits include "Vanity Fair" and "Pride & Prejudice" (Bedlam), Rob Camiletti in "The Cher Show," Vinnie in "Life After High School" (Roundabout), Elton in "Clueless" (Dodger Theatricals), Jacob in "Twilight: The Musical" (New World Stages), and originating the role of Beto in "Bare: A Pop Opera." Mr. Zirilli has been seen on television in "Law and Order: SVU", "Blindspot", "Pan Am" and "Blue Bloods."
NICK IMPERATO (Fayyad) Nick Imperato is an actor, writer and movement theater artist, and is quite humbled to be a part of this reading. He most recently appeared in G&E Production's "Capture" at the Seven Angels Theater, as well as a media venture aimed for LGBTQ Youth titled "Smart Squad". Nick is currently finishing his first play titled "Make Yourself A(t) Home", for which he's excited to finally share with the world after carrying the idea like a child for so long (yes, there will be pictures.) For more inquiries and curiosities, visit: www.nickimperato.com
DANIEL SAUERMILCH (Playwright) Daniel Sauermilch is a playwright from Brooklyn, New York. His plays have been developed at Second Stage, The SUNY Potsdam Arts Festival, PTP/NYC, The Kennedy Center, The Boston Theater Marathon, The Lab at English Theatre Berlin, and Living Room Productions in Berlin, Germany. His work has also won the John Cauble Short Play Award and been a semifinalist for the Princess Grace Award and the National Playwrights Conference at the O'Neill Center. Most recently he worked with copy & waste, a Berlin-based theatre collective, on their productions which toured Germany and Austria. B.A., Middlebury College and King's College London.
Carl Andress (Director) Directing credits include world premieres of Charles Busch's critically acclaimed plays, The Tribute Artist, The Divine Sister, The Third Story, Judith of Bethulia, Cleopatra, Bunnicula the Musical, Queen Amarantha, Shanghai Moon, and the New York premiere of Die! Mommie Die! Additional credits include Carmen Pelaez's Rum & Coke, Douglas Carter Beane's The Cartells, Joe Godfrey's Romance Language, and regional productions of The Tale of the Allergist's Wife, My Fair Lady, Paul Rudnick's I Hate Hamlet, and Crush the Infamous Thing. Carl has staged the NY concert premieres of The Visit, A Wonderful Life, Mr. Magoo's Christmas Carol, Hollywood Nurses and Valley of the Doll's to benefit The Actors Fund. He has also directed productions of Tenderloin, Harold & Maude, I Love My Wife and The Mad Show for the York Theatre's "Musicals in Mufti" series as well as Here's to the Girls! and Being Comden & Green for the 92Y's "Lyrics and Lyricists" series. carlandress.com