Backstreet Boy Howie D, Phantom Limb Among New Victory's 2017-18 LabWorks Artists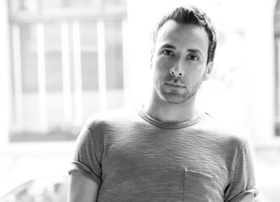 The New Victory Theater, a leading presenter of Theater for Young Audiences, announces the 2017-18 New Victory LabWorks Artists, NYC-based artists pursuing the creation of bold and exciting performing arts for family audiences.
This year's roster will include projects from a variety of art forms to explore an extensive range of topics, from the stories of child refugees to nature conservation, to a story inspired by a real pygmy hippo gifted to President Calvin Coolidge, to the early experiences of a Backstreet Boy.
Throughout its 22 years, The New Victory has found that the most complex work created for young audiences is by International Artists who approach theater for kids with the same artistic rigor as work for adults. Through New Victory LabWorks, the goals of the theater are to:
- Expand the canon of high-quality family performing arts "made in America;
- Encourage NYC artists to make live art works that challenge notions of what theater for young audiences can be; and
- Provide emerging artists with opportunities to hone their craft, expand their skills, meet contacts in the field, take artistic risks, and make bold choices with their work.
Hosted in the New 42nd Street Studios, LabWorks equips artists with tangible resources, such as rehearsal space and basic technical assistance, as well as exposure to new creative processes and artistic principles through The New Victory's community of leaders in the field of performing arts for families. Perhaps most importantly, New Victory LabWorks Artists have opportunities to interact with their target audience: kids themselves.
New Victory LabWorks Artists may already specialize in work for kids and families or may be making their first foray into creating work for this audience, but all demonstrate an aptitude for creating work that is aesthetically and/or socially innovative.
For 2017-18, New Victory LabWorks Artists include:
- AchesonWalsh Studios (On theTown, After the Blast, The King and I, New York Spectacular) use puppetry to tell the true story of a famous performing hippopotamus and his life as a migrant in America in William Johnson HIPPOPOTAMUS XIII.
- beat piece, led by Leah Moriarty, a dance artist trained in South Asian, Arabic and African Diasporic techniques, sets out to address the ways we identify ourselves, our histories, our fears and our relationships while challenging the role of the spectators in WITH FEELING.
- Christopher Anselmo (Atlantic, Fable) and Jared Corak develop FOUNTAIN, a new musical that explores the peculiar and perilous oddities of Florida through the eyes of a young girl as she hunts for the healing waters of the Fountain of Youth to save her ailing grandfather.
- Backstreet Boy Howie Dorough, Grammy-nominated Tor Hyams (Kidzapalooza, Austin Kiddie Limits), Lisa Rothauser (The Producers), Matte O'Brien (The Wonderful Mr. & Mrs. O'Leary, Peter & I, White Noise) and Tate Theatrics (The Blue Flower) present HOW WE DO, a new musical about a biracial teen finding his place and acceptance in the awkward halls of middle school as he and his new-found friends embark on a journey through musical genres.
- Theater artist Kaneza Schaal (Go Forth, Jack&Jill) & Caldecott Honor-winning author and illustrator Christopher Myers (Harlem, Black Cat, H.O.R.S.E.) team up to consider mapping, migration and the storytelling central to the lives of young people seeking refuge and asylum throughout the world today.
- Kate Douglas (Sleep No More, The Grand Paradise, Kansas City Choir Boy) emphasizes conservation in an immersive botanical exploration designed to find the rarest flower in the greenhouse: MIDDLEMIST RED.
- Obie Award winner Louisa Thompson (In the Blood, Samara, Washeteria) and collaborator Modesto "Flako" Jimenez (Samara, Furry!/La Furia!, Conversation: How to Make It in Black America, Pt. 1) create a tactile exploration of clothing and textiles in WORKSHOP!, a play-based theatrical event.
- Marisol Rosa-Shapiro (Martin Denton, Martin Denton) and her Soledad Ensemble incorporate the stories of child refugees and migrants from across the globe in THE SEVEN RAVENS PROJECT, a physical theater adaptation of a lesser known tale from The Brothers Grimm.
- Phantom Limb Company's Jessica Grindstaff and Erik Sanko (Memory Rings, Peer Gynt, Lemony Snicket's The Composer Is Dead) employ the Japanese style of Hachioji cart puppetry to tell the story of how two young animals find common ground in OVER RIVER AND WOOD.
- Saskia Lane (Improbable, Dan Zanes & Friends, Otoyotoy) and Stephanie Fleischmann (The Long Walk, Red Fly/Blue Bottle, Sound House), in collaboration with Julian Crouch (Hedwig and the Angry Inch, Big Fish) and director Melissa Kievman, meld concert and theater to create THE SWEETEST LIFE, a riff on Hans Christian Andersen's little-known tale "The Flax"-a meditation on hope, resilience and transformation in the face of life's hard knocks. Lane and Crouch previously collaborated on Birdheart (New Victory LabWorks 2014), which has toured internationally since its premiere in NYC at National Sawdust.
New Victory LabWorks has helped develop over 34 projects on their journey to the stage, including currently running productions by The Civilians (The Abominables), Dead Puppet Society (Laser Beak Man), The Village (The Village of Vale), Blessed Unrest (The Snow Queen) and Acrobuffos, whose Air Play is part of the New Victory 2017-18 mainstage season. The New Victory presentation of Air Play is the first of what the theater hopes will be many occurrences where a LabWorks project comes home to The New Victory.
Applications are now open for the 2018-19 New Victory LabWorks New Work Development program. Applications are due January 15, 2018. For more information, contact LabWorks@new42.org.
Designed to foster the creation of new work and champion innovative, venturesome performing arts for audiences of all ages, New Victory LabWorks provides the necessary resources and opportunities for exchange among a diverse spectrum of New York City-based arts professionals. Directed by the New Victory Artistic Programming staff, New Victory LabWorks has grown to include nearly 500 New York City artists, practitioners, educators, presenters and producers who share an interest in the creation of high-quality, American performing arts for young people.
Sought for their knowledge and insight in theater for the young and theater for the very young, staff of New Victory Artistic Programming have co-hosted the American Alliance for Theatre and Education symposiums, "Play in Progress: Creating New Theater for Kids and Families" (2015) and "Creating Quality Theater for Young Audiences" (2017), and participated as panelists at the national Association of Performing Arts Professionals (APAP), Scottish Cultural Symposium, WriteNow!, Alliance of Artists Communities and at International Performing Arts for Youth (IPAY), where they have introduced LabWorks Artists to the rich professional community of performing arts for young audiences around the world.
New Victory LabWorks is supported, in part, by public funds from the New York City Department of Cultural Affairs in partnership with the City Council, and by grants from the Madeleine L'Engle Fund of the Crosswicks Foundation and the Howard Gilman Foundation.
The New Victory Theater brings kids to the arts and the arts to kids. Created in 1995 on iconic 42nd Street, this nonprofit theater has become a standard-bearer of quality performing arts for young audiences in the United States. Reflecting and serving the diverse city it calls home, The New Victory is committed to arts access for all students, teachers, kids, families and communities of New York to experience and engage with the exemplary international programming of theater, dance, circus, puppetry and more on its stages. A leader in arts education, youth employment and audience engagement, The New Victory Theater has been honored by the President's Committee on the Arts and the Humanities with the 2014 National Arts and Humanities Youth Program Award, by Americans for the Arts with a National Arts Education Award, and by the Drama Desk for "providing enchanting, sophisticated children's theater that appeals to the child in all of us, and for nurturing a love of theater in young people."