BWW Review: THE HELLO GIRLS at 59E59 Theaters is a New American Musical that is Thrilling Audiences
Simply stated, don't miss it. The highly anticipated world premiere of The Hello Girls is now being performed at 59E59 Theaters through December 22. This new musical has everything going for it, a fascinating historical story, great music, an exceptional cast, and the finest staging. The show has music and lyrics by Peter Mills and a book by Peter Mills and Cara Reichel. It features splendid direction by Cara Reichel with choreography by Christine O'Grady and musical direction by Ben Moss. Take advantage of the opportunity to see this brilliant musical that definitely has a bright future.
The Hello Girls tells the story of five courageous, patriotic women that served in France during WWI as bilingual telephone operators, working tirelessly in the signal corps of the United States Army. Although they were originally assigned to locations that were considered safe, the women volunteered to work on the front lines where their ability to transmit communications would be most significant. The inspiring account of their lives and duties during the war is told through riveting dialogue and an unforgettable musical score. This is a piece of history that all Americans should recognize and admire.
The company of The Hello Girls is tops. Their acting and musical talents shine bright on the 59E59 Theaters' stage. Leading the cast is Ellie Fishman as the Chief Operator, Grace Banker. The other women in the signal corps are Lili Thomas as Bertha Hunt; Skyler Volpe as Suzanne Prevot; Cathryn Wake as Louise LeBreton; and Chanel Karimkhani as Helen Hill. They are joined by Arlo Hill as Lt. Riser; Andrew Mayer as Dempsey and others; Matthew McGloin as Matterson and others; Ben Moss as Wessen and others; and Scott Wakefield as General Pershing. This troupe captures the musical's moving story of heroism.
The compelling score of The Hello Girls draws from many musical genres including blues and jazz. From the very first piece, "Answer the Call" by the Company, the songs are enrapturing. Memorable pieces include "Marching Orders" by Riser; the show's signature song, "Hello Girls" by Grace, Suzanne, Helen, Bertha, Louis and Doughboys; "Lives on the Line" by the Company; "Switchboard Lessons" by Matterson and Suzanne; "Twenty" by Grace, and "Making History" by the Company. We can only hope that these songs and the others will make it to a CD soon.
The Creative Team has done a fantastic, inventive job of bringing The Hello Girls to the Upper East Side stage. They include scenic and projections design by Lianne Arnold; costume design by Whitney Locher; lighting design by Isabella Byrd; sound design by Kevin Heard; and orchestrations by Peter Mills and Ben Moss. The percussionist is Elena Bonomo; Music Consultant is Madeline Smith; Production Stage Manager is Emily Paige Ballou; Assistant Stage Manager is Jenifer Sartanowicz; and General Manager is Hillel Friedman.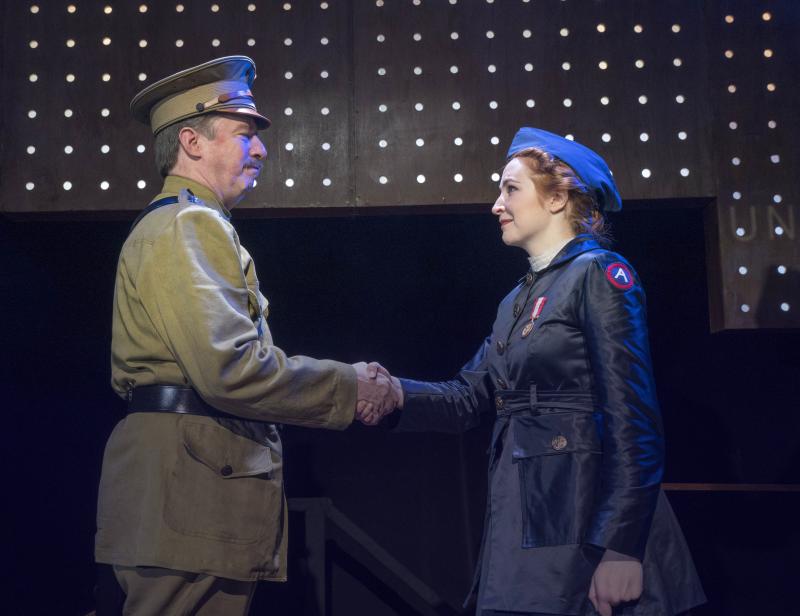 As we celebrate the centennial of the women who selflessly served in the signal corps of the United States Army in WWI, it is important to note that they fought a decades long battle for equality and the acknowledgment of their service. They finally received veteran's status in 1977. The Hello Girls is a distinctive portrayal of the strength and fortitude of women. See it while it is being performed at 59E59 Theaters. This entertaining, influential show will have a long life in the realm of musical theatre.
Produced by Prospect Theater Company, The Hello Girls will be performed through December 22 at 59E59 Theaters (59 East 59th Street, between Park & Madison Avenues). For tickets, call 212.753.5959 and visit https://59e59.org/.
Photo Credit: Richard Termine