Review: Spiritual Resistance in the rewarding HANNAH SENESH at National Yiddish Theatre Folksbiene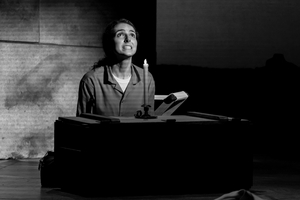 Spiritual Resistance in the face of oppression is the theme for this season of the National Yiddish Theatre Folksbiene. Their programming has been curated to accompany the exhibit "Auschwitz. Not Long Ago. Not Far Away." Hannah Senesh, the first of four mainstage productions, is definitely worth a journey to the Museum of Jewish Heritage in Battery Park.
Hannah is an iconic heroine from World War II. She was 22 years old and living in Palestine when she volunteered to join with British forces in their fight against Hitler and the Nazis. She parachuted into Yugoslavia and successfully crossed the border into her native Hungary. She was captured, tortured and executed in 1944.
The play is a living, breathing diary using Hannah's own words. She introduces herself as a twelve year old on June 14, 1934. She's thinking about dress colors, becoming a vegetarian and her obsession with Leslie Howard in The Scarlet Pimpernel. She's young, vibrant and smart. By November she notes that the present atmosphere is getting warlike.
Since much of this play takes place well before 1944, Hannah's growth trajectory comes to vivid life. A delightfully charming entry as a fifteen year old extensively describes her ideal boy. An impossible list ends with "so far I've not met anyone like that." As a proud Jew, she starts to feel the growing antisemitism in a series of increasingly disturbing events. The recollections from this personally observed and recorded history through the lens of this young woman is sobering.
Hannah joins Zionist youth meetings and believes that creating a Jewish homeland is a historical imperative. Her mother thinks she is tempting fate. Others are converting to Christianity in a display of "ostrich diplomacy." In 1939, she departs for Palestine. Unbearable stories are emerging of atrocities being committed against Jews and others by the Nazis. On January 8, 1943 she writes, "I've got to get back."
Lexi Rabadi makes an outstanding off-Broadway debut as Hannah Senesh. She opens and closes the play as her mother Catherine. With simple hair and costume changes, Hannah ages a decade. The entire play is essentially a monologue and Ms. Rabadi completely captures the stage and our hearts. The core defiance and pride within Hannah's soul is laid bare.
David Schechter has written and directed his play based upon the translated Hungarian diaries and poems of this courageous woman. There is a nice pace and flow to the storytelling. Props and movement are simply and effective. Rather than a chilling tale, Hannah Senesh celebrates the incredible heroism of a young woman driven to face fascist oppression head on. The story is inspirational, remarkable and heartbreaking. The lighting design by Vivien Leone beautifully frames the mood as we travel with Hannah on her spiritual journey.
Some of Ms. Senesh's poems are set to music. "One, Two, Three" was composed by Elizabeth Swados to words found in Hannah's cell after her execution: "I could have been twenty-three next July/I gambled on what mattered most/The dice were cast. I lost."
I visited Auschwitz for the first time last year. The physical experience was overwhelming despite knowing this history. The massive scale of hatred and cruelty stayed with me long after that day. Genocide is still not dead in our world. Hannah Senesh is a play for those of us who need a hope-inducing candle lit in the darkness of ceaseless inhumanity.