Joe Lombardi - Page
I've joined the Broadway World community as a theater critic after having started my blog and podcast at TheaterReviewsFromMySeat.
MOST POPULAR ARTICLES
LAST 30 DAYS
LAST 365 DAYS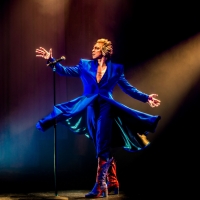 BWW Review: David Bowie Catalog Interpreted In The Musically Gorgeous WHERE ARE WE NOW at La MaMa
Posted: Dec. 15, 2019


BWW Review: A very funny and original dramedy THE HOPE HYPOTHESIS from Voyage Theater
Posted: Oct. 29, 2019


BWW Review: Demons Come to Collect in Soul Survivor at The Players Theatre
Posted: Jan. 19, 2020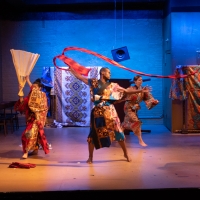 BWW Review: Creative multimedia dance play BRANDOCAPOTE at The Tank
Posted: Nov. 10, 2019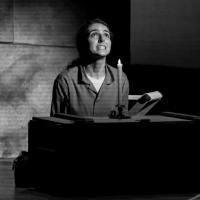 BWW Review: Hannah Senesh
Posted: Jul. 28, 2019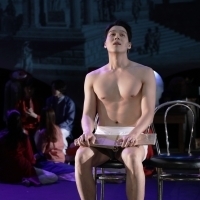 BWW Review: 13 Fruitcakes at La Mama
Posted: Jun. 15, 2019


BWW Review: The true story of the Cardiff Giant in the musical THE GIANT HOAX
Posted: Nov. 30, 2019


BWW Review: An uncannily timed original show featuring a very bored accountant is MONOTONY: THE MUSICAL available on Podcast

March 25, 2020

Avid theatergoers who are sequestered at home may find themselves bored. Along comes an uncannily well-timed new show that bears the name Monotony: The Musical. Unlike some of the other theatrical streaming events popping up every day, this one will be released as a podcast on April 15th.
---
BWW Review: Very Funny Jamaican Situation Comedy TWO CAN PLAY is Revived by the New Federal Theatre
March 10, 2020
---
BWW Review: Mean Girls and Societal Injustices Torment a Young Woman's BIRTHDAY IN THE BRONX at The Tank

February 21, 2020

Raquel has a rough life. In Birthday in the Bronx, her character name is Rocky. She's a bruiser of a field hockey player having collected broken bones and bloody scars. Two noxious sportscasters comment about the atrocious playing conditions. 'I understand funding is tight' but the field is all muddy. Earlier in the day, girls from a 'better school' looked like goddesses.
---
BWW Review: A Wildly Conceived Climate Change Comedy REALLY REALLY GORGEOUS at The Tank
February 2, 2020
---
BWW Review: Demons Come to Collect in the Very Funny SOUL SURVIVOR from Hiraeth Theatre Company

January 19, 2020

Lisa (Anna Stefanic) opens the door to her home and switches on the light. A naked man is sprawled out on the floor with food. He 'bellows a pained roar.' She shrieks, fumbles her groceries and quickly douses the offending brightness. When she turns the light back on, a paper shopping bag has been placed on the man's head. 'God damn it, Davey' she says. The damnation of that moment will carry through the very funny Soul Survivor.
---
BWW Review: Masculine Stereotypes Skewered with Humor in CEZARY GOES TO WAR at La Mama

January 17, 2020

Cezary Tomaszewski has created a 'musically-driven queer fantasia' exposing the dangers of masculinity, nationalism and the culture of war. La Mama is presenting the U.S. premiere of Cezary Goes to War in conjunction with the Polish Cultural Institute and Komuna//Warszawa, an independent avant-garde theater. This work will be appreciated by theatergoers who enjoy a refreshing splash of humor mixed into their subversive societal commentary.
---
BWW Review: Contemporary Dance Theater Spins a Bleak View of Humanity in THE UNKNOWN DANCER IN THE NEIGHBORHOOD at the Japan Society

January 11, 2020

Glimmers of hopefulness can be found in this unique theatrical event. Disheartenment, however, permeates The Unknown Dancer in the Neighborhood. This contemporary dance theater piece is a commentary on individual lives amidst the ambiguously indifferent and disconnected mobs in a gloomy metropolis. Early on we hear that 'hopeless people talk about hopeless things.'
---
BWW Review: A Palestinian Dreamer Builds a Rocket to Land on the Moon in GREY ROCK at The Public Theater's Under the Radar Festival

January 9, 2020

Imagine a world where the Palestinian flag is planted on the moon. In Amir Nizar Zuabi's play Grey Rock, one of his characters says 'its so preposterous, it's brilliant.' Apparently this is my week for traveling into outer space, having just seen Or, An Astronaut Play, at the Tank. Both plays explore dreams while commenting on societal oppression. In this interesting exploration, the improbable is embraced from a voice not often heard on American stages.
---
BWW Review: A Cleverly Shaded Exploration of Life's Paths in OR, AN ASTRONAUT PLAY at The Tank

January 7, 2020

Or is a conjunction used to link alternatives. Life is a conundrum which offers no definitive paths or guarantees of fulfillment. That is the territory explored in Johnny G. Lloyd's cleverly shaded Or, An Astronaut Play. An individual can choose to be a teacher or a doctor. A policeman or a politician. The odds of success for achieving those dreams are varied depending on station or circumstance or even dumb luck. This play is about how life works, or is supposed to work, or doesn't. Or, maybe it's really just an astronaut play.
---
BWW Review: Gun Violence Abounds in the Experimental Digital Puppetry Show FEAR IN THE WESTERN WORLD at Target Margin Theater

January 5, 2020

Gun violence is the focus in the wildly experimental digital puppetry show, Fear in the Western World. A couple and their daughter are looking for a new home. They find one in Nesthaven, a gated community. There are lots of problems outside. A community website posts about the dangers. At one point, we hear they've 'got to build taller fences around Nesthaven.'
---
BWW Review: Traditional Marionettes Update the Scrooge Story in A CHRISTMAS CAROL, OY! HANUKKAH, MERRY KWANZAA, HAPPY RAMADAN at Theater For The New City

December 21, 2019

If you've seen Drunk History on television you will understand the vibe of this show. Imagine you have an elderly uncle who is of Czech descent. He has a marvelous collection of marionettes. After a few shots of Becherovka he invites the family down into the basement for an impromptu retelling (and updating) of a Christmas classic. That is the best way to describe A Christmas Carol, Oy! Hanukkah, Merry Kwanzaa, Happy Ramadan.
---
BWW Review: David Bowie Catalog Interpreted In The Musically Gorgeous WHERE ARE WE NOW at La MaMa

December 15, 2019

Fans of David Bowie's music - and especially his lyrics - should immediately stop reading this review and book tickets to see the very limited run of Where Are We Now. Then come back and continuing reading! With a $26 top ticket price, this is one of the greatest cabaret values in New York City. The version of 'Heroes' is musically gorgeous and absolutely unforgettable. I would argue the best one ever. I would be right.
---
BWW Review: Squawking slackers in the compelling world premiere THE WILD PARROTS OF CAMPBELL from NOW Collective at Cherry Lane Studio Theatre

December 10, 2019

In Sean Gorski's excellent scenic design, an inflatable parrot is perched on the back of a lounge chair. More parrots hang from the eave of the house. One of them, tellingly, has deflated and collapsed onto the gutter's downspout. Three empty beer bottles and two empty Proseccos sit on the table. An accumulation of cigarette butts fills the ashtray. Even the table cover has images of parrots. It's New Year's Eve and time to meet The Wild Parrots of Campbell.
---
BWW Review: Socially contemplative A CHRISTMAS CAROL IN HARLEM at The Classical Theatre Of Harlem

December 8, 2019

A close friend recently told me there was no cure for climate change. Too many people are on the planet. He theorized the solution was to eliminate two-thirds of the world's population. Ebenezer Scrooge also shares the same sentiment. If the sick and downtrodden cannot survive then they will help 'decrease the surplus population.' A Christmas Carol in Harlem updates Charles Dickens' classic novella into modern times with a socially contemplative spin.
---
BWW Review: More Than One Door Swings Open In A Funny And Thoughtful Play THE SANTA CLOSET From Houses On the Moon Theater Company

December 6, 2019

Christmas is fully represented on the stage in the small Teatro Círculo Theater. All is not quite normal though. On the left side of the stage there is a decorated tree with presents underneath. The same thing is duplicated on the right side except this group hangs upside down from the ceiling. Our world and the legend of Kris Kringle are turned upside down in The Santa Closet. Claire DeLiso's scenic design beautifully prepares the viewer for this topsy-turvy tale.
---
BWW Review: True story of the Cardiff Giant in the family friendly musical THE GIANT HOAX from Indieworks Theatre

November 30, 2019

In the musical Barnum, a song lyric compels you to 'join the circus like you wanted to, when you were a kid.' In the family friendly new musical The Giant Hoax, a young farm girl named Emily will do just that. She's heard about the Cardiff Giant and wants to see the amazing wonder for herself. Emily runs away from home and will learn some valuable lessons, meet an assortment of colorful characters and sing about 'Wonderful Things.'
---
BWW Review: Creativity soars in the examination of toxic masculinity in the multimedia dance play BRANDOCAPOTE at The Tank

November 10, 2019

Truman Capote interviewed Marlon Brando in 1957. The legendary actor was in Japan filming Sayonara. Hilariously, we overhear one of the movie's sales pitches. They are using 'real Japanese actors.' This conversation is one level of the multi-media piece BrandoCapote. On the flip side, this dance play is a commentary on men and toxic masculinity.
---
BWW Review: Governmental bureaucracy is serious yet slyly hilarious in Voyage Theater Company's THE HOPE HYPOTHESIS at The Sheen Center

October 29, 2019

Is playwright Cat Miller in possession of an oversized blender? For her play The Hope Hypothesis, she tosses in Alice in Wonderland, a Kafkaesque tale, absurdist comedy, a spy thriller, soap opera histrionics and a deep state government mystery all together. She turns the dial to frappe because that's the most fun setting. Out pours a surprisingly refreshing and very delicious treat which successfully manages to be equally dark and light.
---
BWW Review: New York ghosts consider the meaning of life and art in the jazz-fueled (A)LOFT MODULATION at A.R.T./NY Theatres

October 3, 2019

'If you want to know what's wrong with this country, go ask a jazz musician.' Jaymes Jorsling's new play (A)loft Modulation is a lot like jazz. Some sections are scintillating, magical and transporting while others are elongated and incongruous. Patience, however, will reward those who travel this path. A fascinating time capsule view into a vivid and complicated world of artists, dreams, demons and drugs awaits.
---
BWW Review: Mac Wellman's mini-masterpiece THE INVENTION OF TRAGEDY at The Flea Theater

September 22, 2019

How to describe the oratorically dense, frequently hysterical and mind-buzzingly creative The Invention of Tragedy? How does Shakespeare sound to a young child? 'Let there be a dragon of trees and washing without wash cloths bags cats wardrobes bungle things and other things traps and twerps and words and greater words of estuarial conviviality.' My new favorite kind of conviviality, it turns out.
---
1