BWW Review: FRIENDS! THE MUSICAL PARODY Cleverly and Lovingly Pokes Fun at the Iconic Sitcom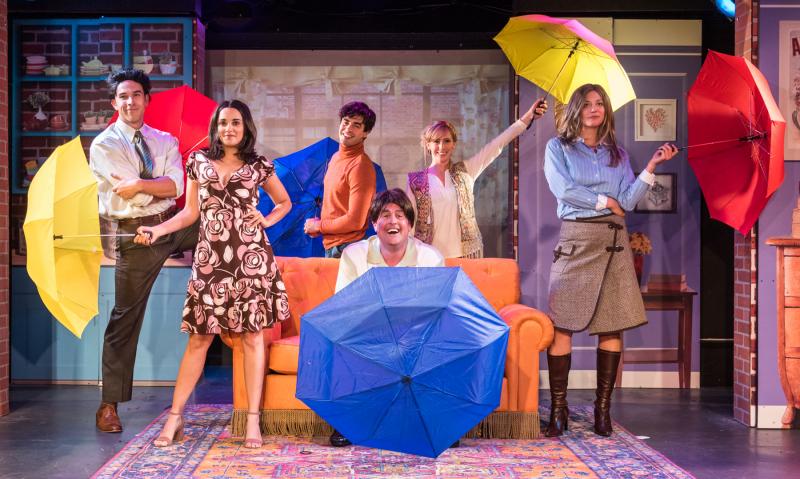 Perhaps the most surprising thing about FRIENDS! THE MUSICAL PARODY was the average age of the audience at St. Luke's Theater. Friends debuted in 1994, when some in attendance were barely walking, and many others not yet in middle school. I was about to graduate from college when the show first aired and expected to see more Gen Xers at the nearly sold-out final preview show. But Friends was more than a hit television show; it was a cultural phenomenon that influenced fashion, speech, hairstyles, and ultimately, our concept of young adulthood at the cusp of the 21st Century.
The latest collaboration of Bob and Tobly McSmith (Baywatch! The Musical, Full House! The Musical!, and Katdashians! The Musical!), FRIENDS! THE MUSICAL PARODY takes loving, lighthearted aim at the sitcom whose finale was watched by more people than tuned in even for Seinfeld's swan song.
The well-written book hits the series' main plot points, from the seemingly interminable Rachel-Ross saga to Phoebe's mother problem to the appearances by famous guest stars in later seasons (Tom Selleck, Bruce Willis, Hank Azaria). Familiar objects of satire include Monica's apartment on 495 Grove Street (the title of a song which stresses the need "to suspend your disbelief"). No 25-year-old could possibly afford a place with a 3000 square foot living room, two bedrooms, a big kitchen, and a balcony, unless her parents paid the rent or she "[sold] her organs."
Real estate isn't the only aspect of
Friends
that strains credulity. Leaving her fiance at the altar, Rachel (
Patricia Sabulis
) shows up at Monica's in her wedding gown and within minutes becomes "seamlessly integrated into the friend group." And as Gunther points out, no one seems to pay for anything at Central Perk--or anywhere else.
These Manhattan 20-somethings lead lives mostly free of financial care. Rachel cuts up Daddy's credit cards and becomes "financially dependent upon a minimum wage job," serving coffee at Central Perk. She sticks Monica in the eye with a biscotti and burns Gunther with cappuccino steam. Her eventual "career" in fashion? A cashier at Bloomingdales, about which her friends pretend to be terribly proud. (The joke is nicely picked up in Act II when Rachel departs for Paris to work as a cashier at "French Bloomingdales.") Everyone supports Joey's acting aspirations in spite of his dubious talent because that's what friends do. The line between enabling and loyalty blurs on the small screen.
And no one ever eats alone in cosmology of Friends. The group spends every day together, separating only for evening dates. What would seem "codependent" in real life, as Rachel puts it, is charming in this fictional world. And that's the point. We love Rachel--and all these silly, sweet characters--who can't exist in the real world but we wish could.
The first fifteen minutes (and three songs) of FRIENDS! THE MUSICAL PARODY are stilted. But with "495 Grove Street," the excellent ensemble finds their footing. Ably led by conductor Assaf Gleizner (who also wrote the music and plays keys and second guitar), Tomer Rabinowitz (guitar), Kevin Harris (bass), and Uri Zelig (drums) deftly shift gears from campy rock-pop songs to more traditional musical theater fare. Between numbers, the band is enjoying the show as much as we are, laughing at the consistently witty dialogue.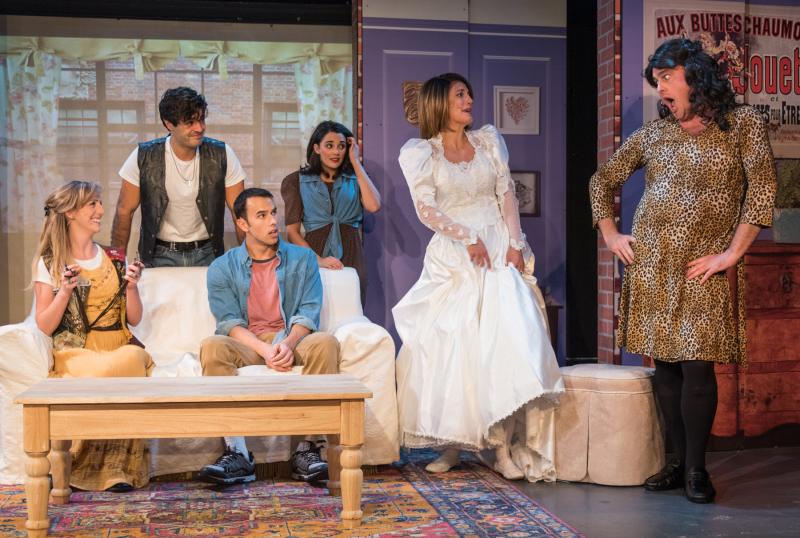 Of course no parody of Friends would be complete without Janice "Oh My God" Phosenstein, played to perfection by Seth Blum. When he's not telling bad jokes as Chandler, Blum miraculously morphs into Marcel the Monkey (hilarious!), Paolo the Italian, Richard the opthalmologist (a geriatric Selleck), and Ursula, Phoebe's evil twin sister. Blum, who plays and writes music for the rock band Six Each and hosts a regular East Village open mic, has a booming voice and outsized stage presence.
Sabulis bears a striking resemblance to
Jennifer Aniston
and both sings and dances with grace, balancing snark and warmth in her portrayal of Rachel.
Lisa Graye
, while far shorter than
Courtney Cox
, has a similar face and captures Monica's essence well. Making her off-Broadway debut in FRIENDS! THE MUSICAL PARODY just months after graduating from
Syracuse University
, Graye holds her own with more seasoned performers.
Katie Johantgen admirably renders the ditzy Phoebe, and while physically unlike Kudrow, received deafening applause at the curtain call. Landon Zwick's portrayal of Ross and his nerdy mannerisms played well with the audience but struck me as wildly overdone. As interpreted by Zwick, Ross appeared to have a speech impediment. Ross is hopeless on a human level but he's not stupid, which is how he came off for most of the show. At times, Alan Trinca teetered on the brink of excess, but managed nevertheless to conjure Joey--and his signature line, "How You Doin?"--in all his lovable dimness.
The singing is uneven, but the strong acting makes up for it. And while the show occasionally veers into slapstick, the parody remains at a mostly even pitch. There are deliciously meta moments, with nods to endorsements for Aveeno and Smart Water, as well as the real-life romantic lives of actors, like the high-profile breakup of Aniston and
Brad Pitt
. The characters also nod and wink at eventual plot lines.
Act II proceeds without a hitch. The first song post-intermission, "We Were On A Break," breathlessly catalogues the series' middle seasons. The title of the song functions as a double entendre, referring to Rachel's and Ross' notorious "break" (during which Ross has an affair for which Rachel doesn't forgive him for years), but also to the "break" in the show itself. "What A Classic Sitcom Situation"--about the secret relationship between Monica and Chandler--is the show's musical highlight, with dizzying, precise lyrics set to jazzy music with a Charleston flair.
The finale is smart, funny, and moving (I teared up a little). As with many long-running hit shows, it became fashionable to bash
Friends
toward the end of the run. And of course the lack of ethnic diversity has long been a topic among comedians and critics. But no show sustains ratings like
Friends
did unless it strikes some a chord with a demographic beyond the one it depicts.
Indeed, the Millennials' attachment to Friends proves that a show about privileged white 20-somethings in the 1990s and early 2000s speaks to the perennial need for community. A 25-year-old today was in 2nd grade when 9/11 changed life for New Yorkers, and Americans, forever. In a post-9/11 world, we need people "who will be there for [us]" no matter what.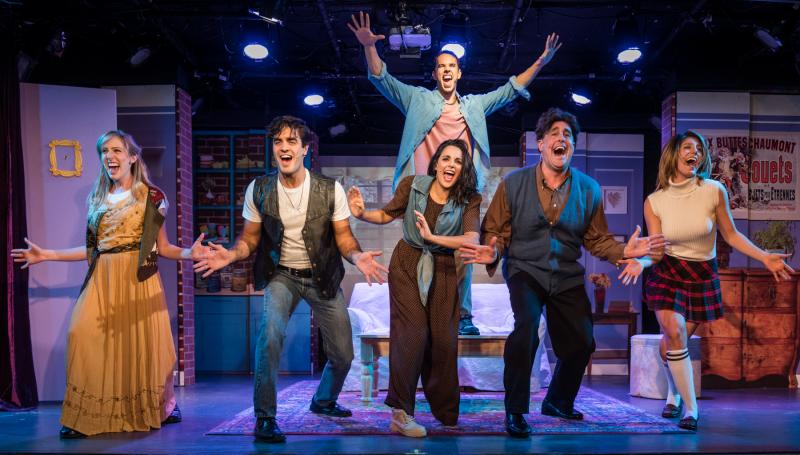 Audiences believed that Monica, Ross, Chandler, Phoebe, Rachel, and Joey were friends because the actors playing them actually were. The final number, "Where They Make A Million Dollars An Episode" gets at the rare and magical bond that develops between actors and fans on a show like Friends. Skillfully directed (and choreographed) by Paul Stancato (with nice work on sets and costumes by Josh Iacovelli and David Rigler), FRIENDS! THE MUSICAL PARODY is an entertaining trip down memory lane.