BWW Interview: Harriett D. Foy Is Transforming in THE HOUSE THAT WILL NOT STAND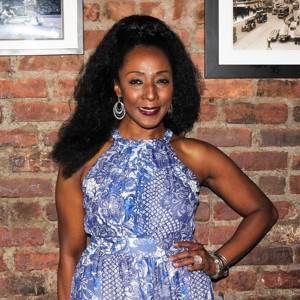 When the playwright Marcus Gardley approached Harriett D. Foy about portraying Makeda in the original production of his electrifying comedic drama The House That Will Not Stand, it was an offer she couldn't dream of refusing.
"My dearest friend Marcus wrote a play with me in mind specifically," Foy said. "How could I say no?" she said with a throaty laugh.
HOUSE, a mesmerizing slice of early 19th century New Orleans, unfolds in an era when women of color were often mistresses to wealthy landowners in a system known as plaçage. Makeda, a servant in the stately home of Beartrice Albans (Lynda Gravátt), lives under Beartrice's thumb and must obtain her freedom before it is no longer possible under new laws.
Makeda is also rumored to be a voodoo practioner.
"Makeda comes full circle at the end," Foy said of the upheavals and transformations that course through the production. "She is strong and regal and knows a lot about the family and its secrets," she said.
"She's a survivor, and knows how to work a situation into her advantage because she's a powerful woman," Foy added.
Makeda is the caretaker of Beartrice's three daughters: Agnès (Nedra McClyde), who wants nothing more than to be paired with a rich white man; pious Maude Lynn (Juliana Canfield); and Odette (Joniece Abbott-Pratt), the most uncertain of the three.
Makeda also takes care of Beartrice's sister Marie Josephine (Michelle Wilson), a haunting figure with a tragic love story.
The play, directed by Lileana Blain-Cruz, is steeped in the sights and sounds of the period. A dialect coach worked with the cast to create a clearly spoken mélange. "The overview was a hint of Creole, a little French and a southern touch," Foy said.
"I knew the history of plaçage because I went to Howard University," she said, "and they made sure we were clear on our history."
She's had considerable experience playing characters who practice voodoo. "I've played so many parts with voodoo I've been pretty much possessed since my early career," she said with a laugh.
This New York production ventures from the original 2014 staging of the play at the Berkeley Repertory Theatre in California. "It was more musical in Berkeley," Foy said. "I even sang a Gumbo song," she said and after a little prompting, sang a few bars of the excised tune.
"I would say the earlier one was broader with the comedy and we went for more laughs," Foy said. "This is richer, darker and fuller in terms of relationships."
Two intense drum monologues capture the spirit of the tumultuous period. "Justin [Ellington] did the sound design and original music," she said. "He's just fantastic.
"The way he crafted it and listened to us do our monologues is just amazing how he incorporates our speeches to the heartbeat of the drums," Foy said. "The drum is our heartbeat. I don't know anyone who hears that sound and doesn't want to start moving."
THE HOUSE THAT WILL NOT STAND is a nod to Federico García Lorca's 1936 play THE HOUSE OF BERNARDA ALBA, a tense tragedy of sexual repression in Spain.
Beartrice's frenemy La Veuve (Marie Thomas) hovers and annoys everyone with her nose for scandal and tumult.
"All of us are like rats in a cage," Foy said. "It reminds me of an old black and white movie with Joanne Woodward in a mental institution trying to get out of the maze. We only have each other to pass on the stories from our grandmothers."
Gardley's language is lyrical and multi-dimensional, bordering on magic realism. "The process of learning his words is a gift," she said. "It's all about allowing the words to take you there, and it becomes very physical. He's such an incredible writer.
"It's about opening your vessel and allowing your ancestors to reach through the words," Foy said. "I was overcome with the history, and when I do my monologue, I'm in sync with the drumming."
A recent audience was very quiet throughout the play. "They were more listeners than other more vocal ones. But then after the show people would come up to me and say how moved they were. Sometimes they cry because it affects them personally."
Skin color plays a dominant role in the sisters' future, as foreordained by Beartrice, before social and cultural norms began to change. Darker skin is more limiting in life choices, according to Beartrice.
"I think there's still discrimination today," Foy said. "But it goes in cycles: sometimes we're more conscious of being judgmental, other times less so. I hope this play will keep the discussion going. Everyone is beautiful in their own skin, regardless of color."
Foy was a natural showman from an early age. Originally from New Bern, N.C., she was raised in Brooklyn and used to charge for shows she would write. "I was not only the writer and actor, I was also the producer and charged money so I could buy hamburgers," she said with a laugh.
"I was in a 10th grade production of GODSPELL and something happened. I loved it," Foy said. "When I told my family what I wanted to do, they weren't too happy. But they came around."
Foy has a strict pre-show ritual. "I am the ritual queen," she said. "To warm up my voice, I recite 12 tongue twisters five times. I say prayers, do some yoga, have my angel cards and have to be at the theater at a certain time. I often walk home to de-stress after a production," Foy said.
"I should have a hashtag with the word 'discipline,'" she laughed.
Although HOUSE is laser-focused on a socially explosive period in this country's history it is relevant in today's struggles with ethnic identity.
"I've had women come up to me with their daughters and tell me they had this in their own family and never knew how to talk about it before," Foy said. "This play is a conversation-starter."
The House That Will Not Stand is playing at the New York Theatre Workshop, 79 East Fourth Street. Scenic design is by Adam Rigg, costumes by Montana Levi Blanco, lighting by Yi Zhao and movement by Raja Feather Kelly. The dialect and vocal coach is Dawn-Elin Fraser.
Photo Credit: Linda Lenzi
Related Articles