BRIGHT COLORS AND BOLD PATTERNS Extends Off-Broadway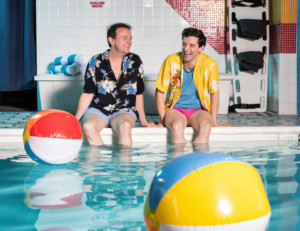 Bright Colors And Bold Patterns - the hit play hailed as "devastatingly funny" by The New York Times - continues its triumphant run Off Broadway at SoHo Playhouse (15 Vandam Street, between 6th Avenue and Varick Street in Manhattan), when new star Jeff Hiller ("Nightcap," "30 Rock," Broadway's Bloody Bloody Andrew Jackson) opens in the starring role Sunday, February 4. This exclusive six week extension runs through Sunday, February 25. Tickets are now on sale at BrightColorsandBoldPatterns.com.
The show's author and original star Drew Droege (the internet's "Chloë," "Drunk History," and "Heathers" on Paramount TV in 2018) concluded his New York run earlier this season and plans to bring the production around the country on a national tour. Directed by Michael Urie (Torch Song, Buyer & Cellar, "Ugly Betty"), Bright Colors And Bold Patterns has returned to New York following a smash three-week engagement last season.
Drew recently explained, "I am insanely thrilled and honored to welcome the wicked genius of Jeff Hiller to our play. I hope he likes margaritas." Michael Urie says, "It's quite a coup to get comedy master Jeff Hiller to bring a different take on this character and explore his antics from another angle." Jeff himself adds, "I'm so excited to perform Drew's hysterical show and finally have a stage ALL TO MYSELF!"
Bright Colors And Bold Patterns is a riotous new solo play that storms the stage with ferocity and wit, deemed "hilarious" and "uproarious" by The New Yorker, "fantastic" and "pure magic" by Time Out New York, and "side-splitting" and "fresh" from The Huffington Post. It has also been hailed as "raucous, witty and occasionally moving" by The Daily Beast, "a very funny play" by The New York Post, "outrageous and stinging" by Out Magazine and "relentlessly funny" by Buzzfeed.
Josh and Brennan are about to get married in Palm Springs on a lovely Saturday afternoon. However, the night before becomes a drunken, drug-fueled riot, because their friend Gerry has arrived, furious that their invitation says "Please refrain from wearing bright colors or bold patterns." In the struggle for equality, what do we really want? What do we lose? And is there any cocaine left?
Bright Colors And Bold Patterns features set design by Dara Wishingrad and is produced by Zach Laks in association with Riki Kane Larimer. Tom Detrinis serves as associate producer.
Bright Colors And Bold Patterns was originally presented at VS Theatre in Los Angeles and directed by Molly Prather. It was remounted at Celebration Theatre in Los Angeles and transferred to the Barrow Street Theatre in 2016.
Tickets start at $59. The performance schedule and further information are available at www.BrightColorsandBoldPatterns.com.
Jeff Hiller is a regular performer at the UCB Theatre in both New York City and Los Angeles. On TV, Jeff was a regular on Ali Wentworth's ensemble comedy "Nightcap," and was seen on "30 Rock," "Psych," "Crazy Ex-Girlfriend," "Community," "Broad City," "Playing House," "Difficult People," and as Antoine in the Hulu series "The Real Hotwives..." Jeff has also written and starred in a pilot for Universal Cable Productions as well as acting in pilots for NBC, Fox, and CBS. His film work includes Ghost Town, Morning Glory, The Little Tin Man, Adam and the upcoming features Set It Up and The Widow. On stage, he has been seen in Bloody Bloody Andrew Jackson (Broadway), A Midsummer Night's Dream, The Tempest and Love's Labour's Lost (Shakespeare in the Park - Delacorte Theater), and in many shows off-Broadway and regionally, including playing The Lamb in Silence!, the musical parody of The Silence of the Lambs in both New York and Los Angeles.
Drew Droege is best known for his online parody videos of downtown indie "it girl" darling Chloë Sevigny, featured in Entertainment Weekly, The Advocate, Huffington Post, Time Out New York, and Marc Jacobs' 2016 Spring campaign. He can be seen on Paramount Network's TV reboot of "Heathers" in early 2018. Other TV credits include Logo's "Cocktails & Classics," "Transparent," "Big Mouth," "Life In Pieces," "Nobodies," "IdiotSitter," "Bajillion Dollar Properties," "Bob's Burgers," "Drunk History," "2 Broke Girls," "Comedy Bang! Bang!," "House Of Lies," "Kroll Show," "Key & Peele," "New Girl," "Happy Endings," and "How I Met Your Mother." He's appeared in the films Ideal Home, The 4th, The Circle, Scouts Guide to the Zombie Apocalypse, You're Killing Me, and Eating Out: Drama Camp. He is an alum of The Groundlings and Upright Citizens Brigade theaters in Los Angeles, where he performs regularly. Earlier this year, he starred in Charles Busch's Ovation-recommended Die Mommie Die! at Celebration Theatre in LA, and recent stage credits include Julie Brown's The Homecoming Queen's Got A Musical, The Golden Girlz, and musical parodies of Troop Beverly Hills and The Devil Wears Prada. He's an Outfest Award winner, one of Out Magazine's "Out 100," and host of the podcast "Drew Droege's Minor Revelations" on Feral Audio. This year he won an Indie Series Award as Best Guest Actor for "#ADULTING."
Michael Urie has appeared as an actor on Broadway (How To Succeed In Business Without Really Trying), Off Broadway (The Government Inspector, Buyer & Cellar, Shows For Days, Angels in America, The Temperamentals and The Cherry Orchard), on TV ("Ugly Betty," "Partners," "Modern Family," "Younger," "The Good Wife," "Hot In Cleveland," "Workaholics" and hosts "Cocktails & Classics") and in Film (Beverly Hills Chihuahua, WTC View, Jeremy Fink and the Meaning of Life, The Decoy Bride, Petunia, and Such Good People). Behind the camera, Michael executive produced the feature film Grantham & Rose, co-directed and executive produced the award-winning documentary Thank You For Judging, and directed He's Way More Famous Than You (feature film), The Hyperglot (short film), and "What's Your Emergency" (web series) - all titles available on VOD. He was trained at Juilliard. This season, he stars in Harvey Fierstein's Torch Song opposite Mercedes Ruehl at Second Stage Theatre in New York and in Hamlet at Shakespeare Theatre Company in Washington DC.