BWW Review: LA CAGE AUX FOLLES at VIRGINIA MUSICAL THEATRE: The Best Of Times Really Is Now In This Absolutely Fabulous Romp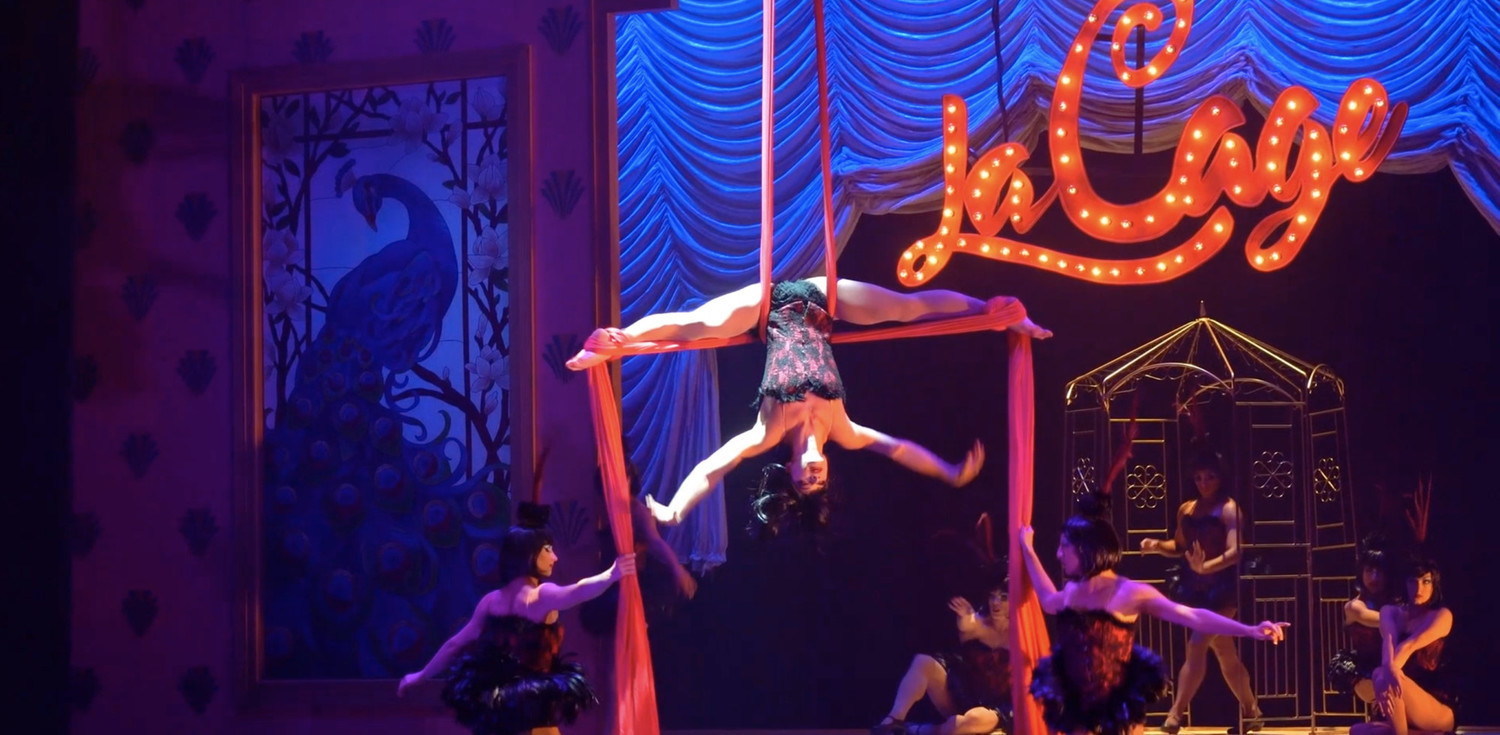 In regards to the current air of positivity emanating from the LGBTQ community - what with "National Coming Out Day" celebrating 30 years of observation and the remarkable news of Matthew Shepard's remains to be newly-interred at the National Cathedral in Washington, DC - it is with a healthy sense of joy that the Virginia Musical Theatre (VMT) opens its season with a powerhouse presentation of Jerry Herman's (of HELLO, DOLLY and MAME fame) classic, gender-bending musical comedy, LA CAGE AUX FOLLES.
This don't-blink-or-you-might-miss-it production is just a sequined shooting star! Running through October 14th at the Sandler Center for the Performing Arts, this company of sublimely talented performers is more than ably abetted by director Chip Gallagher and his dynamite production team.
Before continuing on, just please, please: book your tickets as soon as possible! Seriously: many onlookers exiting the theater last evening stated that this run of LA CAGE was worthy of Broadway and, speaking personally, I don't think they're far off...
For those unfamiliar with the piece, LA CAGE AUX FOLLES has a long and happy history of entertaining audiences across generations, and continents. It began as a popular stage play written by French thespian Jean Poiret in 1973, which went on to become a smash hit French-Italian film that spawned two sequels. With this musical adaptation emerging on Broadway in 1983 with Herman's infectious score to Harvey Fierstein's English-speaking libretto, the piece's (perhaps) most widely-known iteration "came out" in 1996 as Mike Nichols and Elaine May's The Birdcage starring Robin Williams, Nathan Lane, Christine Baranski, Dianne Wiest, Hank Azaria, and Gene Hackman (seeing Gene Hackman in drag is an absolute scream-inducing moment of hilarity, by the way).
The story itself concerns two middle-aged gay men: Georges (Scott McGowan at this VMT production) and his effeminate partner Albin (Robert Anthony Jones). Together, Georges and Albin run a drag-themed nightclub in Saint-Tropez on the French Riviera where Albin is "Zaza," the star of the venue!
The chemistry between McGowan and Jones in and of itself feels genuine and palpable. Mr. McGowan is charming with a gorgeous voice, making his rendition of "Song on the Sand" sweetly touching. And Mr. Jones' "ZaZa" is a powder keg of sassy ferocity - a real winner! Aside from his cheeky demeanor and occasional interjections with the audience, the price of admission is viscerally realized with his show-stopping performance of "I Am What I Am."
Given these two larger-than-life personas, the crux of the play involves the hilarious complications involving their straight-as-an-arrow son, Jean-Michel (an effective Cole Francum, especially with his take on "With Anne on My Arm"), coming home to announce that not only is he getting married to Anne (a delightful Caroline Phillips), but that her conservative, publicly anti-gay parents are traveling to Saint-Tropez to meet Jean-Michel's "mother" and "father"...
Thus, the "denounement" in this riotous musical is far too deliciously-sidesplitting to divulge any further to those of the current "tabula rasa" mindset...
Still the cast is pretty sensational, including Cliff Hoffman and Natalie Giles as they perfectly embody Anne's unsuspecting parents, the Dindons.
Other cast highlights include Brian Piedra's campy (and appropriately dressed) maid, Jacob, as well as the vocal chops and dancing feats that are seamlessly performed by all eight of the night club's "Cagelles": Dylan Pass, Michael Ivan Carrier, Peter Hughes, David Dines, Clint Maddox Thompson, Giovanni Da Silva, Evan Wittstock and last (but certainly and emphatically not least) Conor McKenzie with his silk aerial acrobatics work. The athletic exertions of these eight performers are impressive, including their "Can Can" dance that features a series of splits.
Further "props" must, in turn, go to Jeff Warner's choreography for utilizing such a daunting set of skills onstage.
Chip Gallagher's direction here cannot be underrepresented. Not only has he assembled a fiery company of actors to grace the Sandler Center's performance space with a myriad of stage tricks, but Mr. Gallagher has deftly maintained the necessary autonomy required for the occasional spurts of improvisational humor throughout the piece. It is a wonderful balance that his shrewd eye has expertly fashioned.
Mr. Gallagher is flanked by the technical wizardry of Ben Needham's showy set design, Jason Amato's dazzling lights, and Steven Allegretto's crisply clean sound engineering. Sandy Short's scintillating costumes are also on full display while being further accentuated by Raymond Dimanno's well-realized makeup. Indeed, all of these mechanical and dressing elements combined have very possibly shaped into fruition one of the most technically-savvy productions the Sandler Center has put together in recent memory.
Together with Allan Decipulo's top-drawer orchestral gravitas, the splendor of just about every detail in this production of LA CAGE AUX FOLLES, no matter how small, cannot be understated.
This whole thing is a rich treat for audiences of most ages; I'd recommend it for young adults and up with the content being family-friendly to boot.
And given the timeliness of this production of LA CAGE AUX FOLLES being presented when positive LBGTQ matters are currently in the news - even my brother is getting married to his boyfriend/fiancée very soon - I, as an ally, applaud this company, the Virginia Musical Theatre, the Sandler Center of the Performing Arts, and the arts community for continuing to give the LGBTQ their due respect and cultural deference to audiences, old and new alike.
As Mr. Herman's lyrics most eloquently declare: "The Best of Times Is Now"!
LA CAGE AUX FOLLES plays at the Sandler Center for the Performing Arts through October 14th, with discount tickets ($20 off in celebration for their own "Pride Day") available for the evening of October 13th, 2018.
Brent Deekens is an actor, singer, playwright, and occasional director/dancer. Brent's play The Currency premiered Off-Off-Broadway in 2015, and he continues to write for future (read more...)