BWW Review: TWTC's THE GLASS MENAGERIE Radiates Glowing Warmth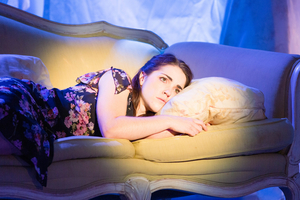 Memory is very precious. It connects us to our past and helps guide us to our future. In Tennessee Williams' magnum opus, THE GLASS MENAGERIE, memory is a force of gravity. And as the season opener for The Tennessee Williams Theatre Company's fifth season, a grounded production is one rarely seen but feels so uncompromisingly right.
TWTC's production of MENAGERIE, directed by Augustin J. Correro recreates the much-produced drama while adding their original touch by playing upon the sprinkles of heart and humor found within the script, which acts as a balm in Williams' telling of an emotionally struggling family.
Premiering in 1944, MENAGERIE is the story of the Wingfields comprised of Amanda Wingfield and her two children who live in St. Louis in 1937. The daughter, Laura, suffers from pleurosis, which makes her severely self-conscious because of a small limp. She's a withdrawn young woman, possessing a nervous disposition due to her mother and brother constantly bickering; often about her. As the narrator of the story, Tom has bigger dreams and aspirations than working in a shoe factory and often thinks of taking a cue out of his father's book and leaving the family. He receives a chance when a "gentleman caller" enters the scene and puts the family into turmoil. As a memory play, these events are entirely recounted via Tom's memories.
In Tom's opening monologue, he explains to his audience that "the scene is memory and is therefore non-realistic. Memory takes a lot of poetic license. It omits some details; others are exaggerated..." It is refreshing to see however that this MENAGERIE does not exaggerate elements of the story that have been, dare I say it, overdone? The first instance is in the memory of Laura's limp. As this is remembered by her brother, the limp is barely noticeable at all. Were the play told from Laura's perspective, it would be the most noticeable thing about her. No, rather this production focuses on what makes this story heartfelt and beautiful. The same kind of beauty that can be found in a piece of broken glass.
The cast is comprised of only four characters: The mother Amanda, played by Judy Lea Steele; her daughter Laura, played by Julia DeLois; the son Tom, played by Nathaniel Twarog; and the "gentleman caller," Jim, played by Matthew Raetz. There is also mention of a fifth character-the father, who is represented only by a fading portrait on the wall.
The most important glue that holds this production together is with the actors. Albeit a small cast, MENAGERIE delivers powerhouse performances from all involved. The lead belongs to Steele, who delivers a magnificent rendition of Amanda. Let me assure you that she's more than what you hoped for, and not at all what you might expect. As Amanda, she is anchored by her love for her children, though blinded by how things were done in her day. Instead of a venomous viper, we see a humane, yet overbearing mother. Her eccentric personality is played more for humor, and when she does boil, it comes to a satisfying completion at the end of the show.
While Amanda cannot let go of her youth, her daughter Laura cannot get beyond her limp and a perceived "inferiority complex" from her days in school. As the figurative glass unicorn, DeLois creates a character full of tenderness and timidity. It is a deeply affecting portrayal of a character modeled after Tennessee's sister in real life.
Twarog as Tom is delightfully engaging as he brings the audience into the story with a vividly alive and fresh performance; Raetz as Jim is very charismatic and likable as a romantic love interest.
MENAGERIE is filled with great pacing, and perhaps the most riveting scene in the play comes in the second act when Jim and Laura talk by candlelight. It is a scene filled with romance and hope, and without giving too much away, we feel shattered just like Laura by its end.
Of note, the scenic and lighting designs by Joey Sauthoff and Diane K. Bass are exceptionally well done. It's a dream within a dream bathed in white drapes that catch wistful hazes of lavender, blushing pink and ethereal blue. All of it is beautifully underscored by Nick Shackleford.
TWTC's production is thought-provoking, beautifully constructed, and well-executed. Correro's directing is very intentional, and his decisions enhance the storytelling. Many approach this classic with caution, but Correro throws caution to the wind to present a play that warms the heart before wrenching it. TWTC's glowing production of The Glass Menagerie will have you fall in love with Williams' work whether it be the first time or the hundredth time.
THE GLASS MENAGERIE is playing now through August 17 at the Marigny Opera House in New Orleans. For information about the show and to purchase tickets, please visit www.twtheatrenola.com.
Related Articles View More New Orleans

Stories

Shows