BWW Preview: MUCH ADO ABOUT NOTHING at 30 By Ninety Theatre - Sigh No More!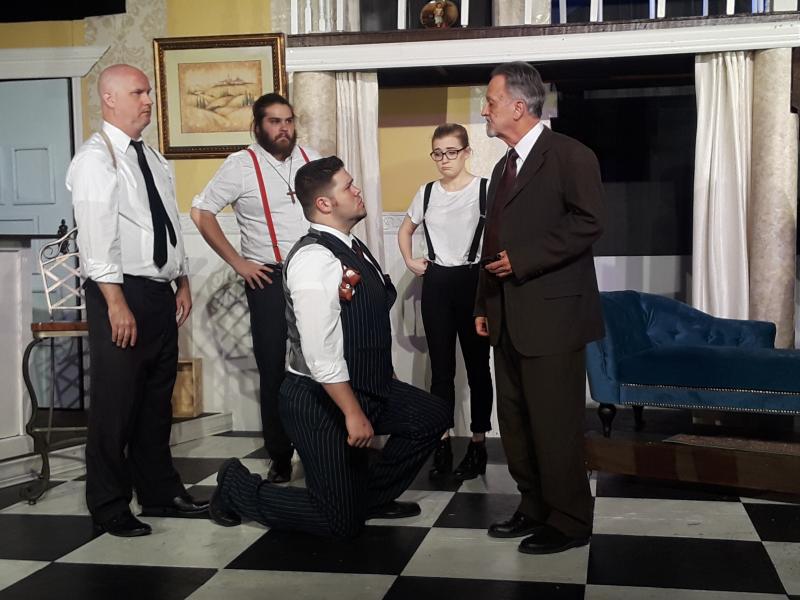 "Hey Nonny Nonny!" "Sigh No More!" Shakespeare's classic, playful comedy, Much Ado About Nothing, is this year's rip-roaring Season 5 opener for the vibrant, 30 by Ninety Theatre in Mandeville, Louisiana. This suburban playhouse, positioned just across the lake from New Orleans, is named for its' common latitude and longitude, but doesn't hold back on big city ambitions to invigorate, entertain, and challenge local audiences to grow from shared experiences through the stage. It is an idea not lost on Shakespeare himself nearly five millennials ago. Audiences will enjoy this delightful, romantic hilarity with very relatable themes regardless of the scholarly dialogue. "Shakespeare was meant to be seen, not read," boasts Director, Cashel Rodriguez. "The actors are doing such a wonderful job with it, you just find yourself cracking up and dying of laughter at some of these scenes, and you forget it's Shakespeare honestly. The characters are dealing with issues that people deal with all the time, and when you see the consequences and the resolution unfold in front of you on the stage, you get drawn in and can gain a whole new perspective." Pretty impressive that in five short years, this is the third time this community theater has produced works by the Bard of Avon, and although this is Rodriguez' first time directing the playwright, the challenge proved to be no jade's trick for this director-for she knows him too well. "I was so fortunate to have the opportunity to study abroad in London, where we were able to immerse ourselves and fall in love with his works. We had an in-depth education of all things Shakespeare, on and off the stage, both in Stratford and London." She joked,"Richard III would've been a lot more complex I suppose, but I am so overly familiar with this production, it was a natural choice, and just too easy to have a good time with!" She chose this particular production with the book edited by Robert Hastie, Josie Rourke, created in 2011 for the Royal Shakespeare Theatre starring David Tennent and Catherine Tate, because Shakespeare, in its' entirety, is too long of course, and this edited down version brilliantly keeps the storyline intact with a few minor changes, that make it perfect for the modern stage.
Packed with intrigue, double crossing and plenty of laughter, Much Ado About Nothing tells the story of the turbulent romances between Hero and Claudio and Beatrice and Benedict. This delightful tale first explores the effortless union of, Claudio Matthew Eli Judd and Hero Camille Bechac who are about to be joined in marriage. They suddenly find their plans thwarted by the devious scheming of a resentful Prince, Don John Adolfo Rodriguez. Meanwhile, marriage seems inconceivable for the stubborn and quick-witted pair of Beatrice Jennifer Bouquet and Benedick, Shane LeCocq whose constant sparring threatens to keep them apart for ever. As friends and family conspire to become matchmakers for the reluctant lovers, hilarity ensues and the plot is filled with a plethora of moments shedding light on deceit, judgment, mistrust, mistaken identities, gender equality, stubbornness, pride, trust, forgiveness, love, and friendship. "This version does stay true to the original with a few small exceptions," says Rodriguez as she explains her idea to modernize the setting. Instead of Renaissance Italy, her creative conception places them in 1920's gangster-ridden, New York City. "All the characters are Italian, so I thought what's more modern-day Italian than the mob in New York, right? You know, they call each other Don," she quipped, "so it just made sense to me when you really break it down. Especially in this play for everyone to be your best friend, but still willing to think the worst of you in an instant," she pondered. "It always struck me as this discordant thing how best friends can love each other so much, and how they could just turn on each other so quickly? When you place it inside the mob, all of a sudden that makes sense." She laughingly surmised with a mild mob accent, "'You're useful and I love you, but I'll kill you if I have to' just makes sense within that world, right?" She went on to explain it is always her goal to entertain, but engaging the audience on a deeper level is also right at hand. "I think because the themes are so universal, we could really play around with the setting a lot. These are things we as humans experience together across any time, place, or era, so anything could work, but this was just a great fit and a whole lotta fun."
This edited version also streamlines two characters into one, which Rodriguez especially liked because of the creation of another really strong female character in addition to Beatrice, who is one of Shakespeare's finest heroines." Shakespeare may have been way ahead of his time highlighting issues now openly debated on the women's movement and gender equity, and even more reason why Rodriguez' analogous mob setting is fitting when you think about the role of women in that era as well. This comical dramatization of the battle of the sexes is cleverly manifested through the banter between Beatrice and Benedick. Jennifer Bouquet, the actress charged with capturing the heroine's spunky spirit, is hardly a stranger to England's finest poet. The adjunct professor at Southeastern University also studied in London and has had the distinct honor and privilege to perform at The Globe Theatre. Bouquet directed the other two productions of Shakespeare at 30 by Ninety and is also the camp director of Summer Shakespeare for Children. "Who wouldn't want to play a strong, opinionated feminist?" Rodriguez explained, "Beatrice is not willing to be ruled by anyone else or to lose herself, but there is also a level of hurt and pain to Beatrice where she uses humor to cope, and I think that's another very human thing to do. We make people laugh so they don't see the pain or what is going on inside of us. While I do look at Beatrice as a very strong character, she is also a little bit of a broken character who makes you long to want to comfort her, but she is also so witty that you just you can't help but adore her absolutely!" Although her character denounces all things men, their flaws, and the institution of marriage, there's a history there between these two would-be lovers that is palpable. This heroine's equally quick-tonged, but also beloved male counterpart, Benedick, is played by New Orleans native, Shane LeCocq, who also doubles as the show's choreographer. Lecocq graduated from the prestigious Tisch School of Fine Arts at NYU, and is also a certified stage combat coach/choreographer having studied with gurus Rick Sordelet and J. David Brimmer in New York. Rodriguez says the two talented actors have great chemistry and play off of each other perfectly.
Director, Cashel Rodriguez, has spent much of her life on and off the stage in various roles, but affirmed she always jumps at the opportunity to direct. "I direct very much from an actor's standpoint," she explained. "So I try to focus a lot on the relationships because I'm building characters. I know for a lot of directors, it's more about the blocking and making sure everything looks right, but for me it's very much about the personal interactions that you're witnessing. I want you to find truth up there." She continued earnestly, "So I do spend a lot of time trying to build up those those relationships and make them believable, because it's really what drives the show. I mean if you don't care about the characters, than you're not going to care about the play." Rodriguez said, "Maybe the audience will come away thinking more deeply about their own relationships or just the way that we treat one another. "There's a lot about respect for each other in this play too, right? And I hope that maybe gets highlighted a little bit for people too."
As the play unfolds, we are taken on a hilarious exploration of what loyalty, chivalry, and true love really mean. Speaking of relationships, marriage, and respect, Rodriguez is also tasked with directing her husband in this production, 30 by Ninety Theatre's Artistic Director, and seasoned actor, Adolfo Rodriguez, Don John. Unlike Beatrice and Benedick, they are totally professional, she laughed, "So I'll ask him his opinion on something, and he's like, 'I'm just an actor; I'm here to act!'" Her husband, who is also one of the founding members, along with Tom Bubrig and Jason Leader, were all in a show together when they realized there was a need for more live theater in their growing community, and 30 by Ninety Theatre was born. She explains, "From the beginning, it was their mission to fill the void for entertainment on the Northshore, and maybe have the opportunity to bring new, important shows like Rabbit Hole and Boy in the Bathroom, that have never been seen before." She affirmed their mission by saying, "Our first production was Clybourne Park, a play based on real events which highlights the issues of race and housing in America, was so important of course, but we also aim to do shows people are familiar with. "You know, we are striving to bring people joy, but maybe we can also choose shows with a message that can help make the world a better place." She went on,"It is also very important for us to be a presence in the community, and is one of the reasons we decided to be a non-profit. In addition to our seven show season, we also offer summer camps and a Broadway singing competition that helps get people involved who wouldn't otherwise be involved, and maybe get people to think that this is something that they can be a part of it." We have the privilege to provide comedy and entertain people, but as a responsible member of the community, we're always going to challenge ourselves to consider what the audience is going to come away with, and if we stopped at just entertaining all the time, we would be doing a disservice to the community."
Public perception may be that great big theatre can only exist in great big cities. Community theaters everywhere are showcasing incredible talent, and folks may be missing opportunities to see great art and artists right in their home towns. "It is going to be a new experience every time you go to the theater," says Rodriguez. "I see this play over and over again, and each time I see something new that can lead to an interesting revelation. That's not something you're ever going to get with a movie actor where the mood is chosen and etched in film forever. My actors treat every night like opening night, because for each audience, they are discovering something new." She goes on, "So it never gets stale for them; there's a freshness. I think there is an energy to theater that you just cannot get anywhere else. The audience feeds off of the actors and actress and visa versa, like a living thing between them, and it's just not a feeling that you can get anywhere else."
"Much Ado About Nothing" runs the next three weekends from Saturday, August 18th through Sunday, September 2nd, 2018 at 30 by Ninety Theater, 880 Lafayette Street, Mandeville, Louisiana. Tickets range from $10-$18 Reserve your seats online at www.30byninety.com or by calling 1-844-THE-3090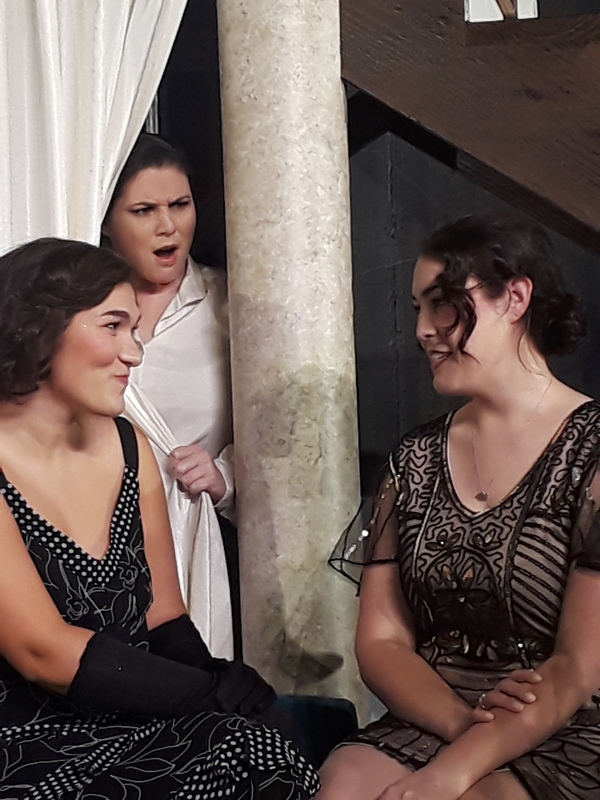 "Hero and Ursula put their plan to help Beatrice fall in love with Benedick into action"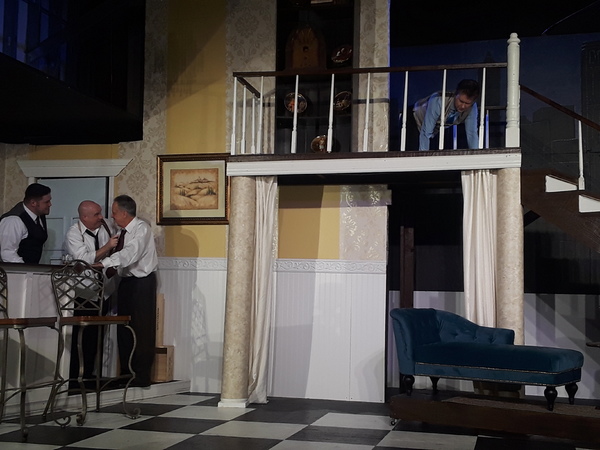 "Claudio, Don Pedro, and Leonato twist a tale for Benedick to make him fall in love with Beatrice."

"Tensions are high after Don Pedro and Claudio are tricked into accusing Hero"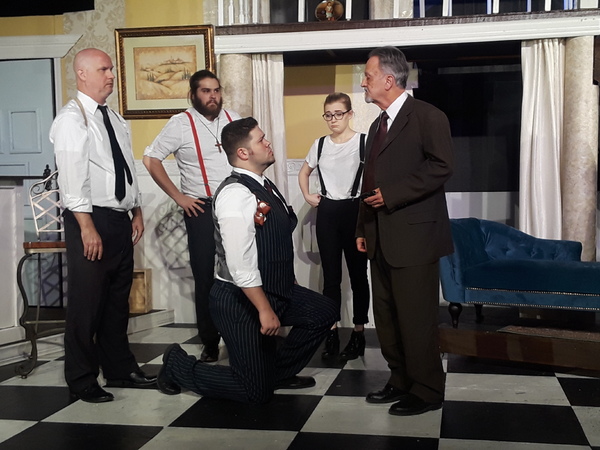 "Claudio is devastated after learning of Hero's innocence"