Two Family-Friendly Shows Added To Kean Stage Spring Line-Up
Learn more about the upcoming productions here!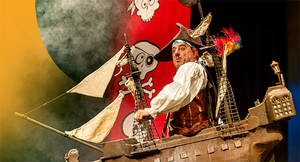 Two new family-friendly, sensory-inclusive shows have been added to Kean Stage's Spring 2023 season at Kean University's Wilkins Theatre in Union, NJ.
Pirate School: Sea Dreams, a madcap, swashbuckling solo variety show created and performed by veteran New York physical comedian and actor David Engel, comes to Kean University on Sunday, March 5 at 1:00 p.m. During Pirate School: Sea Dreams the bumbling pirate professor Billy Bones, played by David Engel, teaches youngsters the finer points of light-hearted mischief. The audience partakes in riotous, joyful competitions that rattle the rafters and zany lessons on how to stand, talk, sing and laugh like jaunty Buccaneers. Featuring an original cartoon-like sound effect and musical score, eye-popping puppetry, eccentric props, adept magic, slapstick swordplay antics, a misbehaving cannon, a talking skull and the world's only wearable pirate ship, Pirate School! is truly a treasure to discover!
Mentalist and online sensation Spidey presents his mind-blowing and hilarious Make Believe- Magic of Your Mind show on Sunday, March 26 at 3:00 p.m. Spidey's Make Believe performance takes audiences on a magical journey that taps into your every emotion. Whether it's playing a game of mind Pictionary or tapping into someone's happiest memories and revealing impossible details, you will see and experience things you never thought possible! Spidey's family-friendly show brings mind-reading to levels never seen on performing arts stages, leaving audiences in awe, laughter, and ovation every time.
This concert joins the previously announced Canadian Brass (January 28); Los Lobos (February 18); Cherish the Ladies (March 3); The Kingdom Choir (March 11) and Broadway's Ali Stroker (April 1) in Kean Stage's 2022-23 season.
Tickets for Pirate School and Spidey can be purchased online at keanstage.com or by contacting the Box Office at (908)737-7469. The Box Office is currently open Monday- Tuesday 10:00 a.m. - 5:00 p.m. and Wednesday- Friday, 10:00 a.m. -3:00 p.m.