State Theatre New Jersey Presents Lviv National Philharmonic Orchestra Of Ukraine This Month
The performance is on Friday, February 17, 2023.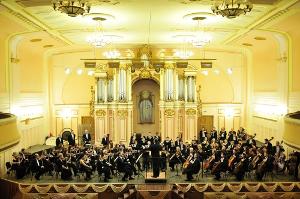 State Theatre New Jersey presents Hope for Ukraine featuring Lviv National Philharmonic Orchestra of Ukraine on Friday, February 17 at 7:30pm. The Hope for Ukraine: Classical Season Celebration includes a pre-show cocktail party, tickets to the performance, and a post-show reception. Classical Season tickets and sponsorship opportunities are available, call 732-247-7200, ext. 512. Concert tickets only are available at STNJ.org or 732-246-SHOW.
Hope for Ukraine is this year's focus for State Theatre's annual Classical Season Celebration fundraiser. Created to acknowledge and celebrate the classical performing arts, all proceeds from this event support the Ukrainian Red Cross Society and year-round classical and education programming at the State Theatre. Hope for Ukraine is sponsored by Magyar Bank, a Central New Jersey institution with Hungarian heritage that recently celebrated their centennial anniversary.
"For over 100 years, Magyar Bank has been committed to making a difference in the communities that we serve and we are proud to support the Hope for Urkaine event and the Ukrainian Red Cross Society and State Theatre's classical presentations," said John Fitzgerald, President & Chief Executive Officer of Magyar Bank.
"We are excited to welcome our patrons and donors to Hope for Ukraine, our first Classical Season Celebration since the pandemic closure," said Jane Nordell, State Theatre New Jersey Vice President of Development. "We are especially glad to welcome Lviv National Philharmonic Orchestra to State Theatre New Jersey, and to use this occasion to not only raise much needed funds for our classical series, but also for the aid of the people of Ukraine."