Eva Noblezada to Perform at Kean University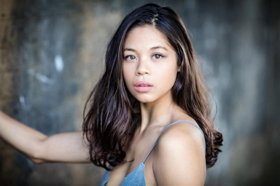 Kean Stage will welcome Eva Noblezada, star of the 2017 Broadway revival of Miss Saigon, to Enlow Recital Hall at 7:30 p.m. on Friday, February 1.
Noblezada will appear fresh off her starring role in the musical Hadestown at the National Theatre in London, which runs through January 26. Hadestown is scheduled to transfer to Broadway, with previews beginning March 22. The cast has not been announced. Could the Tony Award nominee be on the bill?
"I'm always the last to know," she said.
Noblezada was "discovered" by casting director Tara Rubin when she placed fifth in the 2013 National High School Musical Theatre Awards, also known as the Jimmy Awards. Then 17, she auditioned for and won the lead role of Kim in Cameron Mackintosh's London revival of Miss Saigon. Noblezada left her high school in Charlotte, N.C. shortly before graduation and moved to London on her own.
"It was the opportunity of a lifetime," she said. "I've always been quite older than my age and my parents knew I was on a serious career path. I was so hungry, and there wasn't enough in Charlotte for me. I think I made the right choice in the end."
After earning rave reviews in Miss Saigon, Noblezada took on the role of Éponine in Les Misérables. Before transferring to play Kim on Broadway, she made her Carnegie Hall debut in May 2016 at an all-star concert to celebrate Alain Boublil and Claude-Michel Schönberg, the legendary writers of both Miss Saigon and Les Misérables. There, she performed a duet with Lea Salonga, Miss Saigon's original Kim.
"That was a moment I'll never forget," she said. "These are the actors I would completely fangirl over in high school. It was a magical night."
Noblezada has wrapped production on a film called Yellow Rose, co-starring Salonga and country singer Dale Watson. The musical drama tells the story of a 17-year-old Filipino-American girl from Texas who dreams of becoming a country music star, but is torn when her mother is arrested by Immigration and Customs Enforcement.
Now 22 and married to U.K. actor Leo Roberts, Noblezada has also been performing cabaret shows, where she sings a mixture of show tunes as well as jazz, blues and alternative music. She is looking forward to performing this show at Kean Stage.
"It's a journey of little Eva's musical career from all the way back when I was singing songs in my closet," she said. "At the end, I'll sing something from Hadestown."
During the cabaret show, she speaks openly to her audience about the realities of a theater career and offers up advice to those on the same path.
"I've seen mental health issues, like anxiety and eating disorders," she said. "Nobody tells you the dangers of this industry. People think once they get to Broadway that everything will be perfect. The people you admire still do not think they're perfect and they never will. Don't compare yourself to other people. Just focus on your own craft. That will carry you farther in life."
Follow Eva Noblezada on Twitter and Instagram @livevamaria to enter her contest to join her on stage to sing a duet of Sun and Moon from Miss Saigon.
Tickets for Eva Noblezada are $25 to $40. Enlow Recital Hall is located at 215 North Ave., Hillside, on the Kean University East Campus. Tickets can be purchased at the Kean Stage Box Office in Wilkins Theatre on Kean's Main Campus, 1000 Morris Ave., Union, by phone at 908-737-7469 or online at www.keanstage.com.