Eagle Theatre to Showcase Global Holiday Traditions in 'SEASON'S GREETINGS!' Revue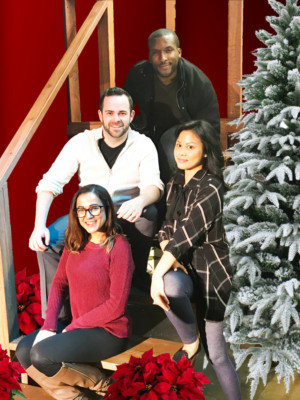 Eagle Theatre has teamed up with Hammonton's latest hot spot, the newly minted, Kathedral Event Center, to present their latest World-Premiere musical revue, SEASON'S GREETINGS! AMUSICAL CELEBRATION OF HOLIDAY TRADITIONS FROM AROUND THE WORLD, running December 13th - December 23rd.
Co-Artistic Director, Ted Wioncek III states, "SEASON'S GREETINGS takes the audience on a sleigh ride across the globe, as we sing of the joyous holiday traditions observed this time of year. No matter what your holiday, we all have something to celebrate; the joy of the season and memories that last alifetime."
SEASON'S GREETINGS, created by Eagle Theatre Entertainment, follows four all-star performers and TheEagle Theatre Jazz Quartet, as they share their favorite traditions and songs, featuring a carol-a-long, asalute to our veterans, a cash bar, and a digital visit from everyone's favorite pal from the North Pole. In fact, with the help of a little holiday magic... audiences may witness a true White Christmas!
Wioncek III, concluded, "SEASON'S GREETINGS is packed with music, laughter, warmth and spirit. But, what makes those moments so special is the feeling we share by celebrating as one. If it were not for thebrave individuals who have served this great country, we would not know this feeling. Our Salute To Our Veterans, is perhaps the most important part of all. It is our opportunity to honor those who has served, past or present, and thank them for our freedom."
---
IF YOU GO:
SEASON'S GREETINGS! A Musical Celebration of Holiday Traditions from Around the World
Carols, cards, lights, and laughter; No matter what your Holiday, we all have something to celebrate... thejoy of the season and the memories that last a lifetime. Follow four all-star performers and The Eagle Theatre Jazz Quartet, for a multi-cultural musical journey around the world, as they share their favorite traditions, featuring 50 holiday classics, a carol-a-long, a salute to our veterans, a cash bar, and much more!
Performances:
Wed 12/13 @ 7:30 pm
Thu 12/14 @ 7:30 pm
Fri 12/15 @ 8:00 pm
Sat 12/16 @ 3:00 pm & 8:00 pm
Sun 12/17 @ 3:00 pm
Wed 12/20 @ 7:30 pm
Thu 12/21 @ 7:30 pm
Fri 12/22 @ 8:00 pm
Sat 12/23 @ 3:00 pm & 8:00 pm
Runtime: Approximately 70 minutes
At Kathedral Event Center, 499 S Egg Harbor Road, Hammonton, NJ, 08037
General Admission: Tickets - $15 - $25
Tickets can be purchased at www.kathedral.com or contact the box office at 856-685-6664; 10% Military Discount available at Box Office only.
---
Eagle Theatre, South Jersey's only year-round Professional Equity Theatre, is dedicated to redefining regional theatre. The theatre produces more than 160 live performances each year, including full-scale Broadway caliber World Premieres and re-conceptualized revivals; New Works Development Series play readings; a traveling Theatre for Youth Audiences program, specializing in providing arts education to schools in under served communities; an Annual Fringe Festival, a 3-day street fair and theatrical marathon, featuring multiple eclectic productions, a beer and wine garden, pop-up art, food, live music, and street performers; and Eagle Theatre Conservatory, a year-round tuition based theatrical institute for all ages and levels of professionalism.
This award-winning culturally diverse epicenter boasts state of the art technical equipment, a free double parking lot, Sharrott Winery's on-site Wine Lounge, and is located within walking distance of several boutiques and acclaimed dining destinations in beautifully revitalized Downtown Hammonton, serving patrons from New Jersey, Philadelphia, and beyond.
Eagle Theatre originally opened its doors in 1914 as a silent movie theatre. The theatre was restored in 2009 to serve as a performing arts center. Since the reopening, Eagle Theatre has quickly grown into anationally recognized non-profit producing organization.