Cynthia Nixon, Matthew Broderick, Tony Shalhoub, and More Are Set For This Weekend's Philip Roth Festival
The festival runs Friday, March 17 - Sunday, March 19.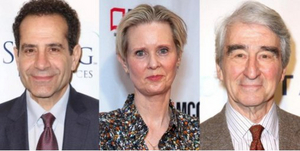 New Jersey Performing Arts Center (NJPAC) presents The Philip Roth Festival, a three-day celebration (Friday, March 17 - Sunday, March 19) of the iconic writer from Newark, New Jersey. A bevy of actors come out to discuss and participate in events celebrating the novelist who influenced their work as actors.

Join Matthew Broderick and Peter Riegert in Philip Roth UNBOUND on Friday, March 17, at 7 PM in the Victoria Theater. These dramatic readings feature two of Philip Roth's most brilliant reflections on his hometown of Newark. In" 'I Always Wanted You to Admire My Fasting'; or, Looking at Kafka," Roth comedically and poignantly combines fiction and nonfiction to reimagine the fate of Franz Kafka, transforming the deceased Czech writer into his Hebrew School teacher in 1942 Newark. In "The Ruthless Intimacy of Fiction," written when he turned 80, Roth moves from vivid recollections of the Newark of his youth to a favorite passage from his National Book Award-winning novel Sabbath's Theater, illuminating the close ties between his life and writing.

Don't miss Eric Bogosian, Jane Kaczmarek, S. Epatha Merkerson, Marjan Neshat, Cynthia Nixon, Peter Riegert, Tony Shalhoub, Michael Benjamin Washington, and Sam Waterston in THE PLOT AGAINST AMERICA taking place on Sunday, March 19th at 1 PM in the Victoria Theater. This staged reading of THE PLOT AGAINST AMERICA,Philip Roth's timely and timeless masterwork, by some of the country's finest actors, co-presented by 92nd Street Y, New York. Set in Newark, New Jersey, in the 1940s, The Plot Against America tells the chilling story of what it was like for the (fictional) Roth family and Jews across the country when the isolationist and "America First" aviation hero Charles Lindbergh was elected president of the United States. The story's resonance with our contemporary political and social climate and Roth's profoundly moving coming-of-age story have made this remarkable novel a new classic.

Tickets for the Philip Roth Festival are on sale now at NJPAC.org or calling 888. GO.NJPAC (888.466.5722) or by visiting the NJPAC Box Office.