Announcing The 80th NNPN Rolling World Premiere, RED BIKE By Caridad Svich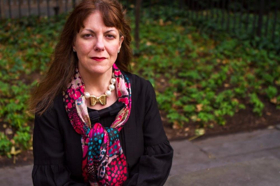 National New Play Network, the country's alliance of nonprofit theaters that champions the development, production, and continued life of new plays, announces its 80th Rolling World Premiere (RWP): Red Bike by Caridad Svich. The Roll includes Member Theaters Pygmalion Productions (April 20-May 5 in Salt Lake City), Simpatico Theatre (June 6-24 in Philadelphia), Know Theatre of Cincinnati (January 11-February 2, 2019), and The Wilbury Theatre Group (April 11-21, 2019 in Providence). Red Bike was presented at NNPN's 2017 National Showcase of New Plays, hosted by Orlando Shakespeare Theatre.
In an
NNPN Rolling World Premiere
, the Network provides production support to the playwright and the partnering theaters, including assistance with the creation and the contracting of the premiere agreement, collaborative interactions between the theaters, and travel and housing funds for the playwright to further develop the play in each city.
What kind of future will you have living in these here United States? Remember when you were eleven years old and you had a bike, one that made you dream about a world bigger than the one in which you live? This is that memory. Except it is now.
Caridad Svich received a 2012 OBIE Award for Lifetime Achievement in the theatre, a 2017-18 Visiting Fellow at Royal Central School of Speech and Drama, a 2012 Edgerton Foundation New Play Award and NNPN Rolling World Premiere for Guapa, and the 2011 American Theatre Critics Association Primus Prize for her play The House of the Spirits, based Isabel Allende's novel. She has been short-listed for the PEN Award in Drama four times. Key works in her repertoire include 12 Ophelias, Iphigenia Crash Land Falls on the Neon Shell That Was Once Her Heart, Fugitive Pieces, Alchemy of Desire/Dead-Man's Blues, The Way of Water, and Red Bike (currently receiving an NNPN Rolling World Premiere 2018-2019). She has also adapted for the stage novels by Mario Vargas Llosa, Julia Alvarez and Jose Leon Sanchez, and has radically reconfigured works from Wedekind, Euripides, Sophocles, and Shakespeare. As a theatrical translator she has translated nearly all the plays of Federico Garcia Lorca, and works by Lope De Vega, Calderon de la Barca, and contemporary works from Spain, Mexico and Cuba. She has also edited several books on theatre and performance, among them Fifty Playwrights on Their Craft (Methuen Drama, 2017) and Audience Revolution (TCG, 2016). She is published by Intellect Books, Seagull Books, Broadway Play Publishing, Manchester University Press, Smith & Kraus and Playscripts. She is alumna playwright of New Dramatists, contributing editor of Contemporary Theatre Review, drama editor of Asymptote literary translation journal, contributing editor of TheatreForum and an affiliated artist of EST, Lark and New Georges, and is founder of NoPassport theatre alliance and press. She is currently under commission from American Conservatory Theatre, Cleveland Opera Theatre and Oregon Shakespeare Festival, and teaches playwriting at Rutgers University-New Brunswick and Primary Stages Einhorn School of the Arts. caridadsvich.com
The mission of Pygmalion Theatre Company is to produce theatre that reflects issues, concerns and shared experiences in the lives of women. Every production that PYG undertakes ties directly back to its mission: giving voice to women - playwrights, directors, performers, characters - and telling the stories that reflect women's lives. We do this through a variety of artistic media.
pygmalionproductions.org
Simpatico Theatre explores stories that celebrate, challenge, and expand our definitions of community and compassion. We stage thought-provoking work that's grounded in social justice, civil rights, and community service. Our grassroots dedication to bridging communities fuels our work, reveals avenues of advocacy for our audiences, and leads to transformative collaborations in our city.
simpaticotheatre.org
The Know showcases unexpected voices, new works, and plays that embrace the inherent theatricality of the live experience. Know Theatre seeks to be a place where artists and audiences feel welcome to take artistic risks, creating work that is cutting edge and accessible.
knowtheatre.com
Founded in 2010, The Wilbury Group produces plays by artists on the cutting-edge of theatre and reimagined classics from the canon. We pride ourselves on our pursuit of excellence in acting and design, a less-is-more aesthetic, and a commitment to creating an engaging audience experience with every production. From our earliest days the Wilbury Group has maintained a commitment to offering students and audiences from throughout New England affordable access to our programs through our outreach, education, and new work development programs. A promising and important cultural organization in Providence, we are proud to serve our diverse and ever-evolving community.
thewilburygroup.org
National New Play Network (NNPN) is the country's alliance of non-profit professional theaters dedicated to the development, production, and continued life of new plays. Since its founding in 1998, NNPN has supported more than 250 productions nationwide through its innovative National New Play Network Rolling World Premiere program, which provides playwright and production support for new works at its Member theaters. Additional programs - its annual National Conference, National Showcase of New Plays, and MFA Playwrights Workshop; the NNPN Annual and Smith Prize commissions; its residencies for playwrights, producers and directors; and the organization's member accessed Collaboration, Festival, and Travel banks and online information sessions - have helped cement the Network's position as a vital force in the new play landscape. NNPN also strives to pioneer, implement, and disseminate ideas and programs that revolutionize the way theaters collaborate to support new plays and playwrights. Its most recent project, the New Play Exchange, is changing the way playwrights share their work and others discover it by providing immediate access to information on more than 18,250 new plays by living writers. NNPN's 30 Core and 81 Associate Members - along with the more than 250 affiliated artists who are its alumni, the thousands of artists and artisans employed annually by its member theaters, and the hundreds of thousands of audience members who see its supported works each year - are creating the new American theater. nnpn.org | newplayexchange.org Copyright © 2018 National New Play Network, All rights reserved.
You are receiving this email because we thought you'd want to know!
Photo Credit:
Jody Christopherson
Related Articles View More New Jersey

Stories

Shows
More Hot Stories For You