Kindling Arts Announces Dates For Its Sixth Annual Dynamic 4-Day Performance Festival, July 27-30
Artist applications are now open for submission through March 15, 2023 for artists living in Middle Tennessee.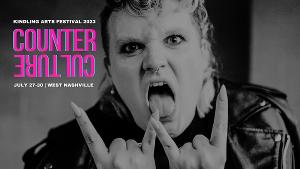 Nashville's radically unique independent arts incubator Kindling Arts today announced the official dates for its 2023 festival of live performances taking place Thursday, July 27 through Sunday, July 30, 2023.
This year's events will be held at venues across West Nashville, including OZ Arts Nashville and The Darkhorse Theater. For the first time, the Kindling Arts Festival programming will be unified around a singular theme of Counterculture. Artist applications are now open for submission through March 15, 2023 for artists living in Middle Tennessee.
The announcement for the 2023 Kindling Arts Festival comes on the heels of a huge year of growth for the nonprofit arts organization - one that more than doubled ticket sales and attendance at the 2022 festival and included additional dynamic artistic experiences throughout the year. Kindling Arts and its organizers have also been recognized with local awards for recent years of programming, most notably several "Best of Nashville Awards" from the Nashville Scene, including "Best Summer Arts Festival" (2021), "Best Local Theater Performance" (The Naughty Tree, 2022), and "Best Wrestling-Karaoke Crossover" (Bar Fight!, 2022).
Now established as Nashville's hub for radically unique performance programming from the region's most daring creators, Kindling Arts Festival 2023 welcomes proposals from artists working in theater, dance, music, multimedia, burlesque, comedy, cabaret, circus, immersive art, interdisciplinary forms, or unclassifiable experiences. Proposals can be submitted at kindlingarts.com/artist-applications through March 15, 2023. Continuing the organization's commitment to radical accessibility for artists, there is no fee to apply.
"After such an incredible fifth year of programming, we can't wait to see what the 2023 Festival has in store," Artistic Directors Jessika Malone and Daniel Jones said in a joint statement. "This is our favorite time of the year: seeing how local artists find ways to delight and surprise us with their innovation and authenticity. We know that Nashville's audience is hungry for art that speaks directly to the issues our community is facing, and perhaps even sparks some joy, and this year's Festival is sure to not disappoint on either account."
Kindling expects to announce the full line-up of artistic projects for the 2023 Festival in May of this year. For the passionate arts supporter, Kindling is offering an early access pre-sale for Wildfire Weekend Passes at the low rate of $75 prior to the line-up announcement. This all-access pass allows audience members to choose their own adventure for the Festival programming and includes admission to all performances. A VIP Weekend Pass is also available for $100 with additional perks such as premium seating at select performances. Passes can be booked now at kindlingarts.com.
Kindling Arts Festival 2023 is made possible, in part, by support from The Marlene & Spencer Hays Foundation, Nashville Scene, and Pierce Public Relations. There are a variety of sponsorship opportunities available for Kindling Arts Festival 2023 - to learn more, contact Producing Artistic Director Daniel Jones at daniel@kindlingarts.com.