FRIDAY 5 (+1) on Thursday: BIG RIVER's Teal Davis & Elliott Robinson
Big River, Roger Miller's tuneful - and Tony Award-winning - adaptation of Mark Twain's Huckleberry Finn, kicks off the 2017-18 season at The Larry Keeton Theatre tonight, running through August 27. Directed by Suzanne Spooner-Faulk and Noah Rice (who does double-duty as musical director), with choreography by Tosha Pendergrast, set design by Jim Manning, costume design by Tanis Westbrooks, lighting design by Stella London and sound design by Allen Stokes, it features an all-star cast of Nashville favorites who bring the show to vivid life.
Among the show's stars are TeAl Davis and Elliott Robinson, who portray the show's protagonists Huck and Jim and take audiences on a journey down the Mississippi River in the rollicking, rambunctious show. Somehow, the two actors found time in their hectic, tech week schedules and sat down to take on our questions in order to offer some insight into why they do what they do, as well as suggesting why you just can't miss Big River during its three-weekend run at 108 Donelson Pike.
Therefore, gentle readers, read the latest Friday 5 (+1) on Thursday and quickly make reservations to see the show!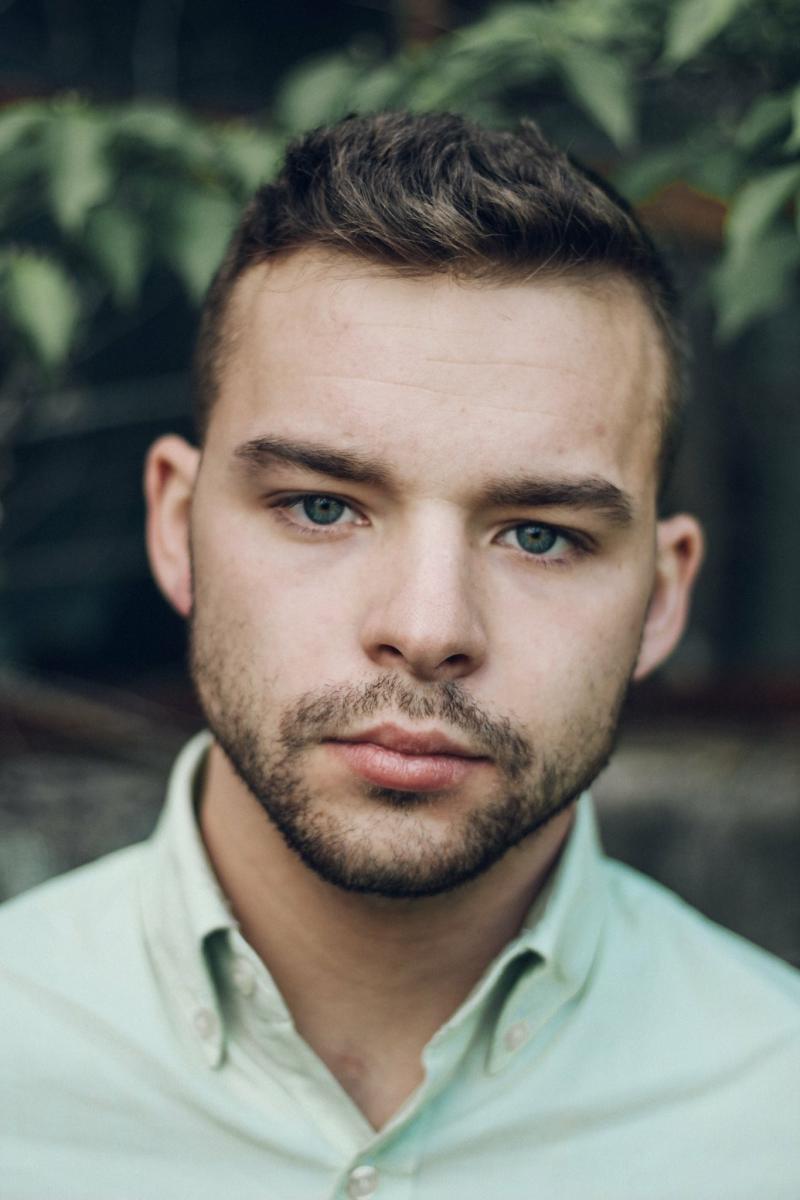 TeAl Davis (Huck Finn)
What was your first "live onstage" taste of theatre? My first taste of theatre was as "Bongo" in the show Surfs Up, which is a musical written around the best of The Beach Boys' music! Even though, the show didn't make much sense, I was hooked on performing from then on. And even though, I do remember a pretty groovy version of "Barbara Anne" in that show!
What is your favorite pre-show ritual? My favorite pre-show ritual is one 8-ounce Red Bull and reading my script while listening to my favorite music. Then, I'll say a very quick prayer and walk out onstage!
What's your most memorable "the show must go on" moment? This is a new development for me, the last show I performed in (Mary Poppins) I was playing Bert in front of a sold-out audience at Keeton Theatre. In the last scene, the blocking is that Mary kisses me on the cheek and I run up the slide we had coming down from a loft on stage right. Then, I was supposed to go down the chimney and end my performance as Bert! WHAT ACTUALLY HAPPENED WAS: she kissed me on the cheek and I made my running start for the slide. This was the moment everything changed. I took a step on the slide and my shoes slipped on the smooth surface on the slide bringing me the straight down. I immediately nail the slide and at this point I know I've already kind of ruined the scene so I CLIMBED THE 6-foot WALL ABOVE ME and dove straight down the chimney only to land with a VERY audible "thud"! The show ended and I kept my head high but man, was that embarrassing!!
What's your dream role? My Dream role is to be J. Pierpont Finch in How to Succeed in Business Without Really Trying! It was one of the first shows that I saw when I was in New York for the first time! I remember seeing Nick Jonas perform the role and I fell in love with the witty humor of the show!
Who is your theatrical crush? Julie Andrews? (Yes, even now). I've blocked many from my mine in the years I've been performing. I try my best to keep all of my theatrical relationships professional! Every now and then though one will catch me off guard...
EXTRA-SPECIAL BONUS ROUND QUESTION: Why should people come see Big River? It's hard for me to answer this, not because there aren't reasons, but only because there are SO MANY reasons on why you should see this show. The message it teaches is exactly what the world needs to hear right now. We are all people regardless of color or status. All of us feel joy and all of us feel pain. I'm so blessed to be a part of this production.
Elliott Robinson (Jim)
What was your first "live, onstage" taste of theater?,As far as my own "career" is concerned, the only play I had under my belt before age 40 was Romeo and Juliet in sixth grade (I got killed in a swordfight, and I thought that was awesome!). Then one day, a little over ten years ago, I was encouraged to audition for a show at Tennessee State University entitled, Sho' 'Nuff Nativity, by Jeff Obafemi carr. I figured I could sing well enough to be in the chorus/ensemble, but I had no idea that I could act. My monologue was a portion of Ossie Davis' eulogy for Malcolm X, and I sang "City Called Heaven," a cappella. To my surprise, I was cast as Joseph, and I felt nothing but encouragement from my fellow cast mates and production team, right from the beginning. They all expressed disbelief that I had really never done this before. After one more play, in early 2007, I met a lady named Cathy Street. That was truly a blessing to my life, and I was thrust onto a yellow brick road that I am still following today! I'll always be indebted to Cathy and obafemi for seeing something that I had never seen in myself.
What is your favorite pre-show ritual? I would say sushi, but that's usually more of an opening night thing. There is something I could call my favorite thing to do before any show - whenever I can actually do it before a show. That would be, "NAP!" If possible, I always like to spend a few minutes alone onstage pre-show, to be able to visualize my way through what I've got to do.
What's your most memorable "the show must go on" moment? There have been many (don't you just love live theatre?), but my most recent was a couple of months ago in Pippin. I had a moment where I somehow forgot how many stairs I was coming down, and when I thought I was hitting the stage, I was actually hitting the bottom step. I went ALL the way down (yes, ass on the floor!); but the show must go on, right? I bounced right back up, just as quick as I'd gone down, and delivered my next line. I really believe that it was played off smoothly enough to make at least one person think it was supposed to happen...
What's your dream role? Whatever the next one is! But, if I had to choose a couple I'd like to play, two that come to mind right away are Othello, and Troy Maxson in Fences.
Who's your theatrical crush? It would be a dream to work in an August Wilson play with somebody like Phylicia Rashad, or Viola Davis, and I would love to do Driving Miss Daisy with somebody like Kathy Bates. Musically, I'd love to sing something - anything - with Audra McDonald. Or Bette Midler. And I've always had a big crush on Rita Moreno. In Nashville, one day I hope to stand on somebody's stage next to Jennifer Whitcomb-Olivia, and I'd welcome the opportunity to work with Rachel Agee or Rebekah Durham again.
Why should people come see Big River? Because it's a story about the transformation of a young man who's conscience is fighting a battle with his culture. Huckleberry has been taught all his life to buy into the false rhetoric which claims that certain people who don't look like him are somehow inherently less than, or inferior to him. Huck learns an important lesson of respect, as he gradually comes to the realization that Jim is indeed a human being, with real feelings and real dreams. If that's not a story that needs to be told right now, then I don't know what is. That, and the music is awesome!
About the show: Country music legend Roger Miller composed this rip-roaring musical adventure featuring his signature country and bluegrass styles. Based on Mark Twain's classic 1884 novel, Big River won seven Tony awards when it debuted on Broadway in 1985.
Starring Nashville favorites Elliott Robinson as the runaway slave Jim, TeAl Davis as the rascal Huck, Brooke Leigh Davis as Alice, Stella London as beautiful Mary Jane Wilkes, Austin Smith as mischievous Tom Sawyer, Kevin Raymond as sternly Judge Thatcher, Riley Hughes and Danny Proctor as confidence men The King and The Duke, plus many other stellar local artists.
Big River is directed by Suzanne Spooner Faulk & Noah Rice with musical direction by Noah Rice and choreography by Tosha Pendergrast. Tickets may be purchased by calling (615) 883-8375 or at www.thelarrykeetontheatre.org.