BWW Review: Studio Tenn's Stunning EVITA Makes History on Opening Night With Powerful Performances
As assured and confident as any long-running musical now - or ever, for that matter - on Broadway, the altogether worldly and completely engaging production of Andrew Lloyd Webber's Evita, playing at Andrew Jackson Hall through September 18, gives Nashville audiences the kind of exceptional theater experience they've come to expect from Studio Tenn.
Broadway veterans Eden Espinosa, Anthony Crivello and the scene-stealing Ben Crawford lend an air of mainstem sophistication and panache to the show, to be sure, yet they are surrounded by a cast of Nashville-based actors, singers and dancers who underscore our city's self-proclaimed moniker of "Music City" to absolute perfection, lending credence to the belief that all music made in Nashville - country or otherwise, but particularly musical theater music - is of higher quality than that created elsewhere.
Actually, this particular production goes far beyond what we've seen from the company to this point: While we've been impressed (maybe "gobsmacked" is more to the point) by what we've seen in the past from Studio Tenn's Matt Logan and Jake Speck, what we get from their Evita is the unexpected. It's a high-flying spectacle that engages and delights, sweeping audiences into a higher realm of theater that was perhaps alluded to in those earlier shows, but which remained tantalizingly out-of-reach. You knew, instinctively, that it was within their grasp but they needed a bigger venue to show off exactly what they were capable of doing onstage.
Sumptuously mounted and beautifully designed, Evita - brought to life in a historic, paradigm-shifting production from Studio Tenn in collaboration with Tennessee Performing Arts Center - welcomes its audiences into the fanciful world of musical theater the moment they enter the auditorium, instantly whisking them away to another time and place with all the magical attributes, technical wizardry and beautifully conceived staging that one has come to expect from Logan, Speck and their team of hometown creative cohorts, including Scott Leathers (whose lighting design is exemplary) and Maggie D. Harris-Caudill (whose wig and makeup design is noteworthy).
The sound design (save one minor hiccup that I noted) is, I am pleased to say, the best we've encountered in the 30-plus years of reviewing shows at the venue.
If earlier Studio Tenn efforts fell short in any way (and, let me assure you, they never did, for all intents and purposes), it was because their productions needed a bigger, more expansive stage and flyspace in order to contain everything that Logan's unbridled imagination could bring to a production. Now, thankfully, the point is moot. What this historic collaboration between Studio Tenn and TPAC (this is the first time that a local company has mounted a show as part of the Broadway at TPAC series) shows off to perfection is that theater in Nashville can be on a par with any other product issuing forth from a city better known for theatrical ingenuity, wherever in the world it may be.
But enough about the impact of this production and the doors and windows to opportunities flung open as a result of this particular project, what must be focused upon now is the artistic achievement of Evita: It's breathtaking in its visual, dramatic and auditory scope, with Logan's unparalleled vision lifting the perhaps timeworn story off the page and giving it a contemporary flair that never once detracts from the period-perfect evocation of the time and place of the tale.
Music director and conductor Stephen Kummer and his 19-member pit orchestra beautifully perform Webber's score to near-perfection, capturing every nuance in the music with alacrity, providing the show with a musicality that transcends the printed page, and underscoring the onstage action with their enormous capabilities.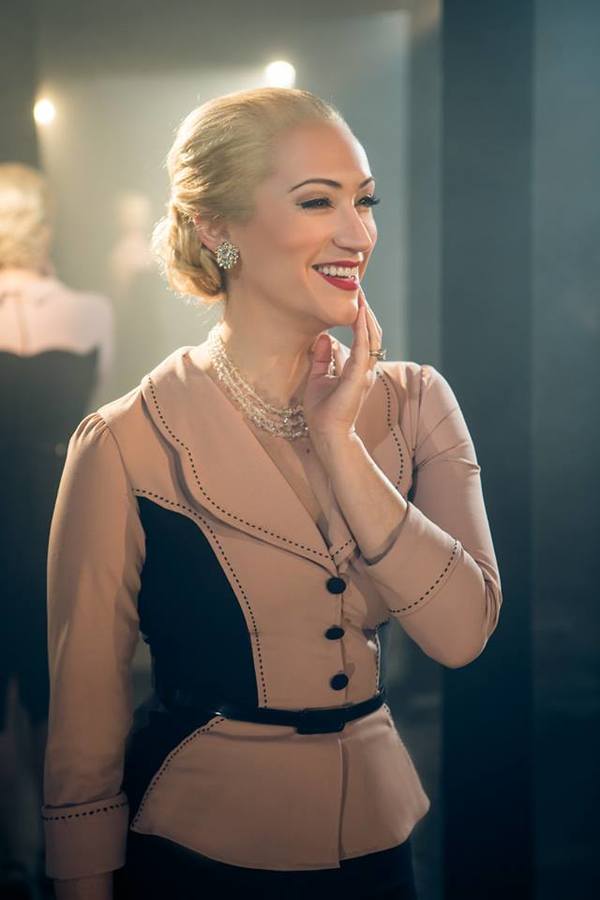 Perhaps never before has the story of Eva Peron's rise to power (and saint-like reverence among the poor of Argentina) been so evocatively told. Emily Tello Speck's choreography exquisitely interprets the story in movement that is at once technically challenging and deceptively simple: dancers move seamlessly and fluidly throughout the show, incorporating ballet and virtually every other discipline in dance while doing so. Thus, the driving rock beat of Webber's music is felt to the core, while the more classical/musical theater sequences come upon you almost unawares. Tello Speck's choreography does for musical theater dance in Nashville what Paul Vasterling's masterful choreography has done for Nashville Ballet: It elevates the art it represents and espouses.
Of particular note, Speck's choreography for "The Art of the Possible" is clever, inventive and slyly amusing in its droll and altogether sensual performance.
Not surprisingly, Logan's vision for Evita is awe-inspiring. As compelling as Evita is visually (Logan's eye for detail never disappoints - ranging from his gargantuan design for the Casa Rosada to his glamourous costumes for Espinosa and various set pieces that move in and out with unfettered ease), you may find so much to revel in via smaller, more intimate moments which prove what a capable and talented director he is.
For example, toward the end of Act Two (and, let's face it, Evita has one of the best second acts in musical theater) there is a scene in which the dying Eva sits slumped in a chair, while Peron stands behind her with his hand on her shoulder and the smoldering Che glares at her, half-turned away from the audience. All eyes are riveted upon Espinosa, who is given the opportunity to show off her acting chops to perfection, every slight gesture filled with meaning and ever note she sings heartrendingly potent. It is a moving and thoroughly devastating moment in the storytelling of the two-and-a-half hour, almost-completely-sung-through show. And yet, somehow, it's only a brief moment onstage that speaks volumes about Logan's deft directorial hand and the mutual trust of his trio of leading players and the man guiding them on this spectacularly theatrical journey.
His concept for "Rainbow High" is intriguingly fanciful, as thoroughly captivating as anything you may have seen before or will see hereafter, a moment of sheer joy that soars theatrically toward the rafters of the cavernous theater and yet remains grounded in reality by the performances of Espinosa and the members of the ensemble who bring it so impressively to life. Logan refers to it as his "Bob Mackie moment" and the sheer impact of the number is indefinably rich and alarming in its fashionable intensity.
As impressive as the production's design is and as stunning as its physical trappings are, the show (at curtain on opening night, at least) seemed less than completely surefooted. The opening sequence initially seems forced and rather jarring - and if there are any missteps with which to quibble in this opulent and confident production, this would be it - as if opening night nerves were in the way. The melodramatic histrionics of the first scene seemed over-the-top (by degrees) and a little distracting. But by the time we are introduced to the force of nature that is Eden Espinosa as the 15-year-old Eva Duarte and she launches into "Buenos Aires" with the ensemble, it becomes very clear that this Evita is something very special indeed, and any misgivings about the opening quickly evaporate into the creative ether crafted by Logan and his startling band of compatriots.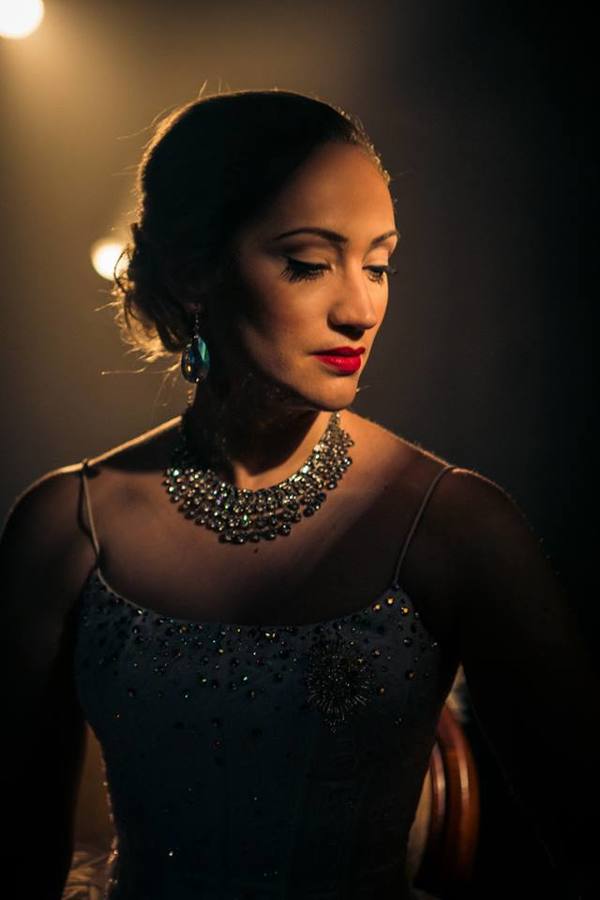 Espinosa's performance is thrillingly theatrical, giving the Broadway diva a remarkable opportunity to showcase her talents to perfection and to prove her mettle as the star of this beloved musical. Fiery and spirited, ambitious and grasping, her Eva Duarte de Peron is eminently watchable: Her stage presence is palpable and her interactions with Crivello (as Juan Peron) and Crawford (as Che) allow her to act the role with aplomb and total commitment. The stunning moment at the top of Act Two when she takes to the balcony of the Casa Rosada to address her beloved descamisadoes with "Don't Cry For Me, Argentina" is filled with all the vocal pyrotechnics one could hope for, but it is her personal interpretation of the piece that will likely live on in memory for years to come.
Again, the iconic scene gives Logan an opportunity to show off his devotion to his craft, as well as his confident and focused directorial eye: Rather than stage it upstage center, as would be the wont of a director less capable, he stages it off-center, to stage right, to indicate that Eva Peron's star is on the ascent, her career from actress to political mover-and-shaker on the rise as her influence over her husband and the people of Argentina continues to evolve throughout the story.
But "Don't Cry for Me, Argentina" is but one of a cavalcade of musical numbers that allow Espinosa to do what she does best; in addition to the aforementioned "Buenos Aires" (which I could listen to in a constant loop for the rest of my life and be content), there is her staggering rendition of the revolutionary anthem "A New Argentina" and her exquisite duet to "High Flying, Adored" with Crawford's Che to up the ante. Finally, her plaintive performance of "You Must Love Me," interpolated into the theatrical score from the Madonna-starring film version of the musical, is heartbreakingly genuine and pairs Espinosa with Crivello in a haunting tableau of love, loss and longed-for spiritual redemption that will leave you breathless in its aftermath.
The Tony Award-winning Crivello (who was a replacement Che in the original Broadway version of Evita) makes for a well-seasoned Juan Peron, his regal carriage and command of the stage a startling reminder of the factual basis for Tim Rice's emotionally-driven book. With a pitch-perfect accent that blends South American rhythms and European tones, Crivello's vocal performance helps to underscore the historical significance of his character, and his Broadway pedigree ensures the production's bonafides when it will be discussed by the theaterati in the future.
Crawford's easy, yet formidable charm and matinee-idol good looks - along with his complete immersion in the role of Che - very nearly steals the show from his co-stars and his character's role as a political gadfly and one-man Greek chorus, commenting on the action transpiring upon the stage, ensures that he will be an audience favorite from his very first step onto the expansive Jackson Hall stage. That Crawford is able to draw in the 2,000 or so people in the audience to his confidence, speaks volumes about his stage presence and the fact that he is able to sustain that control throughout the show indicates his commitment to the character. "The Lady's Got Potential" and "A Waltz for Eva and Che" (so wonderfully choreographed by Tello Speck) are among the musical highlights of his broad-shouldered, sexy performance that is multi-layered and continuously engaging no matter the scene he is playing, but it's Act Two's "And The Money Kept Rolling In (And Out)" that virtually stops the show thanks to Crawford's rousing performance and the ever-moving and focused ensemble surrounding him.
Mia Rose Lynne, playing Peron's young mistress who is tossed out onto the street like so much garbage by the imperious Eva, delivers a beautiful and haunting rendition of "Another Suitcase in Another Hall" (yet another instance in which Crawford lends strong support) and makes an indelible impression upon the audience and delivers on the promise we've seen in her in earlier productions with Studio Tenn. Rene Millan is well-cast as Augustin Magaldi, the tango singer who first provides young Eva transport from the squalid confines of her youthful upbringing.
The more than 30 members of the ensemble - who play roles ranging from Eva's mother and siblings, to the staff of generals around Peron in his climb to the top of the political heap, as well as a smattering of hangers-on, toadies, international functionaries and Eva's beloved "descamisadoes" - move in and out of each scene seamlessly, lending atmosphere to the onstage events that help to deliver the story of Evita with resolute, yet somehow buoyant, effort.
To be certain, this production of Evita is not to be missed - not just because of the laudatory nature of the collaboration between TPAC and a local theater company, but also because of the show's place in the canon of contemporary musical theater. I was alarmed by the words repeated to me time and again in the audience and in the lobby at intermission and before and after the show: "I don't know Evita at all, so I wanted to see what all the fuss is about..."
I first happened upon the show's concept album in 1977, during my sophomore year of college and instantaneously fell in love with the score and its story and Evita was, in fact, the first Broadway show I ever saw in 1979 and it remains a particularly beloved part of my personal musical theater history (Patti LuPone has that way about her, don't you know?). And in the glow of post-opening night introspection, it occurred to me that in many ways, Evita was my generation's Hamilton - an example of musical theater challenging preconceived notions and a paint-by-the-numbers lack of creativity that is representative of a shift in the musical theater paradigm. I am, therefore, the target audience for this production.
Speaking objectively, however, I can give a full-throated, unreserved endorsement of this spectacular mounting of one of my very favorite musicals. It will exist at TPAC's Jackson Hall for a mere eight days more, so you know what to do...
Evita. Music by Andrew Lloyd Webber. Lyrics by Tim Rice. Costume design, scenic design and entire production directed by Matt Logan. Choreography by Emily Tello Speck. Music direction by Stephen Kummer. Presented by Studio Tenn Theatre Company and The Tennessee Performing Arts Center at Andrew Jackson Hall, Nashville. Through September 18. For tickets, go to www.TPAC.org. Running time: 2 hours, 30 minutes (with a generous 15-minute intermission).
photos of Eden Espinosa as Eva Peron by MA2LA
Related Articles View More Nashville

Stories

Shows