BWW Review: Spectacular Cast Gives Chaffin's Barn's NEWSIES A Fresh Appeal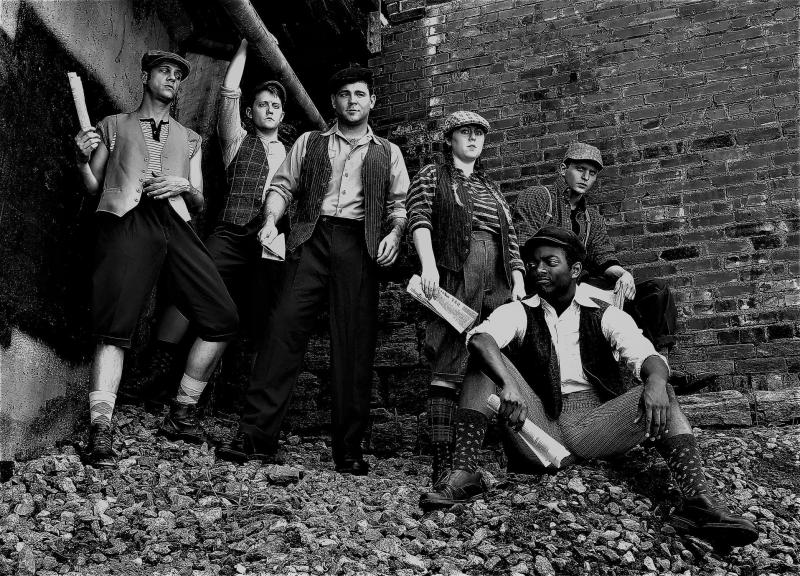 For plenty of fast-paced action, along with some stellar performances by a fresh-faced cast of eager young theatrical triple threats and a coterie of Nashville stage favorites, one need look no further than Disney's Newsies, the latest onstage offering from Chaffin's Barn Dinner Theatre, the iconic Music City venue that's been entertaining audiences for more than half a century. In its way, The Barn (as it is affectionately known in these parts) and its laudable history ensure that its treatment of the popular musical theater title lend the show's historical basis more than a little gravitas in the making of a stage spectacle.
The latest iteration of Newsies, now onstage through October 22 at Chaffin's Barn, is as energetic and inspiring as you might hope - thanks to the omnipresent Everett Tarlton's high-flying, high-spirited choreography and director Martha Wilkinson's remarkably capable cast - and although it's the second local production out of the gate (Circle Players closed their equally impressive version less than a month ago and two additional ones are set to debut before Thanksgiving) there is enough different and unexpected about the Chaffin's show to make it seem like a whole different work altogether.
Perhaps most notable about The Barn's Newsies is its stellar ensemble of actors, each of whom seems a star on the rise (regardless of how often you may have seen them onstage, truth be told) and, given their ample talents - they sing, they dance, they act with equal aplomb - now might be the best opportunity to see them for yourself so that on that inevitable day you can boastfully intone, "I knew (him, her, them) when..."
Led by a quartet of personalities making their debut on Chaffin's legendary stage - Chase Cooksey as charismatic newsboy and incipient labor union organizer Jack Kelly, Natalie Rankin as the genteel yet muckraking reporter Katherine Plumber, Bobby Hogan as idealistic newspaper hawker Davey Jacobs and Seth Bennett as his precocious younger brother Les - along with the doyenne of Nashville musical theater herself, Martha Wilkinson, as big-hearted theater owner/bigger-voiced headliner Medda Larkin, Disney's Newsies has never sounded (or looked) better thanks to this attractive and appealing ensemble, nor has any production ever filled every single smidgen of real estate at the venerable venue more effectively than does this one. You ain't seen the likes of it until you've seen Newsies!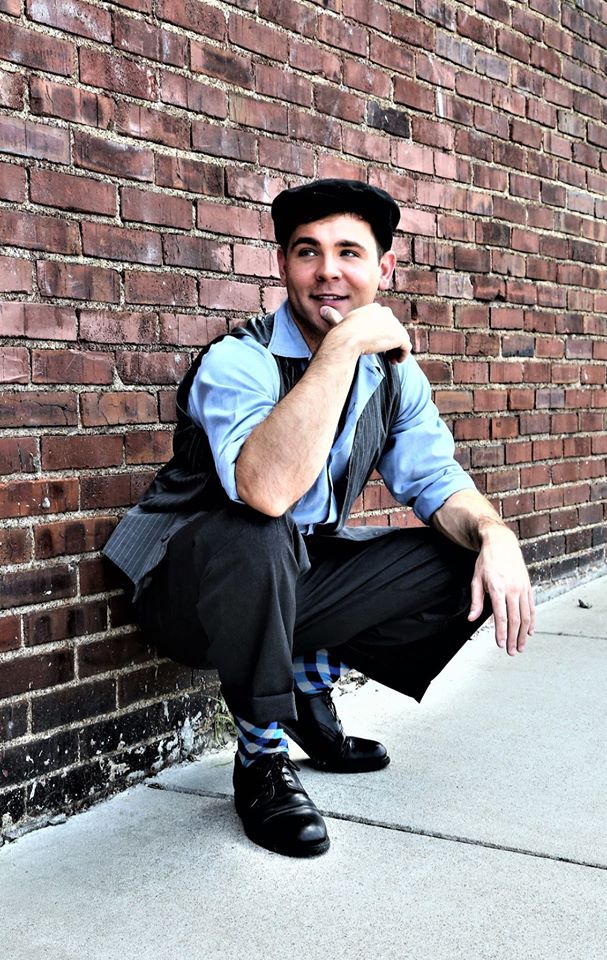 Granted, theater audiences throughout the United States are going to be seeing a lot of tap-dancing newspaper boys in the coming months - what with the recent release of rights to Disney's Newsies, the Broadway hit with music by Alan Menken, lyrics by Jack Feldman and book by Harvey Fierstein that is, in turn, based on the 1992 film of the same name. In fact, within a year, Nashville area audiences will have no fewer than a half-dozen opportunities to witness their own homegrown renditions of Newsies, even if no more productions are announced to join those already in the theatrical pipeline.
Inspired by actual events - the 1899 newsboys strike that hobbled the circulation of New York City's daily newspapers back in the day when there were multiple mastheads competing for readership (good lord, can you even imagine that?) and featuring some of the era's best known and most controversial public figures such as Joseph Pulitzer and Teddy Roosevelt - Newsies offers a veritable whirlwind of seemingly perpetual energy and constant movement that's certain to leave you breathless (or winded, depending upon your own personal state of affairs - we are scanning Craigslist for an iron lung, even after having a paper route throughout high school and tap dancing our way through college and young adulthood).
While Menken's score is definitely hummable - chances are you won't leave a performance of Newsies without an earworm or two wending its way through your brain, driving you to distraction - and Feldman's lyrics are generally top-notch, it's Fierstein's book for the show that doesn't quite come up to scratch. Sure, it's interesting enough and it provides a serviceable plot that's not completely ridden with potholes, but there is too much repetition and a somewhat scattershot approach to the era's shortcomings (society's treatment of child laborers, women, ethnic minorities and the economic disparities brought on by the Gilded Age's preferential treatment of rich, white men - STOP THE PRESSES! - apparently, we are now living in a latter day Gilded Age!).
As a result of that somewhat simplistic approach to the horrific conditions of those particular times (although we will utter an enthusiastic "Bully!" to the creative minds behind Newsies for their attempt to shed light on them, even while set to a musical score and with lots of dandy dancing), the show can sometimes seem to have loftier goals than perhaps it should.
That, however, seems a mere quibble if one simply gives oneself over to the notion of being entertained by the enormously appealing cast and their unstoppable drive to thrill and delight audiences with the astonishing amalgam of their talents. That, gentle readers, is the general takeaway of two hours of Gilded Age glitz and glitter, courtesy of Chaffin's Barn's Newsies.
Clearly, if you're out for an evening of good family fun, Newsies is the show for you - and Chaffin's Barn, with its 52 years of experience in providing a sumptuous feast followed by top-flight entertainment, is the place you need to be for just such an adventure. You simply won't be disappointed.
Wilkinson's expertise at delivering the theatrical goods pays off handsomely with Newsies: She and her artistic/creative collaborators do their usual mind meld to make certain the show is a hit, employing the tried and true to ensure audiences are riveted to every moment of the show. Utilizing every square inch of the space available to them, Wilkinson, Tarlton and company utilize the venue's intimate confines to create a pretty much immersive production that puts the audience right smack dab in the middle of the action. Never have we seen the space at The Barn used in such clever and inventive ways, with various cast members dancing quickly by in the aisles, noble characters speeding past you with nefarious no-goodniks in hot pursuit and with heartfelt evocations of "Santa Fe" being sung rapturously from the next table over - all of which is designed to draw audiences into the story, to make them a part of the tale playing out in front of and around them.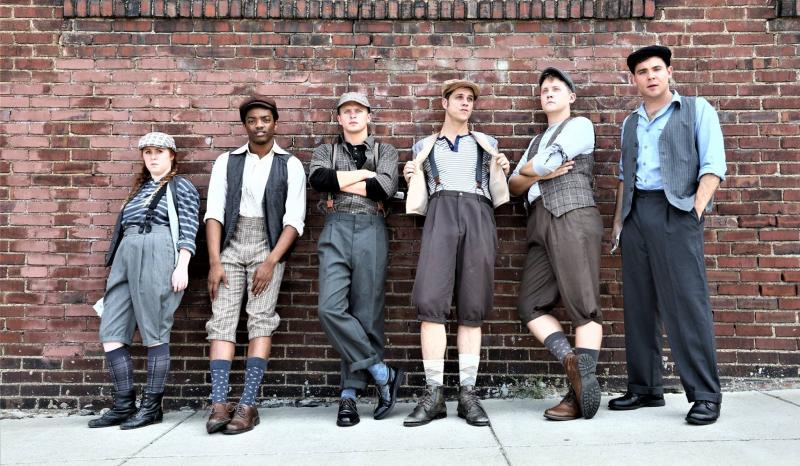 While much of the conjecture and speculation about how Newsies would be staged at The Barn - the show is a bear to produce, its huge cast and expansive storylines notwithstanding, and the choreography for which it is perhaps most justifiably know, making it a more herculean task than a layperson could even fathom - it comes down to this: It works. Rather marvelously, in fact.
Tarlton's choreography seems somehow new and different from what we've seen before; sure, it's clearly inspired by Christopher Gattelli's movement for the Paper Mill Playhouse, Broadway and national touring productions of Newsies, for which he deservingly won the Tony Award, but because the show is staged in the round at Chaffin's Barn, Tarlton's choreography seems somehow more original and less derivative. His cohort of dancing actors and acting dancers bring the show to its very zenith with their breathtaking leaps on a stage that might best be described as not unlike a postage stamp. Act Two's opening number - "King of New York" - is a showstopper, while "Carrying the Banner" opens the show with flair and "Seize the Day" brings Act One to a terrific close designed to keep audiences enthralled through intermission.
Tarlton's choreography is spectacular, but it is the palpable commitment and resolute focus of the cast - under Wilkinson's skilled hand and with Rollie Mains' customary exemplary musical direction and the accompaniment provided by his musicians - which elevate the production to something truly special.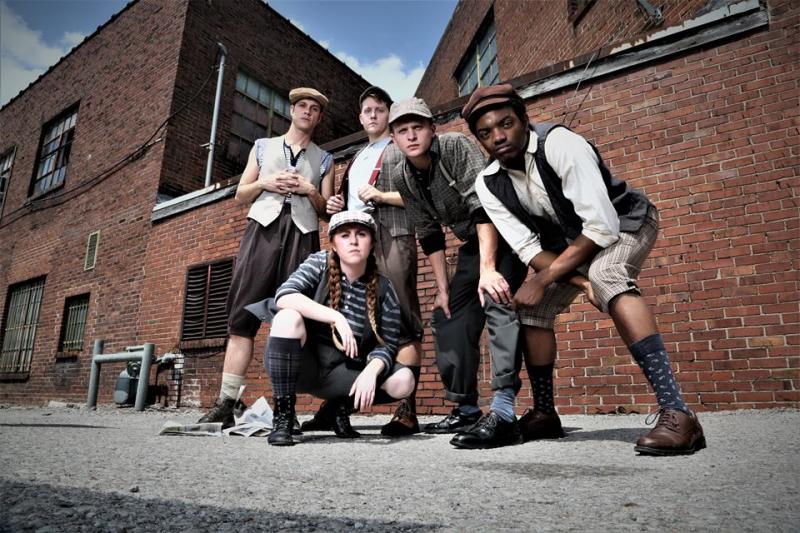 Chase Cooksey is charming as head newsboy Jack, arrogant in a way yet somehow disingenuous and unassuming. He sings Jack's songs with confidence, adding color to the interpretation that sets his performance apart from others we've seen in the role. Rankin is all fiery ambition as the aspiring journalist Katherine Plumber (who's reveal as someone with a more headline-worthy surname provides one of the show's best moments), and she plays her with conviction, lending her own lovely voice and versatile performance to the production's overall success. "Something to Believe In," the second act duet in which Jack and Katherine profess their adoration for each other, has never sounded better, nor has it been more moving or compelling. Although we've seen them both onstage previously - and liked them, admittedly - these roles allow each actor to prove his or her mettle.
As brothers struggling to provide for their needy family in the aftermath of their father's on-the-job injury (at a time, such incidents were commonplace and workers and their families were left to fend for themselves), Bobby Hogan and Seth Bennett are utterly believable, creating a heartwarming brand of sibling rivalry that fairly leaps off the stage. Hogan, who first gained our notice in Belmont University Musical Theatre's On The Town last season, is thoroughly likable and convincing as the idealistic Davey Jacobs and he shows off his leading man bona fides in the process. Bennett, who recently staked his own claim to Music City musical theater stardom in spectacular fashion thanks to a praiseworthy role in Street Theatre Company's The Burnt Part Boys, gives an unfettered and completely convincing performance as 13-year-old Les, whose quick thinking proves him a success at peddling newspapers to unsuspecting patrons.
Wilkinson's is terrific as Medda Larkin, the showstopping queen of the vaudeville stage and she shows off her own considerable talents in her performance, investing the character with her trademark sass and wit, underscored by tremendous heart. "That's Rich" gives her the moment in the spotlight she so deserves.
Among the veteran members of the cast, Chase Michael Miller again puts his ample versatility on display in a wide range of roles (from an Italian barber to Teddy Roosevelt), Greg Frey is impressive as the bombastic Joseph Pulitzer, Richard Daniel assays an assortment of different roles to grand effect, and Jenny Norris and Lindsey Mapes Duggin (both far too young to be considered "veterans," but what's a critic to do?) are delightful as showgirls, nuns and secretaries - pulling from their own bags of theatrical tricks to work their magic.
The remaining members of the cast, including some faces new to Barn audiences (C. James Bare, Kayla Petrille, Samantha Blake, Megan Roberts and Brodrick Santeze Ryans, for example) and others more familiar (Matthew Hayes Hunter as the unfortunately named "Crutchie," David Ridley, Austin Olive, Cassie Donegan, McKenna Driver, Gerold Oliver and Curtis Lemoine), add to the impact of the production with their estimable contributions.
The mutli-talented Tarlton's set design, as well as lighting design by Mary Hankins and the costumes of Rebecca Jarrett, give the production the requisite aesthetic to create the very specific time and place of Newsies, while Joy Tilley-Perryman's props are likewise noteworthy.
Newsies. Music by Alan Menken. Lyrics by Jack Feldman. Book by Harvey Fierstein. Directed by Martha Wilkinson. Choreographed by Everett Tarlton. Musical direction by Rollie Mains. Presented by Chaffin's Barn Dinner Theatre, 8204 Highway 100, Nashville. Through October 22. For details, go to www.ChaffinsBarnTheatre.com or call (615) 646-9977 for tickets. Running time: 2 hours, 30 minutes (with one 15-minute intermission).
photos by Michael Scott Evans
Jeffrey Ellis is a Nashville-based writer, editor and critic, who's been covering the performing arts in Tennessee for more than 35 years. In 1989, Ellis (read more...)