BWW Review: Nolan Makes Impressive Nashville Children's Theatre Debut With THE HUNDRED DRESSES
Ernie Nolan, Nashville Children's Theatre's new executive artistic director, makes an impressive debut with The Hundred Dresses, the initial show of his first official season as the leader of the country's oldest theater for younger audiences. Nolan's predecessor, the late and great Scot Copeland, led NCT through tremendous growth during his tenure and he is, without question, a hard act to follow.
But with the lyrical, graceful and heartfelt The Hundred Dresses, Nolan proves himself both capable and imaginative, ensuring that Copeland's legacy - indeed the legacy of every individual who has contributed to Nashville Children's Theatre's stellar reputation in the world of theater for younger audiences, will live on. In fact, there is no doubt that Nolan (whose own resume rivals that of Copeland as a director, playwright and arts administrator - and a leader in his field) is the man for the job.
Playwright William Kent Williams' adaptation of Eleanor Estes' beloved book, which focuses on bullying and prejudice in an American school more than half a century ago, could not possibly be more relevant or prescient in today's atmosphere of bias and distrust that permeates every segment of our lives.
The Hundred Dresses opens NCT's 2017-18 season with style and assurance, set to run through October 3, touching the hearts of audiences with its eloquent tale of young Wanda Petronski (who is played with tremendous spirit and warmth by Kristin McCandless), a Polish immigrant assigned to Room 13 of Jefferson School in an unnamed town (although Estes' book tells us it's in Connecticut), which like so many others like it, is resistant to change and suspicious of newcomers, particularly those who speak with an accent and come from far away countries of which the other children are only vaguely aware.
Directed with confidence and commitment by Nolan, and featuring a cast of five accomplished Nashville actors who bring to vivid life the characters from Estes' book to tell its story that is sure to challenge every member of its audiences to be better people, to treat one another with respect and to celebrate the differences found among them. Although perhaps that description seems heavy-handed and fairly predictable, The Hundred Dresses is anything but that - rather, it offers, in compelling fashion, a universal story that continues to deliver much-needed lessons about the dangers of foolishly and needlessly allowing oneself to be swayed by the misguided notions of the more popular kids in class: succumbing to peer pressure in order to fit into some preconceived grammar school archetype and to avoid the new and different things in life while perceiving them as foreign and mysterious.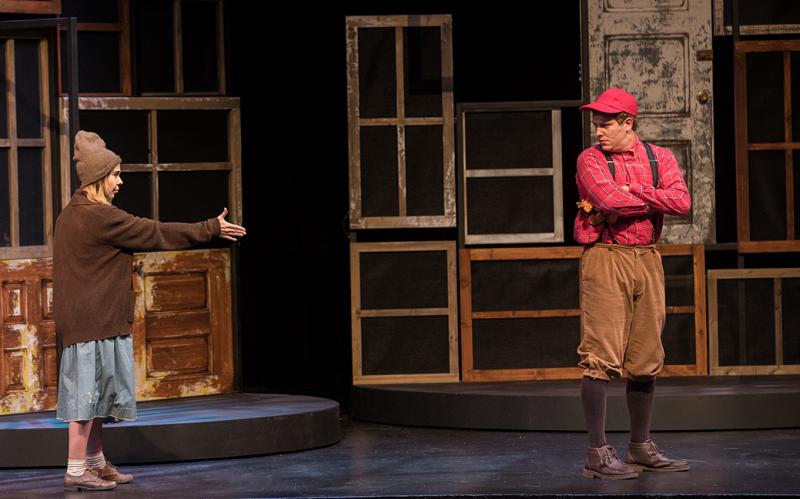 Nolan's cast, led by iconic Nashville actor William Barry Scott as the avuncular Mr. Mason, the teacher of Room 13, represents in some ways the evolution of the local theater community. With the wealth of Scott's experiences leading them, the younger, less experienced, members of the ensemble benefit from his generosity as an actor that somehow comes across the footlights as a palpable, and in many ways remarkable, demonstration of his creative gifts. If anything, Nolan's casting of Scott indicates to Nashville audiences that he, too, honors the traditions of NCT, in particular, just as strongly as he respects the local acting community, in general.
McCalley, wearing Patricia Taber's artfully designed faded and worn blue dress, is striking as young Wanda, who day after day attempts to connect to her more affluent classmates, struggling to make sense of their own customs just as they are baffled by hers. Wanda, viewed as an interloper among the other children in her classroom, seems an old soul, with McCalley providing her with a sense of authenticity that makes the moments she shares with her classmates all the more heartrending, reminding older audience members of their own childhoods, evoking memories of all the travails of pre-adolescence, while no doubt giving younger theater-goers much to remind them of their own lives in the 21st century.
Catherine Birdsong, cast as the "mean girl" of Room 13, plays against type as the haughty and aloof Peggy Wilson with ease, refusing to make her a caricature. Peggy may rule her classmates with notable charm, bending them to her own iron will - she's the queen of all she surveys and will remain so no matter the challenger - but there's a gentleness to her, thanks to Birdsong, that helps her remain both likable and relatable.
Tamiko Robinson Steele, as affecting and accessible as she ever (as Maddie Smith), serves as the audience's guide through the story, explaining her own discomfort at making the new kid in class feel unwelcome and unwanted. And Taylor Kelly, as Tommy Allen, expresses himself wonderfully as the classroom's all-American, baseball-loving boy, who is the first to realize Wanda's uniqueness but is loath to show any affection for her. In that way, he encompasses every young boy's struggle to assert his personality while balancing out his more sensitive instincts.
Mitch Massaro's scenic design is top-notch and imaginative, using window frames and doors to create a world that is the schoolroom in one scene, a squalid tenement in the next. His representational set is designed to let each audience member sees what his or her own imagination will allow, thus stimulating the mind as profoundly as do the words in Williams' script. Bill Rios' lighting design illuminates the various moments in the play to grand effect and Patricia Taber dresses the actors in period perfect iterations of mid-1940s clothes. Joshua Stark's sound design, captures the feeling of the homefront during World War II, with smatterings of familiar tunes providing a superb tonal quality to the production's overall impact.
The Hundred Dresses. By William Kent Williams. Adapted from the book by Eleanor Estes. Directed by Ernie Nolan. Presented by Nashville Children's Theatre. Through October 3. For further information, go to www.nashvillect.org or call (615) 252-4675. Running time: 1 hour, 5 minutes.
Related Articles View More Nashville

Stories

Shows
Jeffrey Ellis is a Nashville-based writer, editor and critic, who's been covering the performing arts in Tennessee for more than 35 years. In 1989, Ellis (read more...)