BWW Review: Nashville Shakespeare Festival's Magical MIDSUMMER Heralds a 30th Anniversary
In her welcoming note to audiences at the 2018 version of Nashville Shakespeare Festival's production of A Midsummer Night's Dream - the 30th anniversary of the company's annual Shakespeare in the Park festivities at Centennial Park (which now is without question the place to be on a midsummer's night in Music City, all other artistic offerings that abound notwithstanding) - executive artistic director Denice Hicks takes a fanciful look ahead to 2048, and suggests that she'll either be in the audience or, quite possibly, in the cast of whatever show happens to be onstage some 30 years hence. Let me just make this prediction by way of critical pronouncement: Denice Hicks, then 88, will once again be playing the ethereal Puck in NSF's then-current Midsummer and I, who will be a spry 91-year-old at the time (or possibly a critical hologram), will be in the audience once again to marvel at her ageless skills and timeless artistry.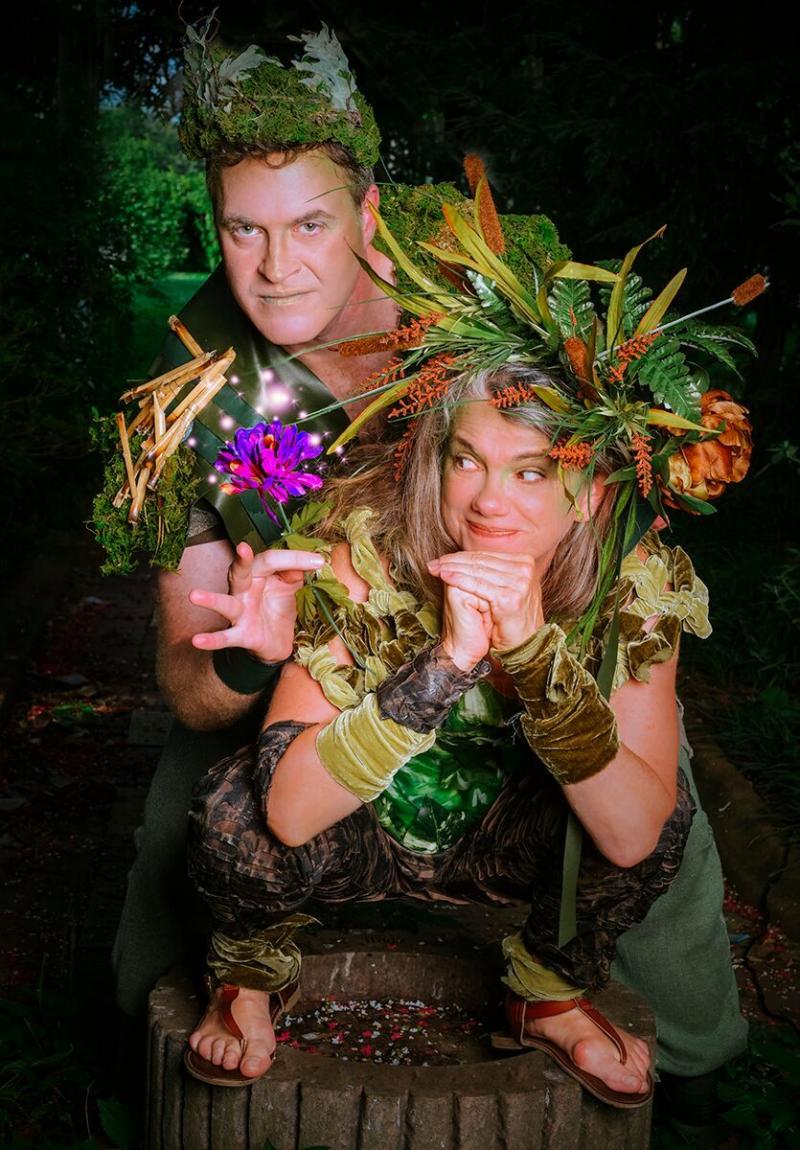 For during this 30th anniversary celebration, no one personifies Nashville Shakespeare Festival so perfectly as Denice Hicks, who is the doyenne of theater in our fair city and who will remain so for many years to come. Who could have ever imagined on a rainy evening in 1988, when Chambers Stevens, Ty Brown and company opened As You Like It in a tie-dyed and quickly assembled, makeshift theater as fanciful as their aspirations that NSF would be the cultural mainstay in Music City into which it has since evolved, setting the standard for all things Shakespearean - and, truth be told, all things theatrical or otherwise in a town better known for its country music heritage, churches and insurance companies. In 30 years, Nashville Shakespeare Festival has changed the very face of Nashville while entertaining audiences year after year with flights of fancy and theatrical magic.
Paul Gatrell's set transforms the Centennial Park Bandshell into the ideal backdrop for the comic misadventures of noblemen and women, randy young people falling into and out of love, and a rollicking band of mischief makers eager to put on a show of their own within the constraints of Shakespeare's timeless play. Anne Willingham's gorgeous lighting helps immeasurably to create the onstage magic necessary to delight audiences and to shift focus from one moment to the next with a theatrical sleight of hand that is notable, if almost imperceptible, so strategically and artfully designed is her lighting for the out of doors production. Colleen Garatoni's eye-popping costume design is gorgeous and clever, and further helps to create the mystical fairyland in which the tale takes place.
Directed by the always creative, always challenging and surprising Jaclynn Jutting, this summer's offering of A Midsummer Night's Dream is a delightful hot-weather diversion, a colorful and tremendously entertaining evening for audiences of all ages and all backgrounds. If you're an aficionado of the Bard's work, you'll love Jutting's take on the raucous comedy, and even if you're not, you will find yourself given over to gales of laughter amid the breathless and breakneck pace taken up by Jutting's able band of merry players.
Jutting's skillful casting of her shows is particularly noteworthy in a production such as Midsummer, in which actors with impressive and sizable resumes find themselves onstage with younger actors of lesser experience. Jutting so seamlessly knits together her ensemble into a cohesive unit that the result is professional theater at its finest - that audiences may pay what they want (or what they can afford or not at all, to put much too fine a point on it) represents the largesse of NSF and its many artists who year after year have delivered the goods in one fine production after another. In the process, as NSF has continually raised the bar with both its onstage and offstage efforts to nurture talent in the city and to grow a culture of, well, culture in the Athens of the South, we (all of us who find ourselves seated out there in the dark of a spacious auditorium or in a star-flecked amphitheater of Mother Nature's making) are the ones who benefit.
Jutting's cast for Midsummer is led by Geoff Davin, resolute and confident as Theseus/Oberon, and Tamiko Robinson Steele, regal and commanding as Hippolyta/Titania, and the eminently watchable and enormously revered Ms. Hicks as the irascible Puck, whose very antics have defined mischief-making at its zenith since Shakespeare created the character. They are surrounded by some of Nashville's most promising younger actors, including the tremendously talented Sarah Katherine Zanotti as Helena and Joy Greenawalt-Lay as Hermia - both of whom never cease to amaze me onstage or in real life and whose names among the casts for any number of shows almost always guarantee a good time will be had by all. They are paired charmingly with Sam Kell as the feckless Lysander and Aaron Johnson as the bumbling Demetrius.
Sam Douglas very nearly steals the show from the rest of the cast with his over-the-top portrayal of the decidedly larger than life Nick Bottom, who fancies himself the most talented of a troupe of six amateur actors (known herein as The Mechanicals) who find themselves controlled by the fairies and sprites that call the forest their home. Douglas makes himself at home on the set with a high-flying performance that is given able support by the rest of the Mechanicals, played vigorously by Katie Bruno, Seraphim Sherman, Merrie Shearer, Storm Sloan and Elijah J. McNutt. Matthew Cruz Benenseon is well-cast as Philostrate.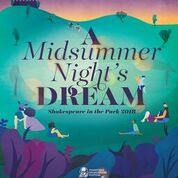 Equally deserving of recognition are the even younger thespians cast as the fairies of the forest: Laura Carpenter, Katie Chance, Abbey Rhyne, Rachel Wolley, Christopher McNnane, Alexa Lauren, Bella Higginbotham, Dakota Collins and Josie Clo.
Rollie Mains returns to NSF as musical director and composer of the incidental music performed by a talented band of minstrels who are an integral part of Jutting's imaginative production. Kudos, therefore, to Mains, Jeffrey Rogers, Natalie Bell, Matthew Cruz Benenson and Brad Brown.
As summer draws ever nearer to the start of autumn, opportunities to experience A Midsummer Night's Dream will continue at Nashville's Centennial Park through next Sunday, September 9, and at Franklin's Academy Park Performing Arts Center September 13-16. Don't miss your chance to become a part of Nashville Shakespeare Festival's vibrant theatrical history.
A Midsummer Night's Dream. By William Shakespeare. Directed by Jaclynn Jutting. Musical direction by Rollie Mains. Choreography by Everett Tarlton. Presented by Nashville Shakespeare Festival at Centennial Park through September 9, and at Academy Park PAC, Franklin, September 13-16. For details, go to www.nashvilleshakes.org. Running time: 2 hours, 30 minutes (with one 15-minute intermission).