BWW Review: Nashville Rep's Beautifully Acted Take on Lydia R. Diamond's SMART PEOPLE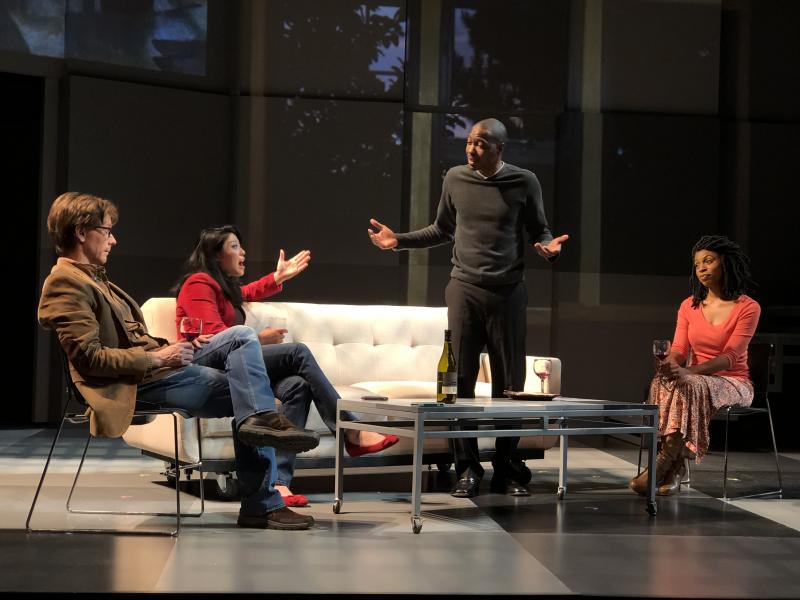 Are Caucasians (specifically, white men) "hard-wired" to be prejudiced - genetically engineered to be biased against the members of other races - their so-called white privilege perhaps mitigated by circumstances beyond their control? That's but one of the intriguing queries posed during the two-and-a-half-hours of Lydia R. Diamond's provocative and stimulating Smart People, now onstage at TPAC's Andrew Johnson Theatre in a winning, beautifully acted production directed by Jon Royal.
Diamond's intellectual treatise on race in America, which is set in 2008 during the election campaign and subsequent inauguration of Barack Obama, is intelligently written - her sparkling dialogue is redolent of the times in which we live (or have lived, more to the point) and the playwright never shies away from asking the difficult questions even as she creates characters who are immensely likable even when they are at their most unappealing. In Diamond's play, deftly directed by Royal whose pitch-perfect cast bring the script's four characters so vividly to life that you feel as if you actually recognize them as people in your own life, the action moves quickly and authentically in order to draw audiences into the onstage action as assuredly as any work of fiction can.
We meet the cast of four as the lights come up on designer Gary C. Hoff's amazingly well-crafted set, which serves as the various settings in which the four people find themselves, and there is never a lag in the storytelling, the tale evolving naturally and effectively. All four are part of the Harvard University milieu in which the play in set, each confronting life from their unique perspective, reacting and responding with requisite passion and direct frankness that enables each of us sitting out in the dark to observe and interpret for ourselves the tenor of the times while seeing ourselves (and our own foibles and failures - with perhaps the occasional triumph) portrayed onstage.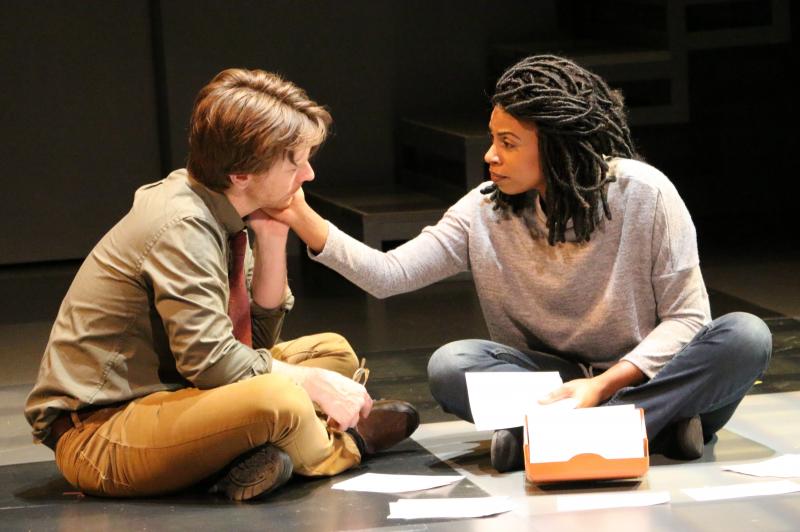 Remember the halcyon days of the first Obama campaign, a time in which Americans were faced with the opportunity to make history by electing the first African-American to lead the greatest nation on earth? Hard to believe it was a decade ago. Yet, it's been ten years in real life since the action in Diamond's play takes place, perhaps driving home the point that no matter how much some in the media crowed about our entry into a post-racial society with Obama's subsequent win, we seem instead to have taken several steps backward even as we took one gigantic and historic leap forward. Notwithstanding the consideration of race and gender equality that happens in Smart People, the lower case smart people who actually exist in the first quarter of the 21st century seem to be treading so much water, metaphorically speaking.
Maybe that's why Diamond's play, first produced in 2014, seems so urgent, so compelling: Rather that engendering a sense of the sentimental and maudlin as she casts an eye on American society ten years ago, there comes the notion that there is so much work still to be done if we are ever to create a world in which all people truly are on equal footing with one another.
Clearly, the four people who inhabit the world as presented in Smart People are indeed more intelligent than most of the people in your neighborhood (and certainly my neighborhood), they each represent some archetype in order to create a universal tale that is at once appealing, yet somehow troubling. In the manner of all compelling theater, Smart People makes you think, encourages you to consider your own thoughts and actions, and challenges the status quo in which we are all complicit. One thing you can be certain of - you'll have plenty to talk about after the curtain has rung down on Nashville Rep's articulate Smart People.
Diamond's incisive script, by turns sharp and biting then funny and even pedestrian at times makes her fictional characters familiar evocations of individuals you come into contact with every day. As adroitly - and as knowingly - as Jane Austen, Diamond places Brian, Ginny, Jackson and Valerie square in the particular realm of academe that fosters the issues with which they contend.
As a result, the banter of the four sounds genuine and believable, propelling the story along a dramatic arc that is both entertaining and elucidating - until the last half of the second act in which the play somehow devolves into a politically charged romantic comedy of a sort that fails to provide the payoff expected from the very start of the show.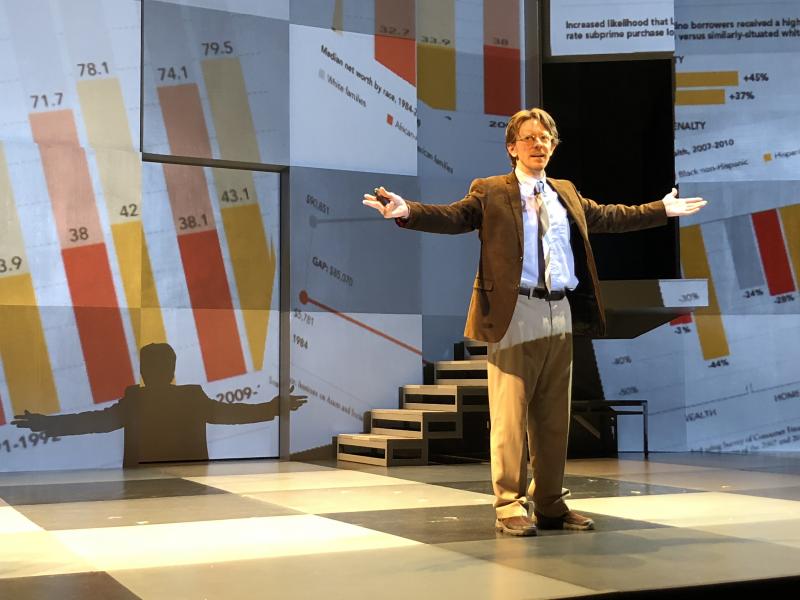 Thankfully, director Royal's commitment to the production, and his ability to tell a story, ensures that his capable cast of actors will deliver the goods.
David Ian Lee, as neuroscientist Brian White, who is leading a study of the human brain in an effort to determine if prejudice is something Caucasians are born with, taking the whole question of nurture v. nature in an unexpected direction, is pitch perfect as the somewhat frustrated professor whose efforts are questioned by his colleagues. Lee's focused portrayal of Brian is fun to watch - you never quite know what to expect - and he manages to create a character who is appealing despite his obvious flaws.
Shawn Whitsell plays Jackson, a hard-working/no-nonsense doctor who carries with him the hopes and dreams of his family, his neighborhood and maybe even his race, with a sense of confidence and self-awareness that ensures every line seems expressly written for the actor to deliver. Whitsell has never seemed more in control onstage and he displays ample stage presence along the way.
Tamiko Robinson Steele could very well have been typecast as Valerie, the actress who has done her time with Harvard's American Rep and is now focused on making her mark in the theater, on the TV screen or in films. The role and the actress are a perfect fit and Steele plays Valerie with tremendous charm and her trademark command of the stage. To say she is ideally cast in the role is understatement defined.
As Ginny Yang, the half-Japanese and half-Chinese American researcher who is conducting a study to determine how Asian-American women respond to the stresses in their lives, Christine Lin delivers a stellar performance that is startling and engaging at the same time. With her wondrous performance, Lin guarantees all eyes are riveted to her every moment she is onstage.
Just as important to the production's success are the various design elements which create an aesthetic that seems perfect for both the subject matter and the setting of Smart People: Hoff's set is extraordinary; Trish Clark's costumes clothe the actors with regard for who they are and what they are in their lives; Darren E. Levin's lighting design illuminates the story, helping the audience to follow the story with ease; and Kyle Odum's sound design ensures every utterance is heard.
Finally, Colin Peterson's projections for Smart People - which can be described as both elegant and eloquent - provide perspective to the world in which the characters live, taking every audience member immediately to the not-so-distant past.
Smart People. By Lydia R. Diamond. Directed by Jon Royal. Presented by Nashville Repertory Theatre at Andrew Johnson Theatre at Tennessee Performing Arts Center, Nashville. Through February 24. For details, go to www.nashvillerep.org. Running time: 2 hours, 30 minutes (with one 15-minute intermission).
Related Articles View More Nashville

Stories

Shows