BWW Review: Nashville Children's Theatre's Poignant and Compelling MOCKINGBIRD
Poignant and compelling, Mockingbird - the play adapted for the stage by Julie Jensen from the National Book Award-winning novel for younger audiences by Katherine Erskine - is a remarkably timely and prescient look at the aftermath of a school shooting for the people most intimately affected by it, in particular an 11-year-old girl named Caitlin, who has Asperger's syndrome, and whose beloved older brother was a victim of the horrific incident that takes place (mercifully, for audiences) prior to the start of the play.
Now onstage at Nashville Children's Theatre in a superbly crafted and impeccably cast production directed by executive artistic director Ernie Nolan, the characters and events portrayed in Mockingbird are certain to haunt your thoughts, to provoke a genuine and heartfelt examination of your own belief system, and to challenge what you've come to know about the subject of public shootings resulting in far too many deaths, as well as your personal perceptions about the lives of people on the Autism spectrum.
Impressively mounted on the NCT mainstage, Mockingbird recalls memories of some of the very best productions there over the past 35 years and it may, in fact, be the most effective drama we've encountered there since And The Tide Shall Cover the Earth, the First Night Award-winning play from the mid-1990s. Mockingbird will make you think, it will touch your heart immeasurably and it will make you laugh, the traumatic situations portrayed leavened by good-hearted humor in the very same way that real life somehow manages to handle the dire and dramatic.
Clearly, Mockingbird (which pays homage to Harper Lee's literary masterpiece To Kill A Mockingbird in ways that will delight fans of that work) is a play that demands to be seen now: powerful and eloquent, the story is a universal one, the characters so vividly drawn that you may recognize people from your own circle among them and as each fictional character struggles to cope with whatever it is that weighs them down on this journey through life, you cannot watch it without being changed. Like the very best of all literature, Mockingbird transports you to a very real place in a richly imagined and fully realized parallel universe created by artists, where you will be transformed. You cannot help but feel its impact long after the final curtain descends (truthfully, so impactful is the play that I had to take a break from writing about it the morning after seeing Mockingbird, my emotions getting the better of me as I attempted to relate my impressions).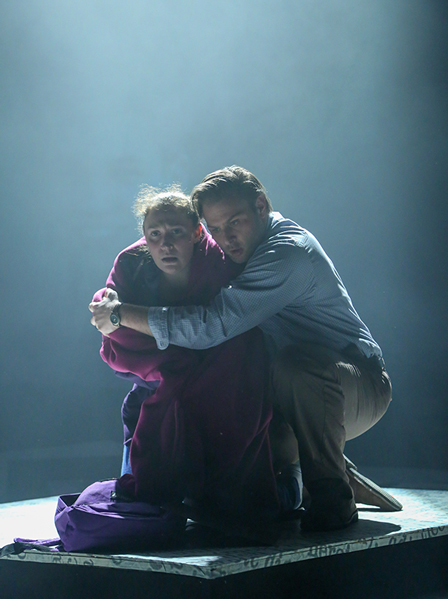 Artfully staged by Nolan with a stunning blend of deference and respect for the people who inhabit the world of Mockingbird and the startling realization of the impact of storytelling, Mockingbird epitomizes the theme of NCT's 2017-18 season, in which we are exhorted to remember that everyone has a story to tell and we are encouraged to find our own in each production presented. From the very first moments of Mockingbird, audiences are intimately involved Caitlin's story: her bereaved father (powerfully portrayed by Eric Pasto-Crosby) and the members of their community who seem ill-equipped to deal with the calamity of such tragedy, yet who seem determined to somehow make it to the other side of the mountain of grief and despair that threatens to consume them.
Caitlin, long considered a "weirdo" by most of her classmates, is faced with her own unique set of challenges. Not only has her attentive older brother protected her, but he has served as her guide through the travails of childhood, helping her to cope with practically everything around her. Played with startling focus and exquisite subtlety by Rebecca Keeshin, Caitlin is whip-smart, even as she is shown to lack the filters and editing mechanisms that would make life easier.
When first we encounter Caitlin and her father at the post-funeral reception - where the well-meaning members of the community seek to express their care and concern, without upsetting anyone further, only to find themselves clumsily expressing grief even while struggling to remain somehow positive about the outcome still ahead - we are reminded of all the similar events that have become horribly commonplace in America. The result is genuine, authentic and perhaps too honest at times, but Nolan stages these moments with resolute care and respect, allowing them to play out in much the same way as real life itself.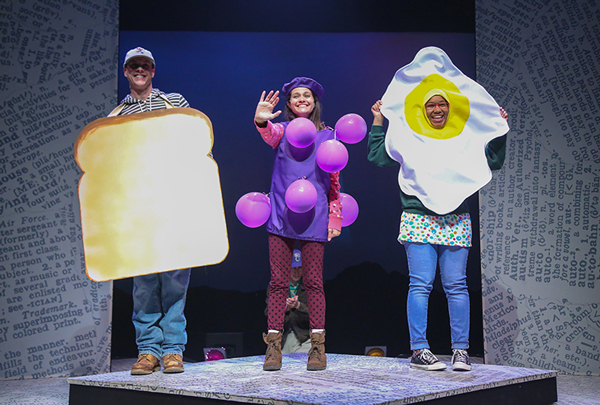 As we get to know Caitlin and see her interactions with those people around her - including her nurturing school counselor Mrs. Brook (played with heartwarming sincerity by Patricia Taber), her sometimes exasperated teacher Mrs. Johnson (ej Taylor, in a refreshingly open performance), and the other students in her school, each of them feeling the impact of the shooting in a different way (Mikey Russo, Latrisha Talley, Stephen Bredfeldt, Everett Tarlton and Sejal Metha give finely tuned and sweetly modulated performances of the myriad characters they play) - we see how the aftermath is writ large across their classrooms and playgrounds, yet how personal the impact actually may be for each of them, regardless of their proximity to the incident or their relationships with the victims.
While watching Mockingbird, I was struck by the notion that our understanding of the Autism spectrum is something of a modern construct, that in days long past, those persons with Asperger's and other so-called "disorders" would have been called "crazy," "retarded," "lunatic" or - even far worse - they were considered "demons," possessed by some other-worldly specters that couldn't be explained. But what if it's all a part of human evolution? What if these individuals are the lucky ones, more advanced than we, who have developed mechanisms to help them cope, to protect them from the things in the world that would do them the most harm?
Caitlin retreats from the obvious rigors of life by focusing on those things that she understands - and, truthfully, how could any of us possibly understand the senseless act of killing innocents? - and so she struggles to adapt. But amazingly, she is able to do so: Caitlin learns the importance of empathy and shares her own gifts with those people around her, intuitively sharing her own ability to deal with what hands her with more grace and deference than could ever be expected.
Court Watson's gorgeous scenic design for Mockingbird creates a vibrant, visually stunning backdrop for the play's action - punctuated by the illustrations by Sarah E. Vaughn, herself on the Autism spectrum - that is illuminated by Scott Leathers' evocative lighting design. Joanna Lynne Staub's sound design creates an amazing ambience for the play that surrounds and envelops the audience, ensuring that the impact of Mockingbird is strongly felt. Maranda DeBusk's projections provide a context for what happens onstage, drawing the audience deeper into the story at every turn.
Mockingbird. Adapted for the stage by Julie Jensen. Based on the book Mockingbird by Katherine Erskine, winner of the National Book Award. Directed by Ernie Nolan. Presented by Nashville Children's Theatre. Through March 18. For details, go to www.nashvillect.org. Running time: 80 minutes (with no intermission).
photos by Michael Scott Evans
Jeffrey Ellis is a Nashville-based writer, editor and critic, who's been covering the performing arts in Tennessee for more than 35 years. In 1989, Ellis (read more...)