BWW Review: LOVE NEVER DIES Closes Out TPAC's 2017-18 Season
There exists a theatrical legend - a superstition, if you will - that the presence of peacock feathers is strictly forbidden in a theater because they are almost certain to bring bad luck into the fanciful wonderland of make believe. And yet, there is a scene in Love Never Dies (the follow-up to the musical theater juggernaut that is Andrew Lloyd Webber's The Phantom of the Opera) in which world-renowned soprano Christine Daae performs against a backdrop of peacock feathers, clad in a peacock-blue gown replete with gorgeous opera-length peacock blue gloves, singing the show's title song.
We cannot help but wonder: Do peacock feathers foretell of something far more sinister and portentous than what we've seen already in both Love Never Dies and The Phantom of the Opera awaiting our heroine in the moments to follow? We won't spoil the outcome for you, of course, but suffice it to say that those pesky peacock feathers continue to work their devilment in the intriguing production now onstage at Nashville's Tennessee Performing Arts Center through Sunday, June 24.
Perhaps, also, those peacock feathers could have been deemed a harbinger for the mixed critical and audience reactions to Love Never Dies, which continues on its North American tour, attempting to sway theater-goers with its remarkable artistic design that may rival anything we've seen on TPAC's expansive Andrew Jackson Hall stage. Gabriela Tylesova's set and costume design for the production is absolutely, positively stunning - "eye-poppingly gorgeous" comes to mind, quite frankly - and provides a startling backdrop for the fantastical story playing out in front of you.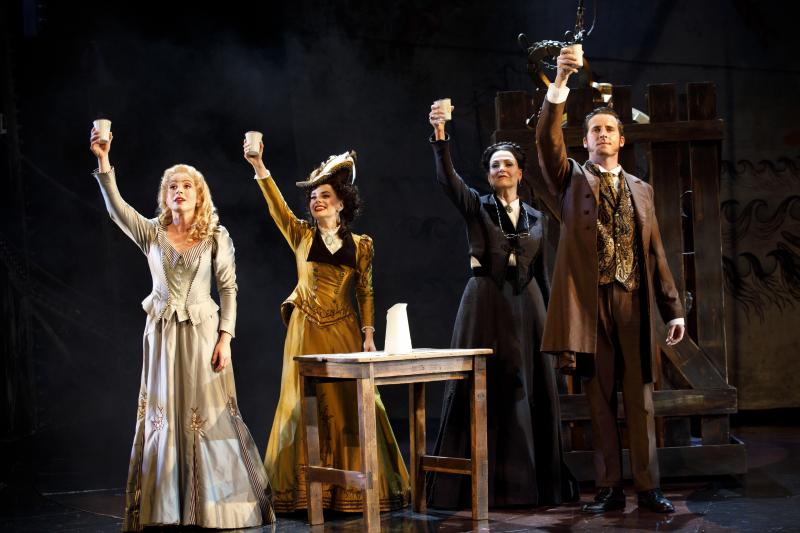 And the story? Well, fantastical though it may be, it's a rather convoluted tale of what happens to Christine (exquisitely sung by Meghan Picerno), her husband Raoul (the rakish and romantic French count who woos her so effectively in the original Phantom, herein played by Sean Thompson, he of the matinee idol good looks) and the heretofore rejected and reviled Phantom, himself (Bowling Green, Kentucky, native Bronson Norris Murphy takes over the leading role in the tour beginning with its Nashville stand - a case of fortuitous timing if ever there was one - and he performs the role at full throttle and in fine voice), who fled the Paris mob he encountered in the earlier show by escaping to Calais, ultimately sailing to American shores, where he sets up shop (along with Madame Giry - Karen Mason is impressive as the conniving and demanding Frenchwoman - the erstwhile ballet mistress from the Paris Opera, and her talented daughter Meg, played by Mary Michael Patterson, who is referred to as "miss" instead of the expected "mademoiselle") and creates Mister Y's Phantasma - on Coney Island.
You read that correctly. No matter how incongruous as it may sound, The Phantom now haunts the cavernous backstage area of a pleasure palace cum circus cum sideshow on Coney Island, where his eccentric yet notable assemblage of acts and characters include a towering ringmaster dressed in red named Gangle (played by Stephen Petrovich) ; a shiny-domed gentleman named Squelch (Richard Koons) who looks enough like Uncle Fester of The Addams Family to make you go, "hmm?"; and a scene-stealing, if slightly unsettling, little woman (Katrina Kemp) who cavorts about them and around them with nimble dexterity and an altogether pleasant singing voice. The intriguing trio welcome audiences not only to Mister Y's Phantasma, but audiences to Love Never Dies itself, drawing you into the tale that tinged with palpable madness and unrelenting magic that makes the show intensely compelling. And, in fact, its setting amid the New York playground (which, in its heyday, attracted the elite and well-to-do for entertaining diversions) is as likely a place for this follow-up to the original Gaston Leroux tale as any.
Its Coney Island setting provides Love Never Dies with startling visuals: As might be expected, The Phantom is a wizard of a man and his sheer theatricality allows for a design aesthetic that dazzles and delights. Tylesova's ingenious designs are lit with artistic command by Nick Schlieper's evocative illumination, creating the requisite smoke and mirrors that ensure the audience is always engaged, even if they are indifferent to the story told by book writer Ben Elton (who bases his script on Frederick Forsyth's The Phantom of Manhattan, a contemporary novel written in 1999 that utilizes Leroux's original 1909 work for inspiration). This perceived dilution of the story - from Leroux to Forsyth to Elton's interpretation - may explain some of the more consequential plot "holes" and meanderings, and if the success, or lack thereof, of Love Never Dies can be attributed to anything, it's definitely the book. Audience members hoping to see a mere re-tread of The Phantom of the Opera are likely to be disappointed, although there is enough romance and intrigue to please most aficionados of the earlier theatrical megahit.
However, one needn't be a fanatical follower of Phantom to appreciate Love Never Dies. Rather, it may be approached with fresh eyes and a lack of knowledge of what has come before, despite the references to events that happened some "ten years ago," which may cloud the issue more than necessary (some judicious editing of said references wouldn't be a bad idea). What's interesting, though, is how polarizing Love Never Dies can be: For ever audience member who clamors for its story to be told, who claim it as a worthy successor to the original work of Phantom, you will find someone who argues in counterpoint that it may be one of the worst shows ever.
For myself, I must admit to being somewhere in between the two camps, in a virtual no-man's-land of theatrical warfare. The production's spectacle demands the show be seen and appreciated by audiences who enjoy live performance. Meanwhile, Webber's stirring score, although lacking the memorable musical leitmotifs of his earlier work that makes it so intrinsically accessible, is impressively sung by director Simon Phillips' superb ensemble and beautifully performed by Dale Rieling's 16-member pit orchestra, is noteworthy when considered on its own merits. Graeme Murphy Ao's choreography is awe-inspiring and his agile company moves through the story with intricacy and artistry.
Yet, I never felt completely immersed in the story as I was with Phantom of the Opera. Instead, I was somewhat detached even while caught up in the spectacle and sparkle of the physical production and appreciating the efforts of a supremely talented, committed and focused ensemble of actors, singers and dancers. I cannot help but wonder how you would respond to the show, so I can say (perhaps reservedly - and admittedly taking the coward's way out) that it's clearly worth experiencing for yourself.
Love Never Dies. Music by Andrew Lloyd Webber. Lyrics by Glenn Slater. Book by Ben Elton, based on The Phantom of Manhattan by Frederick Forsyth. Additional lyrics by Charles Hart. Directed by Simon Phillips. Choreographed by Graeme Murpy Ao. Musical direction by Dale Rieling. Presented at Andrew Jackson Hall, Tennessee Performing Arts Center, Nashville. Through June 24. Running time: 2 hours, 25 minutes (with one 15-minute intermission).
photos by Joan Marcus