BWW Interview: Director/Choreographer Amy Blackmore of THE ROCKY HORROR SHOW at MainLine Theatre
Amy Blackmore was born and raised in Greenfield Park, QC. Growing up, most of her family was involved or worked at Greenfield Park United Church. When she was very young, she began going with her mom to work at the church where dance classes were being taught by the Cameron School of Dance in the basement. After about a year of "hiding in the corner, trying to copy the older dancers," the owner of the school encouraged her mother to put her in dance classes. Her journey into the arts began with taking dance classes, which evolved into performing in the church Christmas Pageant and more. With that kind of community environment, she was able to quickly find that she loved the arts. She says, "I feel like the arts were always calling me. I couldn't run away from it." I had the chance to chat with Blackmore about her evolution into Artistic/Executive Director at the MainLine Theatre, which continues with her current production of Richard O'Brien'S THE ROCKY HORROR SHOW, along with the her role at The St-Ambroise Fringe Festival and her time as President of the Quebec Drama Federation (QDF).
HANNIBAL: You wear so many hats as a Producer, Director and Choreographer, but now that I know that you perform, do you have a favourite discipline?
BLACKMORE: I think where I've ended up is where I've always wanted to be. I did study Contemporary Dance at Concordia University and there was a time when I did love to perform. If you give me a microphone, I'm happy! I love hosting the Frankie's every year (Fringe Festival Awards) with Kenny Streule, but the truth is, I'm really happy where I am. I really love the idea of bringing people together. I call it "curating community". I really like bringing people together through the arts, under values and ideals that we have in common. I think that we are all really driven to want to be a part of something that's bigger than us and I find that my role at The Fringe allows me to really get to do that kind of work. It goes beyond the arts.
HANNIBAL: Tell me how you first became involved with The MainLine Theatre.
BLACKMORE: I was a Fringe volunteer for many years. I became a Fringe volunteer when I was 17. When MainLine, the venue, opened up, I thought, "oh my gosh! A place where I can go Fringe all year?! This is where I want to be!" I would show up every other day or once a week, looking for something to do. I started volunteering at MainLine. I would beg for work. My first job at MainLine was cleaning the bathrooms during the run of SAVING CELINE, where Mado Lamotte was playing the starring role. The great thing about that, and it's something that I'm really thankful for, was being at the right place at the right time and really putting myself out there and being pretty persistent. When different jobs started to open up, I was the first person to get the call.
HANNIBAL: Tell me a little bit about your experience as President of QDF.
BLACKMORE: That's part of my not-for-profit work that I've done outside of my role at MainLine. I was President of The Quebec Drama Federation for a number of years. I still get phone calls, but only when something really bad happens, which is super fun! My role as President came at a really interesting time of transition for the Quebec Drama Federation. We were able to organize the QDF Congress at The Segal Centre in February of 2018, where we had about 100 people show up from a variety of different types of membership. From professional theatres to training institutions to community theatre, etc., we were able to really have some serious conversations about what is Quebec English Theatre and what is the state of our industry. My role was really to help ask questions so we could really understand what direction we wanted to bring the Quebec Drama Federation in for many years to come.
HANNIBAL: You are a great advocate for English Theatre in Montreal. It can be a struggle, especially for Indie Theatre.
BLACKMORE: Thank you. That's why I love my role at MainLine. I think the great thing about MainLine is when you come see a show here, it is a relaxed atmosphere. I think that we find that MainLine, especially through things like THE ROCKY HORROR SHOW, and also at the Fringe Festival, that the kind of events and shows that we do are often entry points for people into theatre. We get a lot of patrons that tell us, "this is the first play I've ever seen and I'll definitely be seeing more." I think that a really fun role to play. To be that kind of access point to new audiences.
HANNIBAL: Which brings us to ROCKY HORROR. Have you been involved in productions before and why did you bring it to the MainLine at the point that you did?
BLACKMORE: This is my 5th year directing the show. It has been a sincere joy to do it. Every year the show is different. We have new cast members coming in. I'm always just finding a new spin on it and I think that for me, that's what keeps me motivated. There is so much in there to begin with. It's been at MainLine for quite a few years now and I decided to bring it into the space because when you think of ROCKY HORROR, it's really about diversity. It's about community. And it's about sexual freedom. The Fringe is about diversity, community and artistic freedom. So there are some common values there. The link is pretty strong. It sort of came to MainLine a little before my time as Executive and Artistic Director. When I got the position, the opportunity to produce and direct presented itself and I jumped at the opportunity. I remember going to see it at The Imperial as a teenager. Every Halloween, at midnight. I really think that Montreal is the kind of town that can support both the film and live experience. It's fun to get to do that.
HANNIBAL: Is there anything new and different in this particular production?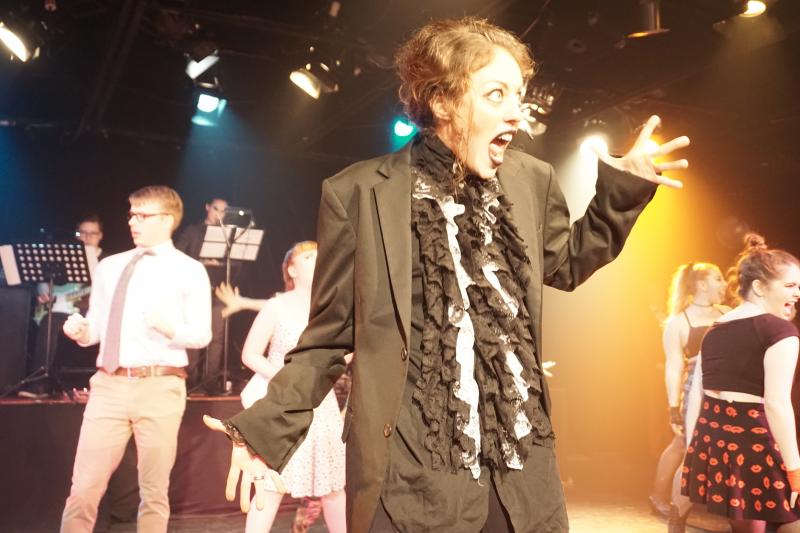 BLACKMORE: Yes! We have a brand new Brad and Janet. Zachary Sykes and Hanna Nes are just incredible performers. It's a slightly different spin on those characters. Also, with Stephanie McKenna as Frank...we've switched up the intention this year. It's a different look and the response has been really wild. She's not the kind of Frank that you would expect, so it's pretty fun.
HANNIBAL: I know you do a number of workshops including dance, as well as grant writing and the business side of theatre. Do you have anything coming up that you would like to share?
BLACKMORE: I'm giving a workshop with the Quebec Drama Federation at the end of November. The workshops that we do throughout the year at MainLine are two hours and pay what you can. I'm giving a special workshop with the QDF that's going to be a little longer and a little more in depth. Stay tuned!
HANNIBAL: Is there anything else that you would like to share?
BLACKMORE: The run of ROCKY is going so well, but I have to admit that I'm a little nervous that closing night is followed by the METAs (Montreal English Theatre Awards). It's going to be a big weekend for everybody, but we're really excited.
THE ROCKY HORROR SHOW continues at the MainLine Theatre, 3997 boul St-Laurent, through November 2. Tickets are $25 in advance, $30 at the door, with a $20 special discount rate for students, seniors and QDF Members.
Tickets and information at www.mainlinetheatre.ca or by calling (514)849-3378
Amy Blackmore is the Executive and Artistic Director of MainLine Theatre, the St-Ambroise Montreal FRINGE Festival and the Bouge d'ici Dance Festival. Known for her versatility, Amy has produced, directed, choreographed, performed and collaborated on the work of many companies, including MainLine Theatre, Infinitheatre, the Montreal Shakespeare Theatre Company, Just for Laughs, the English Language Arts Network, the Montreal Highlights Festival, OFFTA and Bis Films.
Spearheading innovative projects over the years, Amy's recent collaborations include the visioning of the Fringe World Congress taking place in Montreal in 2016. This was the first time that an event of this kind took place outside of Edinburgh. This event garnered MainLine Theatre a nomination to the prestigious Grand Prix du Conseil des arts de Montreal. This event inspired Amy to then move on to chair the QDF Congress: Shaping the Future of English Theatre in Quebec which took place in February 2018 at the Segal Centre for the Performing Arts.
An former English Language Arts Network board member, Amy recently became Past-President of the Quebec Drama Federation. She continues to contribute to the community through her work as a jury member of the new artistic practices / multidisciplinary stream for le Conseil des arts de Montréal.
Photo Credit: Ally Brumer
Related Articles View More Montreal

Stories

Shows