BWW Interview: CRAZY EX-GIRLFRIEND'S Rachel Bloom Brings Her Solo Show To This Years' Just For Laughs Festival
Exhilarating. Feral. Thoughtful. These are just a few choice words from The Guardian's five-star review of Rachel Bloom's recent London show. Bloom will be bringing that energy on stage for a five-night run of What Am I Going To Do With My Life Now? at this years' Just For Laughs Festival (JFL).
Best known for her CW show, CRAZY EX-GIRLFRIEND, Bloom was the recipient of both the Golden Globe and Critics' Choice awards for Best Actress in a Comedy. CRAZY EX-GIRLFRIEND is many things: a raucous musical, a dark romantic comedy, and a nuanced look at mental health and sexuality. I had the chance to chat with Bloom about her early life, CRAZY EX-GIRLFRIEND, JFL and what's next.
Tell me about your journey into the arts.
I can't really pinpoint because the arts were such a foundation of my childhood. My mother played piano and my grandfather was an amateur standup comedian, actor and director. Because I naturally liked singing, my grandfather, especially, really seized on that and started teaching me show tunes from a very, very young age. There are some videos from as young as aged two where I would be asked to sing song after song. Sometimes I'm like, "cool" and other times I'm like, "leave me alone. I just want to be a kid." It's always been a part of who I am.
If you had to pick one: musical theatre, comedy, writing, songwriting, etc., what would you say is the one you are most drawn to?
Oh, my gosh! You sound like a professor of mine in school! I would say comedy songwriting, if that's a choice. If I had to do just one thing, that's what I would do.
How would you say your musical theatre background shapes your work?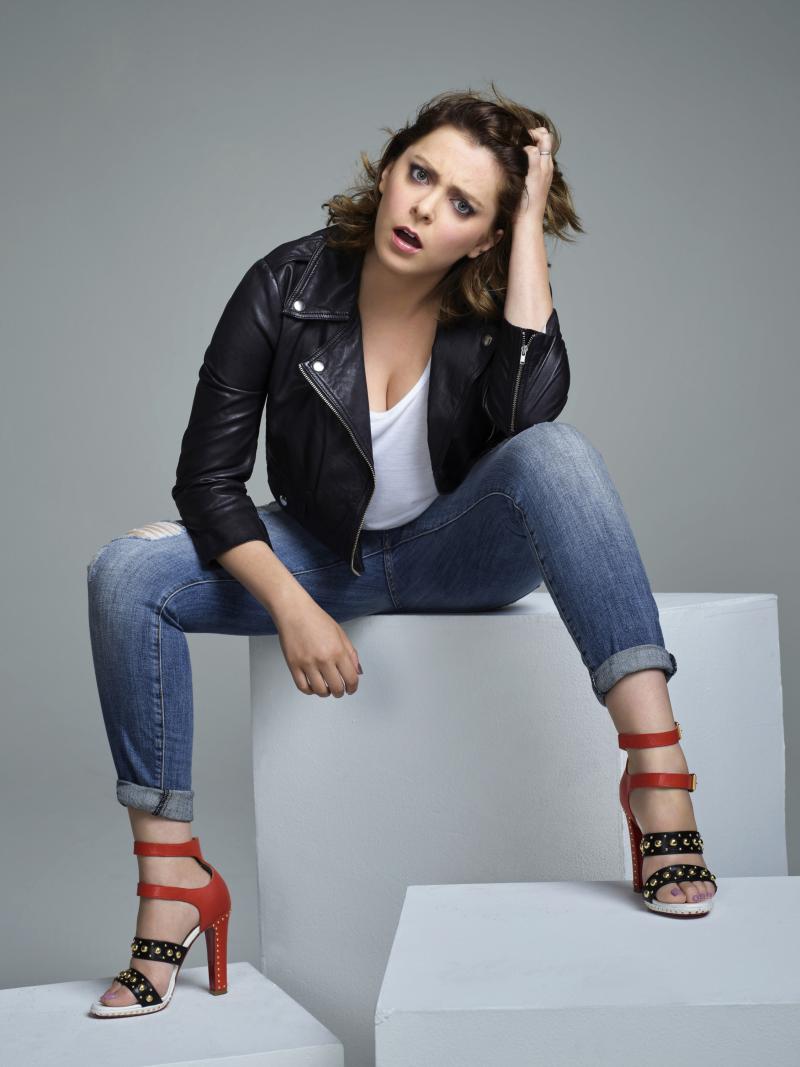 Well, it's still the music that I love listening to the most, really. I know that it is not "cool" or what people would consider cool. A lot of it doesn't acknowledge the kind of nuances of the human experience, so I think writing from that sound, but also acknowledging that it can be really silly, that sound, that genre, becomes the straight man for the comedy that I'm writing around it and based on it. It's hugely foundational. So there's a love of it, but also an acknowledgementof the flaws that it has and the gaps that it has in exploring the human condition. I'm making it my job to fill in those gaps.
Many of our readers are really big fans of yours and big fans of CRAZY EX-GIRLFRIEND. Do you have any plans to do more concert or do you have any plans to translate the show to the stage?
Oh! What I'm doing in Montreal is mostly going to be Crazy Ex songs. It's gonna be a lot of what I have been doing at Radio City and in London mixed with trying out a couple of new things. As far as a future for Crazy Ex, the cast and I wouldn't be opposed to doing a show or two here and there, depending on what the venue was and what the offer was. We love each other and we love doing those songs. I think that it's always going to be something that we want to come back to occasionally. As far as Crazy Ex for the stage...yes. It's something that Aline (Brosh McKenna, co-creator) and I are talking about. We are giving ourselves a little bit of a break so that we can work on things that aren't that show, but also so we can get some perspective. Eventually the hope is that there will be some sort of stage version of Crazy Ex. It just won't be any time soon. I got really excited on Instagram last year or a year and a half ago. We were starting to interview producers and I shared that. Now people are like, "it's going to be a Broadway musical!" Gah. I got too excited on Instagram! And that's why I don't have Instagram on my phone!
I asked some of our readers to submit some questions for you. They asked me to tell you that they adore you and a couple of them asked me to tell you that you are a badass!
Aw! That's so sweet! Tell them all thank you!
Here are few of their questions. The first comes from Michael and he asks, What is the one thing about a project that you focus on as much as possible, before jumping into rehearsals?
Whoa. The writing. It all starts with the writing. That's the foundation of everything.
Simon wants to know, where did you get your inspiration for 4 seasons of CRAZY EX-GIRLFRIEND songs?
Ooh. It was really hard. The challenge to not repeat genres definitely helped. We thought, "what could we do that we haven't done." That was a nice goal to meet. I think that also themes helped. Themes that we hadn't touched on. But there were times when it was really hard. For season 4, I had some songs written, but getting into episode 2, we were like, "whoa. Oh, God. What are we gonna write." The first part of season 4 is a little more patient. It's a quieter story of people regrouping and getting their lives together. It's harder to write songs for that. Once you get back into the love stuff, it gets easier. There's a bunch about love we haven't explored. When it comes to the subtleties of life and mental health, it was like, "fu*k. What haven't we done before? What do we want to say with these songs?" And then you have a song with talking pretzels. It's how you get a Simon and Garfunkel song in!
Marc would like to know, "How did you feel when Patti LuPone said that, "the makers of CRAZY EX-GIRLFRIEND are the only people right now who understand how to film musical numbers properly?"
It felt amazing. The whole experience becoming her friend has been incredibly wonderful and incredibly surreal. She said that to me when she was first on the show. It was so cool and so special and unbelievable. She's incredibly chill. She's very game, she's very down. For how regal she is on stage, she's very no frills. She's a chill hen. She's funny and fun to be around. My husband, who is not a musical theatre person at all, doesn't see her as "Patti LuPone." We went to go see her in COMPANY on the West End. She is the best Joanne you have ever seen. My husband had never seen COMPANY and afterwards he said, "Patti! You were really good! You were REALLY good!" She loves my husband because he is just like, "Great job!" She likes that because she is just a person
.
Back to musical theatre for a sec! What's your favourite musical?
ASSASSINS
What's your favourite role that you have played?
The Witch in INTO THE WOODS
Dream role?
Harold Hill in THE MUSIC MAN
Tell me a little bit about the show you will be doing in Montreal. What was the inspiration for this show?
I was gonna just start touring and my reps were like, "you need a title for the show." I didn't know how much of it was going to be just Crazy Ex songs, which I'm fine to keep performing til the day I die because there are 157 of them and the show ended 4 months ago. I gave it the title of how I felt, which was like "What Am I Going To Do With My Life Now?" It's gonna be a mix of Crazy Ex songs, some pre Crazy Ex songs and a couple new things that I'm trying out. It's all me being myself. It's not me being Rebecca Bunch or anything. I love it. It's so fun to do.
Kim would like to know What's next for you? Any new TV shows in the works? Anything you can tell us about?
There are bunch of things in early stages, that aren't official yet. There is something with musical theatre which will hopefully be announced shortly. I will tell you when that happens! I have been doing a lot of animation voiceovers. I am one of the leads in the new ANGRY BIRDS movie, coming out in August and I play the villain in the new TROLLS movie, which is coming out next year.
Have you ever been to Montreal?
I have! What was nice and poetic about doing this for me is that one of my first big deal shows was at Just for Laughs in 2012 as part of the New Faces: Characters showcase. It will be really cool to come back 7 years later, headlining my own show. If you were crafting a narrative about my career, you could very much craft it around the beginning in Montreal and then coming back to Montreal.
Thank you so much for taking the time to speak with me. Our community is thrilled to welcome you to Montreal.
I am so excited to meet all of you! I am doing 5 shows, so I'll have plenty of time! Send them all to meet me!
JFL Presents Rachel What Am I Going To Do With My Life Now?
When: Monday, July 22 - Saturday, July 27, 2019 at 7PM
Where: Gesù, 1200 de Bleury,Montreal, QCH3B 3J3
Tickets and Information: https://www.hahaha.com/en/show/rachel-bloom
Videos courtesy of Rachel Bloom's YouTube Channel racheldoesstuff and The CW
Related Articles View More Montreal

Stories

Shows