BWW Interview: Wild About Harry: MAMMA MIA's Robert O. Berdahl
There's something about summer entertainment -- light, frothy, happy shows that feel just like the season. A summer musical that takes place on a Greek island built around infectious tunes from the 1970s? Don't mind if I do... And a double dose in the same weekend? Sign me up! I hit up the Ordway's MAMMA MIA! on Friday night and then "Mamma Mia: Here We Go Again!" (the new film sequel) on Sunday night and had the tunes used in both stamped on my brain for two weeks straight. And I didn't mind a bit. MAMMA MIA! is hard not to love, which is likely why both the stage show and film were such mega hits, the former spawning a "jukebox musical" wave of Broadway.
This, then, calls for a fun, light-hearted interview with a member of the cast and Robert O. Berdahl, who plays "Headbanger Harry," one of Sophie's potential fathers (rather than retell it all, check out BWW Editor and Cherry and Spoon Blogger Jill Schafer's review here) stepped up to answer the call in between his many gigs. Read this edition of 6 Questions & a Plug while tapping your toes to a little ABBA... and you might want to keep it in mind if you're in the market for a home sale.
MAMMA MIA! is such a fun, light-hearted show -- what is your favorite part about playing Harry in this summer musical? And, what's the most challenging thing for you?
My favorite thing about Harry is the dichotomy between his adult seeming stodginess and his "head-banger" youth. As you might guess, that is also one of the most challenging things for me in the show: to marry those two sides to Harry and have the audience get a glimpse of what Harry must have been like in his "head-banger" days. Well, the dancing is a challenge for me, too...
All of the ABBA music is so well known and loved. What's your favorite musical number in the show (whether you're in it or not) and why?
There are a number of songs that I catch myself singing along to as I hear them in my
dressing room. "Dancing Queen," "Knowing Me Knowing You," "Does Your Mother Know," etc. They are all pretty freaking awesome.
Is this production being done in the traditional manner or are there any changes or things to look out for? Are there any insider/behind-the-scenes tips you can tell the readers to look for?
I have never seen MAMMA MIA! before this show, so I came to rehearsals without any
preconceived ideas or notions of how the show "should" be. I was able to approach
Harry with a fresh look. Now, however, I'd love to see the movie or a stage version to see how what we have created differs from a traditional production of the show.
Since the movie opened on the same weekend as the show, I have to say: You play Harry (Colin Firth in the films) but you look more like Sam (Pierce Brosnan) -- that aside, does that have any effect on bringing audience members in who are excited to see it live and then see the sequel in the movie theater? Is the cast going to go see the movie, too?
I want to see the movie sequel (and the movie)! I think it would be a great idea for
audiences to check out the movie and then come to see our show... and I wish it were
true that I looked like Pierce Brosnan!
Editor's note: Click on the link above - seriously, he does look like him a bit. Feel free to comment below.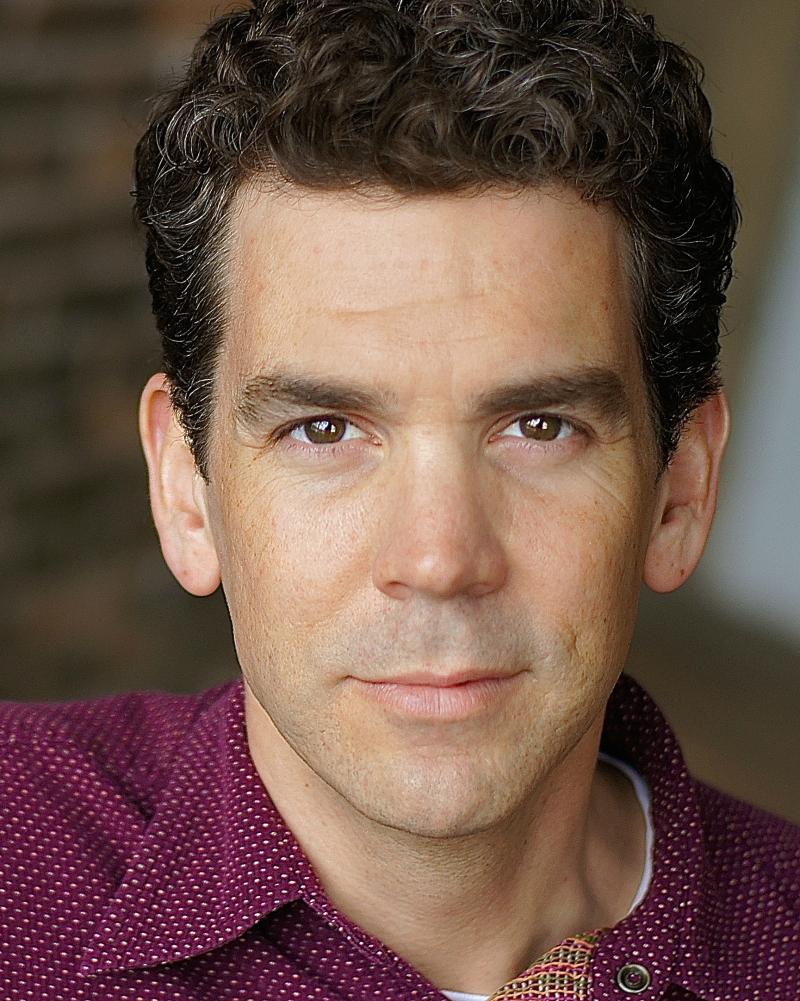 In the past you've been in a few productions at the Guthrie and elsewhere in the Twin Cities. We have not seen as much of you at the Guthrie recently but I did catch you in SWEETLAND at the History Theatre. What else have you been working on on stage?
Yes, Ann Michels (Tanya) and I were in SWEETLAND as Olaf and Inga. We were reminiscing about that one show while in our spandex sparkles during the Mega Mix at the end of the show: if only we could have worn those costumes as Olaf and Inga: a married Norwegian and German immigrant couple in 1920.
THE ROYAL FAMILY was the most recent show that I was in at the Guthrie. That one was
loads of fun, too! Right now, during the day, I am working on a Christmas show that will
be at Orchestra Hall this year. It is fun singing Christmas songs in July!
Are you still working as a realtor in addition to acting? Is it hard to balance two busy careers?
Yes! I have three listings coming on the market this week, as well as two closings, so it
does keep me very busy, but I enjoy it! It is one of the biggest transactions in a person's life and I love being there to help them through it. I work with a lot of actors, artists, musicians, etc., as well as "normal" people.
What's next for you after you put away the spandex sparkles?
Other than being your very own personal realtor, right now I am doing commercial work, auditioning, and getting ready for the Christmas show at Orchestra Hall this holiday season. My family is also gearing up for our yearly road trip to Yellowstone National Park in our 1977 VW Bus Campmobile! Two weeks of absolute bliss!!!
More information:
MAMMA MIA! runs through Aug. 4, 2018. Tickets and more info are available at https://ordway.org/event/mamma-mia/.
Robert O. Berdahl (Harry) bio:
Guthrie Theatre: The Royal Family, The Music Man, A Christmas Carol, My Fair Lady, The Sunshine Boys, Much Ado About Nothing, H.M.S. Pinafore, The 39 Steps, Macbeth, When We Are Married, Little House on the Prairie, After a Hundred Years, 1776, She Loves Me, Pygmalion, Othello, Pride and Prejudice, Wintertime, Amadeus, Twelfth Night, The School for Scandal, Warm Beer Cold Women (also Producer and Director). Tours: Othello, A Midsummer Night's Dream. Chanhassen Dinner Theatres: Beauty and the Beast. Horton Grand Theater: Triple Espresso. History Theatre: Sweetland, A Time On Earth. Hope Repertory: Our Town. Hey City Stage: Forever Plaid. Film/TV: Hole in the Wall, Bind, Dreamer, Great Lakes, Private Eyes. Training: Gustavus Adolphus College; California Institute of the Arts.
Photos:
Robert O. Berdahl headshot, courtesy of Ordway Center for Performing Arts.
Aloysius Gigl, Robert O. Berdahl and Dieter Bierbrauer in MAMMA MIA! at the Ordway Center for the Performing Arts. Photo by Rich Ryan.