TheatreSouth Presents Florida Premiere Of A CLASS ACT At Pompano Beach Cultural Center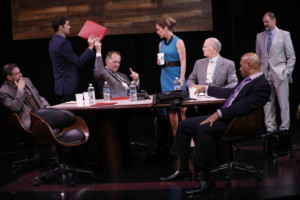 TheatreSouth is proud to bring the compelling legal drama, A Class Act, to the Pompano Beach Cultural Center. Written by Norman Shabel, this play focuses on a trio of lawyers who accuse General Chemical Corporation of polluting water across the country through cancer-causing factory runoff. These attorneys are hoping for a big payoff from the deep pockets of the corporation, while the "suits" at the latter plan to use blackmail as leverage to pay as little as possible.
"Almost every day I read on the front page of the major newspapers stories that are exactly parallel to A Class Act. The world of industrial America is poisoning our world. And it is the powerless individual who is rarely able to find justice. I am afraid that all too often, Lady Justice really is blind," said playwright Norman Shabel.
TheatreSouth was founded in 2007 as a Georgia Non-Profit in Atlanta, GA. TSA's mission is to educate, enlighten, strengthen, and enhance the local talents through theatre arts. the company's motto is "Healthy theatre for your heart and soul!"
TSA permanently relocated to South Florida in 2014 and has since cultivated a variety of projects in partnership with Brigitte Keane and Jeff Tucker of EarthSave Miami, Inc. such as the I Have A Dream Musical on Dr. Martin Luther King Jr. starring Broadway's Jahi Kearse (Florida International University, South Miami Dade Cultural Arts Center, the Coral Springs Center for the Arts, the Phichol Williams Center and the Pompano Beach Cultural Center), The Eve of Jackie starring Broadway's Chester Gregory (Adrienne Arsht Center), The Colored Museum written by renowned playwright George C. Wolfe (The Deering Estate and Pompano Beach Cultural Center), The Phantom of the Old Opera House written by Joseph George Caruso (Phichol Williams Center), A Civil War Christmas: An American Musical Celebration written by Pulitzer Prize winner Paula Vogel at the Pompano Beach Cultural Center.
All of TSA's projects are family oriented and for all ages of men, women, and children who look to be entertained and educated through the arts. As we continue to build a stronger brand in our community, we also hope to build a community brand that illustrates to the world, art lives in South Florida! For more information, visit www.theatresouth.net.
About the Founder of TSA:
Herman LeVern Jones has worked with the likes of Dr. Maya Angelou, Ossie Davis, Debbie Allen, Harry Belafonte and many more. His theatrical foundation began in 1974, while in college, he founded the LaVerne Players, Inc. in Raleigh, North Carolina. During the companied tenure, he produced, directed, and performed in over 200 performances.
After graduating from the University of North Carolina at Chapel Hill (UNC), he moved to New York City (NYC) and began working with
Woodie King
, Jr., successfully touring 30+ productions nationally and internationally for the National Black Touring Circuit (NYC). In addition to working on the Guiding Light (soap opera),
Mr. Jones
was the Artistic Director of the Madam C.J. Walker Urban Life Center in Indianapolis, IN and of the Grant Avenue Community Center's Kean-Brown Center Stage in Plainfield, NJ during its 1990-92 seasons. He remains an active board member of the
New Federal Theatre
in NYC and has served on the Ohio Arts Council, the Massachusetts Cultural Arts Council, City of Atlanta Cultural Arts Council, and as a panelist on the South Carolina Arts Council for their theatre division. He has also taught at several prestigious universities as a professor and has lectured at several seminars for performing arts. Some of his educational experiences include teaching at the University of North Carolina, Ohio State University, University of Massachusetts, University of Rochester, Yale University, and Morris Brown College. In 1990, The British American Arts Association Fellowship selected
Mr. Jones
to participate in "Internationalizing the Local". The event was held in several prominent theatres throughout England. The event toured London, Birmingham, Liverpool, Manchester, and Nottingham. He was also chairman of the Theatrical Management Association's Seminar on Black Theatre at the Great Britain Conference in Birmingham, England.
Photo by Carol Rosegg
Dates: April 18-May 13
Times: Multiple times Wed-Sun
Tickets: $21.50-$25.50 www.ccpompano.org or call 954-545-7800
Pompano Beach Cultural Center is located at 50 West Atlantic Blvd, Pompano Beach, FL 33060
More Hot Stories For You