Baila Pompano Struts Into The Pompano Beach Cultural Center
Events are set for October.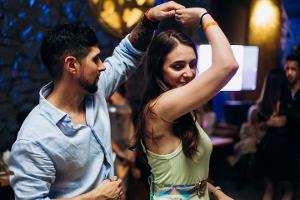 Latin dancing is returning to the Pompano Beach Cultural Center. Following on the heels of the Center's much-beloved dance series Sabado de Salsa, Pompano's newest participatory dance program will be kicking off in October. Presented by renowned Latin dancer and instructor Alex Bezianis of Poppin' Events, Baila Pompano will include salsa, bachata, and other Latin dances, with each event including a one-hour dance class, a live eight-piece band, a DJ, and performances by professional dancers. The program will be held quarterly at the Center, starting at 8pm, Friday, October 21, 2022. The series continues February 17, May 19 and September 15 of 2023, with the final night of the program kicking off Hispanic Heritage Month. Tickets are $20. Drinks and snacks available. For more information: www.pompanobeacharts.org
"The phenomenally gifted dancer Alex Bezianis and his performers will bring the talent, the heat, and the expertise; our audiences will bring the passion!" said Ty Tabing, Cultural Affairs Department Director. "Sabado de Salsa had a devoted following, and now we are expanding upon that enthusiasm with this new dance series which includes all the sizzle and style of salsa, while expanding the repertoire to include other popular Latin dances."
These fun, welcoming dance parties will take place in the beautiful multi-purpose theater at the Center, which features an expansive wooden dance floor. Attendees will have plenty of room to sway and spin, as the cabaret seating will be set with a cap of 250 people. Led by the engaging and energetic Alex Bezianis, each presentation of this lively program will feature a one-hour lesson that will engage and elevate both beginners and seasoned dancers alike.
At the conclusion of the lesson portion, participants will have the opportunity to put their new knowledge to good use, while enjoying music provided some of South Florida's best musicians, playing three 45-minute sets throughout the evening. Patrons will also be inspired by professional dancers who will perform throughout the event.
Pompano Beach Cultural Center is located at 50 Atlantic Boulevard, Pompano Beach, Florida.