Come From Away at Overture Center for the Arts
Dates

9/28/2021 - 10/3/2021

Theatre


201 State Street
Madison,WI 53703




Broadway's COME FROM AWAY is a Best Musical winner all across North America!

This New York Times Critics' Pick takes you into the heart of the remarkable true story of 7,000 stranded passengers and the small town in Newfoundland that welcomed them. Cultures clashed and nerves ran high, but uneasiness turned into trust, music soared into the night, and gratitude grew into enduring friendships.

Don't miss this breathtaking new musical written by Tony® nominees Irene Sankoff and David Hein, and helmed by this year's Tony-winning Best Director, Christopher Ashley. Newsweek cheers, "It takes you to a place you never want to leave!"

On 9/11, the world stopped.

On 9/12, their stories moved us all.

News About Come From Away at Overture Center for the Arts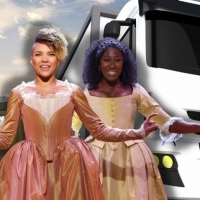 When Will Broadway On Tour Return? Find Out What's Coming Up Near You!
April 14, 2021
Updated August 5th. After over a year of Broadway tours being paused, productions are now beginning to announce returns to theatre across the country! Find out when Broadway will return to your city.

COME FROM AWAY's National Tour Will Continue Through 2020, Hitting Philadelphia, D.C., Boston, and More!
April 29, 2019
The North American Tour of the Tony Award-winning smash hit Broadway musical COME FROM AWAY will continue touring into the fall of 2020!

BWW Interview: Kristina Walz of ROCK OF AGES at Overture Center
February 06, 2019
It's not like any other Broadway musical. I think people who aren't into Broadway, who don't know much about theatre are going to be blown away. It's not just a musical--it's a concert. You go expecting to see a musical, but you're on your feet.