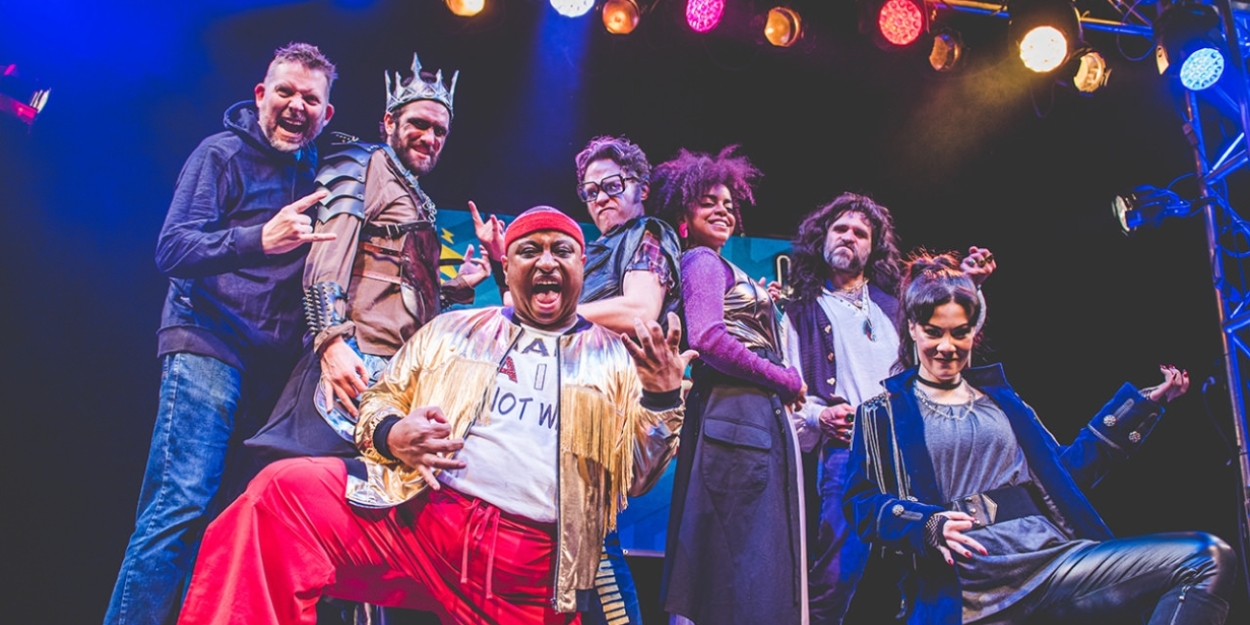 Review: AIRNESS at Forward Theater
This is the last week to see this amazing show
I did not attend Foreword Theater's Airness on Saturday with any intention to review the show. In fact, I said to my partner, "It will be nice to just see theater again without it being my job." Yet here we are. The reason for the review is simple. I want you to see this show.
This was one of those surprising shows that really has the power to affect an audience on a very personal level. I know it did me. Here is what I was told about the show by various people who saw it, "It's about air guitar subculture", "It's about a bunch of people who travel around doing air guitar competitions", "It's got some great music!". It goes on, but you get the point. This, in a nutshell, is not my cup of tea, but again, I found myself with the opportunity to just go and experience live theater. So, I did. And am I ever glad that I did.
Airness is indeed about the subculture of air guitar competition around the country, but, like a 1990's informercial, "WAIT! THERE'S MORE!!". It is a deep loving story about friendship, commitment, fear, and vulnerability.
We are introduced to five air guitar playing friends, each of which has their own special "air Guitar Persona", all vying for the top spot, held by friend and Rock God, David "D Vicious" Cooper (Joe Picchetti). Things get heated with the arrival of air guitar newcomer Nina "The Nina" O'Neal (Nadja Simmonds), who is here for all the wrong reasons.
Ed "Shreddy Eddy" Leary (Josh Krause), takes Nina under his wings and does his best to school her in the ways of rock. The two have a fantastic chemistry and play very well off each other. Others in the "motley" crew add additional support. Gabe "Golden Thunder" Partridge (James Carrington) is a joy to watch perform with subtlety and wide-eyed facial expressions. Mark "Facebender" Lender (Marcus Truschinski) is the tender and all too deep in his feeling's guitarist whose back story is the only one we really get to hear. Captivating is the best way to describe this character as his over-the-top emoting gushes over the stage. Astrid "Cannibal Queen" Anderson (Ashley Oviedo), counters this heart on his sleeve over emotional character by playing angry to 11 nearly every minute she is on stage. The energy put out by this cast was exhausting and exhilarating , and at least twice brought me to tears. (Damn you REO Speedwagon!)
As the play progresses from town to town traveling across the US, we see our band of heroes suffer the thrill of victory and the agony of defeat. All the while teaching the newcomer some very valuable lessons, yes, about air guitar, but more importantly about community and genuine caring. As Nina deals with her demons, she is supported, coached and cared for the entire time, even when her outburst threatens the very threads of their friendships. Together, they rise above the hurt, to experience the joy of Airness.
This is a story much deeper than the Air Guitar Competition, and I really hope that you take the chance and go see it. It was remarkable and touching.
Forward Theater presents Wisconsin Premiere of Airness, January 26 - February 12 Madison, WI - For their third production of the 2022-23 season, Forward Theater Company will present Airness by Chelsea Marcantel. Directed by Molly Rhode. Performances are in the Playhouse at Overture Center for the Arts, January 26 - February 12.
THE STORY
When Nina enters her first air guitar competition, she thinks winning will be easy. But as she befriends a group of charismatic nerds all committed to becoming the next national champion, she discovers that there's more to this art form than playing pretend - it's about finding yourself in your favorite songs, and performing with raw joy. Will Nina be able to let go and set herself free onstage?
Following Nina's quest to shred or be shredded, Airness is an exuberant reminder that everything we need to rock is already inside us.
AIR GUITAR SUMMIT
To celebrate the opening of Airness, Forward is excited to present the Air Guitar Summit at High Noon Saloon on Monday, January 30 at 7:00pm. This promotional head-banging event will feature rock n' roll trivia, an interactive air guitar workshop and performances, and a variety of music-themed prizes. Free to public.
WISCONSIN PREMIERE & WHAT OTHERS ARE SAYING
Airness is making its Wisconsin premiere at Forward Theater, after earning a face-melting stamp of approval at theaters across the country:
"The most fun you will have at the theater this year ... to call this play a 'crowd pleaser' is a drastic understatement." - Insider Louisville
ARTISTIC TEAM
Airness features James Carrington, Josh Krause, Ashley Oviedo, Joe Picchetti, Jess Schuknecht, Nadja Simmonds, and Marcus Truschinski
Directed by Molly Rhode
Scenic Designer: Neil Mills
Lighting Designer: Greg Hofmann
Costume Designer: Shannon Heibler
Sound Designer/Composer: Joe Cerqua
Props Master: Pam Miles
Technical Director: Kevin Zimmer
Stage Manager: Shawn Galligan
Asst. Director: Doug Clemons
Asst. Stage Manager: Abbi Hess
THE DETAILS
WHAT
Forward Theater Company presents Airness By Chelsea Marcantel
WHEN & WHERE
Thursday, January 26th - Sunday, February 12th Evening performances at 7:30pm, Matinees (Sat & Sun) at 2:00pm All performances are in the Playhouse at Overture Center for the Arts, Madison, WI
TICKETS
Tickets are on sale now, and can be purchased online at forwardtheater.com, or via overture.org. Tickets can be purchased via phone at 608.258.4141
Adults: $34-$52
Artist and student rate: $15
January 26th preview performance ticket prices - General public: $20, Students/Educators: $10
ACCESSIBILITY
ASL Interpretation: The Saturday, February 11th performance at 2:00pm will have ASL interpretation. Special seating is available with a view of the interpreter. Forward Theater also offers a variety of amenities in the Playhouse at Overture Center that make the theater going experience more accessible for all, including assistive listening devices, large print programs, and more. Visit forwardtheater.com/accessibility for details.
SPONSORS
Airness is generously sponsored by Madison Community Foundation, Sybil & Maurice Better, Frank Productions, State Bank of Cross Plains, Stafford Rosenbaum LLC, and Our Lives Magazine.
ABOUT FORWARD THEATER COMPANY
Founded in 2009, FTC creates a home base for Wisconsin theater professionals and audiences that expands the cultural and economic life of the greater Madison area.