Review: INFAMOUS MOTHERS overcome all odds at The Bartell theater, brought to you by Strollers Theatre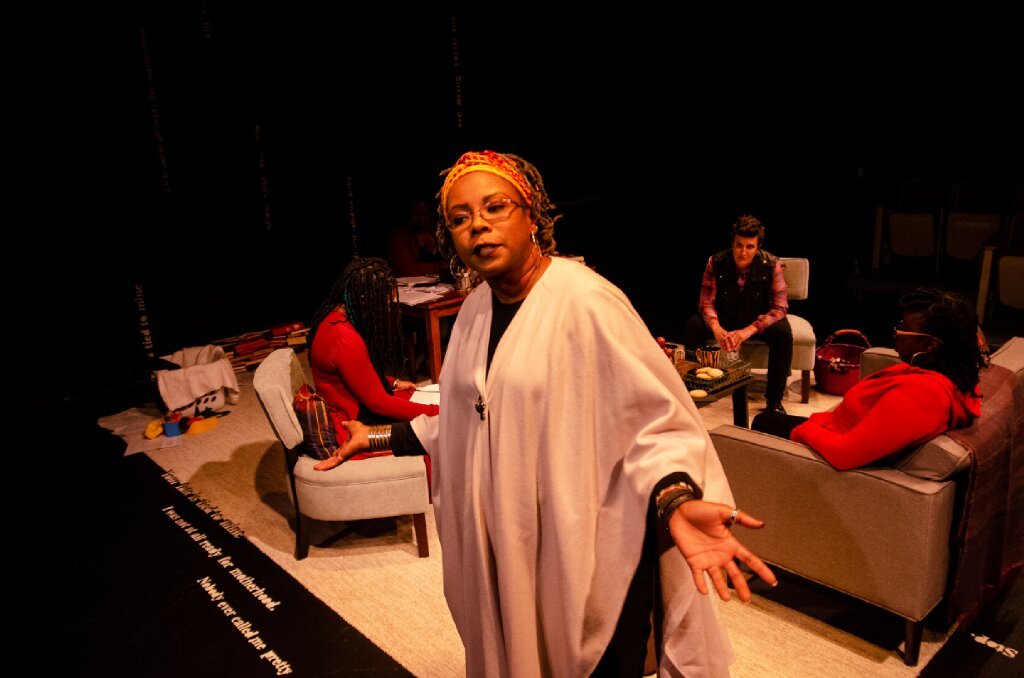 What happens when you look around and can never find your story? Not "Your" Story per se, but a story that is yours enough that you can relate to it, embrace it, say, "Yes, that is my story". When you can not find your story, you must write it! That is exactly what Sagashus T. Levingston did. That story has now gone from coffee table book to theatrical piece. And what a piece it is!
Infamous Mothers, a collection of stories in which women of color become their own heroes, is currently playing at the Bartell Theater on the Evjue Stage. In this intimate setting, the first thing to strike me was the words stenciled on the wall and floor. The first words to strike me were these, "It's a divine thing just to be you" what a powerful statement.
There were many powerful statements throughout this piece. The author, along with the actors on stage, explore subjects like, molestation, rape, domestic abuse, prejudice, and overcoming obstacles. The questions put forth concerning overcoming obstacles are just as powerful; "How do you do that (rise above your situation) over the gunshots?" being just one of them.
The play takes place in the intimate setting of the living room of Idara (Toya Robinson), a sage woman wanting to help her fellow women. Her regular group of women, Max (Liz Stattelman-Scanlan), the white lesbian who quickly becomes cannon fodder for the newcomer and antagonist, Akeesha (Tanisha Pyron), and Max's close friend, Joretta (Keena Atkinson). Together they "read" through some of the stories in the book and discuss what it is like to be a woman of color trying to overcome adversity. The monologues themselves are well chosen as a representative of the works in the book and well performed.
The author (Yes, the REAL author of the book) sits on stage, contributing her own story along the way as she tries to stay focused with her kids fighting in the next room. She is visited by her daughter (her REAL daughter), Yemi (Yemi Harding) who just wants to share a song with her.
As the play progresses, tempers flare as Max does a "White Rap" to a poem in the book, setting Akeesha off. As Akeesha berates and belittles Max about Max's white privilege the others in the room come to Max's defense, but quickly concede that Akeesha has some great points, leaving Max feeling like an outsider. This entire exchange hit a little too close to home for this older white male. It was very uncomfortable, which I think was the idea. This issue between Max and Akeesha was never resolved. Akeesha often stated that she would "think about" forgiving Max her indiscretion, but in the end...never really does. While the other two ladies in the room love and respect Max, even when coming to her aid, they each admit that Max is naive about the experiences of women of color.
The play winds down to a beautiful acapella song begun and finished by Yemi, the song she wanted her mother to hear. It was amazing, and the blend of voices sent shivers up my spine. Beautiful all the way around.
I would advise going to see this amazing piece of theater, and still do, but must warn you that according to Strollers Theatre's website all shows in the run are sold out.
Infamous Mothers

November 8th-24th, 2018

Based on the book Infamous Mothers
by Sagashus T. Levingston
Written for the stage by Coleman
Directed by Marie Justice

Tickets Link - Details Link
Based on the book Infamous Mothers by Madison's Sagashus T. Levingston, this play brings to life true stories of incredibly strong women who "went through the belly of hell and brought something good back." This beautifully told piece weaves powerful theatre by interposing Levingston's own remarkable story with the stories of six real-life women from her book and four fictional women who represent the struggles and triumphs of all marginalized women.

"I think it's going to reach people on another level," Justice says. "More than just reading the book you can now see it in action and these characters can be brought to life. These women's stories are so absolutely intense. Sagashus's story is so intense. It will be incredible to have that played out on stage.
Read more of the Madison365.com article!
?

Infamous Mothers will be performed on the Evjue Stage.
Approximate run-time: 2 hour, 15 minutes
General Admission: $20; Seniors/Students: $15; Strollers Member: $15