Review: TCLA Revels in Personal Freedom via Bowie's The Rise and Fall of Ziggy Stardust and the Spiders from Mars
Thanks to many outspoken advocates willing to speak up for equality, the transgender community has been brought to the media forefront, with changes such as unrestricted public restrooms becoming more evident in society daily as people become more accepting of people as people and not by their sexual or gender identity. Certainly one of the first entertainers to cross the line of gender identity was David Bowie, whose The Rise and Fall of Ziggy Stardust and the Spiders from Mars album opened up alternative identity possibilities for those suffering in silence about who they were and how they could fit safely into society.
As a lifelong fan of David Bowie and human rights equality, when I heard The Los Angeles LGBT Center was hosting a return performance of the Trans Chorus of Los Angeles (TCLA) to its Renberg Theatre the weekend of August 26-27, 2017 to perform planet Earth's first staged concert production of Bowie's full The Rise and Fall of Ziggy Stardust and the Spiders from Mars album, I rushed to get my tickets! And thanks to TCLA's artistic director, Lindsey Deaton, and the talented artistic singers of the group, I can tell you the evening was one of the most inspirational of my life.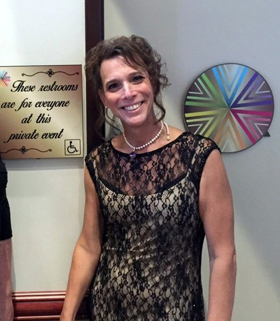 Deaton shares the influence of Bowie on her own life: "My first exposure to the 'spaceman' was at San Diego State in September 1973. By the time I saw him at the Universal Amphitheater in 1974 (dressed in my best glam rock outfit), Bowie had begun his transformation into the Thin White Duke. Yet I was still obsessed with Ziggy, and the vinyl aged and wore out, but I remained captivated by the story that let me be me. My exploration of gender identity and expression didn't begin with Bowie, but it was certainly nurtured through his music and others in the early '70s."
There was a moment in the Trans Chorus' performance that no doubt resonated with everyone involved, both onstage and in the audience, when Ziggy, the "Space Oddity" arrived and was greeted by the gray-clad and melancholy Earth beings whose growing fervor for change and revolution then broke through with "All the Young Dudes" and "Starman."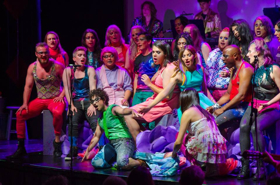 Fueled by their new outlook, the citizens literally shed their sadness by removing their nondescript gray clothing to reveal their true inner colors via brilliant and dazzling rainbow hued costumes hidden beneath in "Lady Stardust," culminating as the townspeople reveled in their new sense of purpose, community, and individuality with "Rebel Rebel." As the singers displayed their own new-found identities through colorful costumes, I could not help by shed tears of joy for all of them finding the freedom to be who they really are.
Also inspirational was getting the chance to thank transgender spokesperson Caitlyn Jenner, a partner of the TCLA who enjoyed the concert as an audience member, afterwards as she greeted attendees, many of whom being transgender like herself. The evening ended as a true celebration of what makes each of us equal individuals as I greeted the extraordinary TCLA singers on the patio after the event.
It is my hope this concert and others (such as a future concert featuring "Walk on the Wild Side" by Lou Reed) continue to inspire audiences toward full acceptance of our similarities, not just our differences.
The Trans Chorus of Los Angeles (TCLA) staged concert production of Bowie's full The Rise and Fall of Ziggy Stardust and the Spiders from Mars took place on August 26-27, 2017 at The Los Angeles LGBT Center's Renberg Theatre, located at 1125 N. McCadden Place in Hollywood, 90038. General admission tickets were $35 with all net proceeds supporting the Trans Chorus of Los Angeles and the full range of free and low-cost programs and services offered by the Los Angeles LGBT Center.
TCLA is the largest group of trans and gender non-conforming people anywhere in the world who gather together regularly to raise their voices in song. Its performances are intended not only to empower its members, but also to change the way others see the transgender community. Since their founding in late 2015, TCLA has drawn attention to the trans community and trans issues through live performances, community engagement, and social and traditional media. With a strong belief that TCLA is uniquely positioned to offer the trans narrative in a truly significant and impactful way, its mission is to fiercely empower the transgender, non-binary, and intersex community to discover, love, develop, and use their voices to change the social ecology everywhere.
In its inaugural year, the Trans Chorus of Los Angeles performed at the 2015 West Hollywood Transgender Day of Remembrance with Alexandra Billings and Our Lady K from Transparent; the Gay Men's Chorus of Los Angeles's (GMCLA) Fifth Annual Voice Awards; True Colors debut concert with TCLA, GMCLA, and Vox Femina; LA Pride, Long Beach Pride and TransPride LA; Kol Tikvah Temple; St. John's Cathedral, Episcopal Diocese of Los Angeles (the first Trans chorus to perform in a Cathedral anywhere); the opening ceremony of LGBT Heritage Month with Los Angeles Mayor Eric Garcetti and the LA City Council; the Williams Institute UniTy Awards with Laverne Cox; and Interscope Records' song "Hands," a musical tribute to benefit Orlando victims and LGBT organizations.
Artistic Director Lindsey Deaton is a conductor, guitarist, singer, speaker, and a fierce transgender and LGBTIQ youth advocate. She is the Founder/Artistic Director of the Trans Chorus of Los Angeles. Ms. Deaton served as the conducting apprentice to Jesus Lopez-Cobos, Music Director of the Cincinnati Symphony Orchestra. She has guest conducted the San Francisco Ballet, Louisville Orchestra, Spokane Symphony, Winston-Salem Symphony, Youngstown Symphony and Chorus, Schenectady Symphony, and numerous orchestras at the Aspen Music Festival, among others. An active music educator, in 2002 Ms. Deaton received the Dalcroze Certificate and the Dalcroze License from the Juilliard School in New York City. Her principle teachers were famed conducting pedagogue Leon Barzin in Paris, Gunther Schuller, Murry Sidlin, and Celin Romero. She studied with Dalcroze experts Robert Abramson and Marta Sanchez. She received her MFA in Conducting from Carnegie Mellon University.
For more information and concert schedules, please visit www.transchorusla.org