Review: AMERICA ADJACENT Asks How Far Would You Go to Give Your Child a Better Future
Discussions proliferate about immigration reform, whether it be the building of a wall to protect our border or deporting those who enter our country illegally to milk the system for everything they can get for free thanks to American taxpayer dollars. But while our focus seems to be on our Southern border, what about all of the other people from around the world that manage to come here illegally seeking a better life for themselves or, more importantly, their children? Is there really one correct answer or solution to the problem?
Boni B. Alvarez, a Los Angeles-based writer-actor, addresses the question head-on in his world premiere play AMERICA ADJACENT, centering on six pregnant Filipina women who risk everything in pursuit of the American Dream. Confined to a one-bedroom/one-bath unit in East Hollywood, they do their best to overcome fears of jail and deportation
so that their children can have a better life by being born here to gain American citizenship, even though promises made and the vacation-like stay expected and paid for is nowhere to be seen.
"As the child of Filipino immigrants, I have always been fascinated by the American Dream," says playwright Alvarez. "In America Adjacent, I wrestle with what the dream actually is, how it is packaged and marketed abroad, and what the reality is for anyone ever achieving it."
No matter which side of the immigration debate you are on, AMERICA ADJACENT is a sympathetic look at the reasons behind
why some women are willing to do whatever is necessary to give birth in America so their child can grow up an American citizen, given the benefit of being able to travel the world and develop into whatever type of person they wish to be, not stuck in a menial third world job. We are led to believe none will stay here after giving birth, although it becomes apparent that hidden agenda may really be their true motivation once they sneak out and experience how it really is to live in L.A. rather than just hiding out inside a safe house with no internet or way to interact with the outside world.
Portraying the six women in hiding seeking citizenship for their babies are Evie Abat, Angela T. Baesa, Toni Katano, Samantha Valdellon, Sandy Velasco and Arianne Villareal, with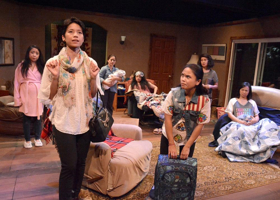 Hazel Lozano portraying their Administrator. Upon arriving, each pregnant woman is assigned to a recliner in the apartment's living room as their bed, and those who give birth move into the off-stage bedroom with their baby until its American citizenship paper are received. After that, the woman and her child are expected to go back to the Philippines with their American citizen baby. And the Administrator had made a lot of money with just a small portion actually spent on the women and babies, since all she really seems to care about is the women keeping the apartment clean and staying quiet to avoid detection.
During the course of the 85-minute play, each of the women in hiding explains the reason her pregnancy
as well as the how and why the decision was made to accept the Administrator's help to give birth in America. One in particular, Janelle (Evie Abat) has given birth to the son of an heir to a family fortune back home, without bearing any real love for him or the baby. She sneaks out as often as she can, leaving the baby to be cared for by the others who know how to be a mother. Janelle's stories of what the real world is like, as well as her sexual escapades with her new Mexican boyfriend, are the highlight of the other women's lives, while another enjoys watching neighbors cavorting in their Jacuzzi, missing the sexual attention of a man herself.
The most woeful case is a woman named Divina (Arianne Villareal) who worries something is wrong
with her baby when she does not get any larger as the months wear on, admitting the child's father is her own Uncle - her only living relative she loves. When her secret is discovered, the others tell her she must have been raped and needs to report it when she gets back, but of course that is not part of this young woman's plans. Another is bearing the child of a local married politico, with her expectation of being pampered shattered, though her attitude of entitlement remains. "This is not a vacation," she is told, "but an investment in your child's future."
It's a wonder these women do not kill each other, but unite in their mutual plight and common religion to support each other to succeed. And in the end, you may be left wondering if it is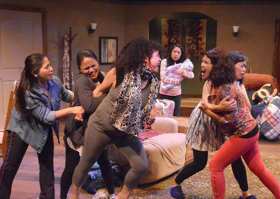 an American dream or an American nightmare to be setting this course for citizenship in today's divided atmosphere where fear of discovery forbids you to really live your life at all.
Five-time Ovation nominee Jon Lawrence Rivera returns to the Skylight Theater to direct AMERICA ADJACENT, again working with Mr. Alvarez following their collaboration on BLOODLETTING at Playwrights' Arena, where Rivera is the founding artistic director. That play went on to be selected by Center Theater Group for their 2018 Block Party at the Kirk Douglas Theatre, just as the Skylight Theater's multi-award-winning production ROTTERDAM, written by Jon Brittain and directed by Michael A. Shepperd, was selected to be part of this year's Block Party with performances taking place in March/April 2019. This duo is sure to gain even more recognition in their future artistic partnerships!
AMERICA ADJACENT continues through March 24, 2019 at 8:30pm on Fridays and Saturdays, 3:00pm Sundays, and 8:00pm Mondays at the Skylight Theatre, located at 1816 1/2 N. Vermont Ave, LA, 90027. Tickets are $15 - $41. Information and reservations: (213) 761-7061 or (866) 811-4111. Online ticketing: http://SkylightTix.org Run time 85 minutes (no intermission). Parking information: http://skylighttheatre.org/plan-your-visit/
Recognized as a powerhouse of new play development by Dramatist Magazine, many of Skylight's World Premieres have gone on to be performed nationally and internationally. During AMERICA ADJACENT, Skylight continues their popular series, "Beyond Conversation" with weekly post-Sunday matinee discussion panels which allow audiences to gain deeper insights into the themes of the play. Hosted by Filipino-American Giselle Töngi Walters (Kababayan LA), the five scheduled stage talks begin February 24. A full list of guest speakers, dates and topics are posted on Skylight's website http://skylighttheatre.org/beyond-conversation/
Photos by Ed Krieger