Premiere Of Monthly Nomadic One Act Plays Come To Lincoln Beer Company This Month
The premiere is set for Monday, February 27.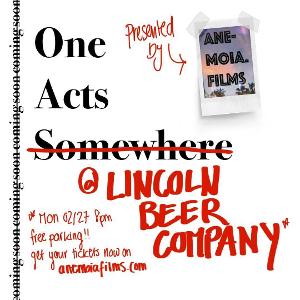 "ONE ACTS SOMEWHERE" welcomes you to enjoy four one-act plays from a group of amazing independent playwrights. "The White Knights of Progress" by Max Marsh, "Blame" by April Littlejohn, "Five Years Time" by Amaris J. Gagnon and "You Want It Darker" by Chris Haas.
"One Acts Somewhere", produced by ANEMOIA FILMS, is a monthly showcase of emerging talent in the theatre world. The location of the showcase changes every month, with the new location announced a month in advance, and will feature shows set in the very place they're being presented; a TRULY IMMERSIVE 360° EXPERIENCE.
The premiere of "One Acts Somewhere", HOSTED BY IGNACIO NAVARRO, will take place at LINCOLN BEER COMPANY on MONDAY, FEBRUARY 27TH. Doors at 7 for drinks and refreshments, with the one-acts to begin at 8. A food truck will be on the premises during the entire event.