Review: TWO B'S WITH LOS ANGELES BALLET at Redondo Beach Performing Arts Center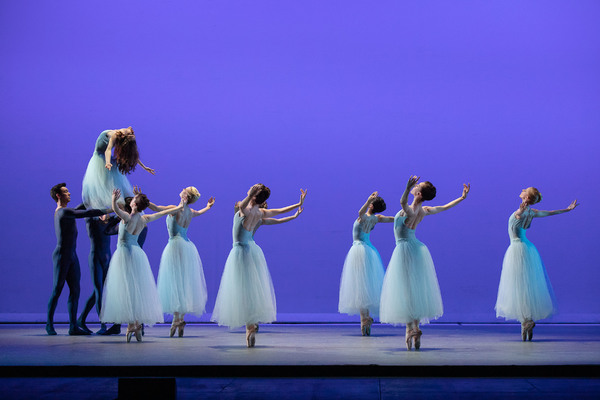 Serenade Petra Conti and LAB Ensemble Photo By: Reed Hutchinson
A nearly packed house on a rainy LA evening on Friday, March 2, a tight-knit Los Angeles Ballet drew our attention as Tchaikovsky roared through the Theater at Redondo Beach Performing Arts Center.
"The two Bs," Balanchine's Serenade, a non narrative Ballet, paired with Bournonville's highly narrated La Sylphide made for a dynamic evening of "love and loss" and a tour back in time. This unassuming program for Los Angeles Ballet's 2019 Season is a beautiful snapshot into the variety that ballet provides.
In an age where interactive technological experiences seem to be the only thing that "wows" us, it's pleasing to witness youngsters jumping about in the aisles during intermission. Inspired by what they saw on stage, the magic of live dance will never cease to create a sense of wonder.
Los Angeles Ballet dancers move with classical integrity. Under the direction of Colleen Neary and Thordal Christensen, the values of strong lines, stylistic nuances of both Balanchine and Bournonville, and superb staging were picture-perfect imaging of the choreography that transports you back in history when these Ballets were first danced while bringing them to life in 2019.
Right from the start, a sea of women in romantic light blue tutus command the attention with their powerfully legato port des bras. Lighting design by Ronald Bates and executed by Tyler Lambert-Perkins was excellent for Serenade as it has its own romantic timing partnered with the dancers.
Company Dancer, Jasmine Perry, stood out with her seemingly natural epaulement. I did wonder if the stage was slippery because of very safe grand jetés. Principal Dancer, Bianca Bulle, lit up the stage with her technical clarity and generous stage presence leaving you ready for an encore. Principal Dancer, Petra Conti, could be compared to a majestical modern-day Melissa Hayden with her petite frame, flirtatious envelopes, and lively presence. She's a dancer who is meant to be a dancer. She danced a playful pas de deux with Principal Dancer, Eris Nezha. To see Bianca, Petra, and Jasmine in the pas de trois section toward the end of Serenade, was an excellent representation of the universality of dance and the globalization of Los Angeles.
Although the Principals exhibited gorgeous presence and strength, the power in this company is the company. The uniqueness in the choreography was held to Balanchine's Trust standards under the direction of Colleen Neary including hopping en pointe during the pique turn section, for example. The strong transitions and lines from the ensemble and picturesque quintet sears its imprint into your heart's memory. Sometimes the simplest choreographic lines provoke the most "awe-inspiring" impact. The quartet of dancers provided the dynamic shift of lightness. Balanchine would be proud.
Some 84 years from the original premier in New York, this Balanchine Ballet withholds the test of being a timeless work of genius. Thank goodness Nearly passed the work along so beautifully! Petra danced with her shadow as her final cambré into the ephemeral paint of the piece came to a close.
After Intermission, La Sylphide, staged by Thordal Christensen, provided fun costumes designed by Henrik Bloch and characters and choreography by August Bournonville. Sylph, danced by Bianca Bulle, disappeared in the fire quickly after seducing James, danced by the very strong Principal Dancer, Tigran Sargsyan. It was quite obvious that Colleen Neary was a true ballerina in her day with incredible acting in the role of Madge. Madge gave the scottish lassie friends their fortunes in Act 1 with strong storytelling and staging. Bournonville technique is quite challenging to master with it's quick feet and change of direction and Los Angeles Ballet withheld it's stylistic integrity.
In Act 2, the four layers of the forest scene designed by Søren Frandsen, made for an enchanting pas de trois of the Sylphs. A really fun witch scene, very flirty pas de deux where Bianca's kisses felt animated, and the strong jumps and musicality of Tigran were the threads sewing the kilts of the this Ballet together. Soloist, Chelsea Paige Johnson, who danced the role of Effy, had excellent performance quality. I look forward to seeing more of her.
When Bourneville's choreography meets the quick tempo's of music by Herman Severin Løvenskiold, the tension to hold on to the petit allegro sections were held in the hands and needed to be freed at times. There was some distraction from the loud landings especially during the glissade section. All in all, the old rhetoric of Scotland in La Sylphide was made relevant for today as an appreciation for the historical impact on performance during the romantic era.
Los Angeles Ballet plays a huge role in what Ballet does best in our age; to bring the world together. The company represents dancers from 11 countries: Australia, Japan, North Korea, Denmark, Italy, Armenia, Switzerland, Romania, New Zealand, Albania and all over the US.
Los Angeles Ballet is doing a great job representing Los Angeles with an integral Ballet Company, in honor of the City and to celebrate and share the repertory of Ballet. You can see Los Angeles Ballet throughout Los Angeles this month. Click the link for dates and tickets.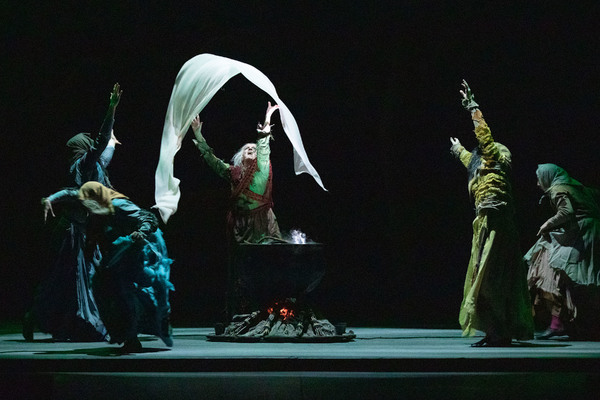 La Sylphide Colleen Neary and witches (LAB Ensemble) Photo By: Reed Hutchinson