BWW Review: New THE CAPE AND THE KLAN Is Entertaining and Much More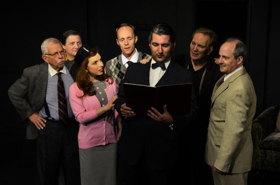 The Cape and the Klan/written by Tin Penavic and Ted Ryan/directed by Stan Mazin/Group Rep, NoHo - Upstairs Blackbox Theatre/through March 11 with a possible extension/plays Saturdays at 2 pm and Sundays at 7 pm
What a rare treat to see a play based on true events that is simultaneously informative as well as entertaining! The Cape and the Klan by Tin Penavic and Ted Ryan is such a play. Now onstage at the Group Rep Theatre Upstairs, the play tells the story of how one newspaper writer infiltrated the Ku Klux Klan and attempted to put an end to bigotry and violence via the Superman radio show on WOR radio.
The time is 1951, when the Klan continued to rear its ugly head in the South, lynching or shooting Afro Americans, then referred to as blacks or worse, coons ... out of sheer hatred. Sound like a similar situation today? We have a leader who wants to build a wall to keep out immigrants and in this day and age still calls anyone who is not rich or white ... inferior. We are in dire need of a healer, someone who will step forward and put an end to prejudicial behavior. Remember Barbra Streisand's character in the 70s film The Way We Were? She would lie down and die for a cause. That's what we need today. Well, back in the 50s the Man of Steel was a crusader who championed the cause of mankind, keeping it safe for everybody to walk the streets without fear. He was a fantasy hero, but kids loved listening to his escapades on radio nad shortly thereafter on television. He made them care about America, so who better than to wipe out "The Clan of the Fiery Cross" and bring peace?This series of radio episodes increased the show's popularity and made our country aware of the extreme danger of the Southern Gentlemen's Club - otherwise considered an asset to the community like the Elks, the Masons or the Shriners - that were known for ORION, translated One race is our nation.
The play has an interesting structure that is very cinematic with short scenes that go back and forth between WOR in NYC to the actors drinking, carrying on and talking shop after the show at Murphy's Bar next door, then on to Atlanta, Georgia where Ku Klux Klan leader Sam (Bix Barnaba) and infiltrator Harry (Doug Haverty) hatch out their plans to wipe our nation clean of inferior stock. Harry is the writer who secretly gets in touch with old Army buddy Bob (Matthew Hoffman), the current producer of programming at WOR. After Harry snitches on the Klan, they try to kill him, but he survives. His inspiration for change? At one point in the past he had met Rita Walker (Shalonda Shaw-Reese), a black lady with great hopes for her people, and never forgot that Sam shot her to death shortly thereafter. He is so willing to bring about justice that he moves to New York to stay with Bob. Bob's wife Veronica (Natalia Santamaria) is pregnant and fearing for the safety of her child, moves out. Eventually, Harry and Bob win out with superior ratings for Superman's crusade against the Clan, and Veronica returns, creating a happy ending.
With director Stan Mazin's meticulously detailed staging and quick pacing, the show never lags, and the ensemble are just great. Haverty as Harry has never been better in a completely different role for him, and Barnaba as Sam steals the show as the spiteful, violent Klanner. Shaw-Reese is another scene stealer as Rita, who deeply cares about the future as it concerns her people's place in the world. Praise as well to Hoffman, who despite the fact that he is a producer, gives Bob an incredibly humane edge. Wonderful work from Santamaria as the worrisome wife and the actors Bruce Nehlsen as Smitty, Timothy Roscoe as Dan, Scott Seiffert as Joe, Michael James Thatcher as Ben and last but never least Kristen Towers-Rowles as Lana, who is always a joy to watch. She brightens up the group of actors and is having such fun.
The Cape and the Klan illustrates the violence that still plagues our world and expresses the desperate need for someone to stand up and fight. We think but we are also allowed to laugh... and... there's a delightful commerical jingle for Snap cereal, written by cast members, that enriches the enjoyment of the radio segments.
(photo credit: Troy Whitaker)