BWW Review: City Garage Revives Comedic THE BOURGEOIS GENTLEMAN With Uproarious Results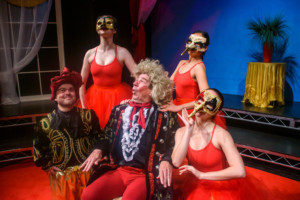 When you live anywhere that isn't the Westside, going to Santa Monica is a chore; but it was worth the drive Friday night to see City Garage Theatre's production of THE BOURGEOIS GENTLEMAN.
Written by Moliére, translated by Frédérique Michel and Charles Duncombe, and directed by Michel, THE BOURGEOIS GENTLEMAN had the audience laughing from start to finish. Providing a satirical view of French aristocracy during the 17th century, this play - and part musical - put ostentatious Frenchman Monsieur Jourdain front and center to fully display his foolishness to become what he was not and would never be: a member of the aristocracy.
One of my favorite things about this production was the symmetry both in the set design by Duncombe and in the overall direction by Michel.
When I sat down in the hexagonal-shaped black box theater, Duncombe had placed the chairs, risers, chandeliers and windows so they mirrored each other; even the fruit plate sitting atop a table upstage looked symmetrical from my angle. The shadows cast through the French-paneled windows created a pleasing and repeating pattern on the candy-apple-red carpet, and the classical music that played before curtain clearly represented the time period. It was a clean-cut set that captured my attention throughout the production.
Michel used the idea of symmetry not just in the dancers' choreography but also in the way the actors interacted with each other. The latter was especially evident when Lucile (Carina Conti) and Nicole (Lindsay Plake) both spoke to their respective beaus, Cléonte (Grant Gerber) and Covielle (Andrew Loviska). Michel designed the scene keeping in mind the social stature of the characters. The dialogue between Cléonte and Lucile had a more formal tone than that of Covielle and Nicole. And although both the men and women mirrored each other's actions, there was still a clear divide between the two parties.
There was serious - albeit good - chaos within the symmetry and order of the show, so it was essential to pay attention to either side of the stage to note those similarities. The contrast and opposing forces balanced the bourgeois characteristics with the common ones.
Josephine Poinsot and Geraldine Fuentes' costume designs were flashy and avant-garde, an absolute embodiment of this show. They draped Monsieur Jourdain in lavish reds and golds from his head all the way down to his outlandish sequined slippers. But what I truly liked the most were the masks dancers and actors donned to disguise themselves. Whether they were bought from an outside source or made specifically for this production, there was no way to deny the intricacy and craftsmanship in those masks. They signified both royalty and jest, and I couldn't imagine a French-themed production without them.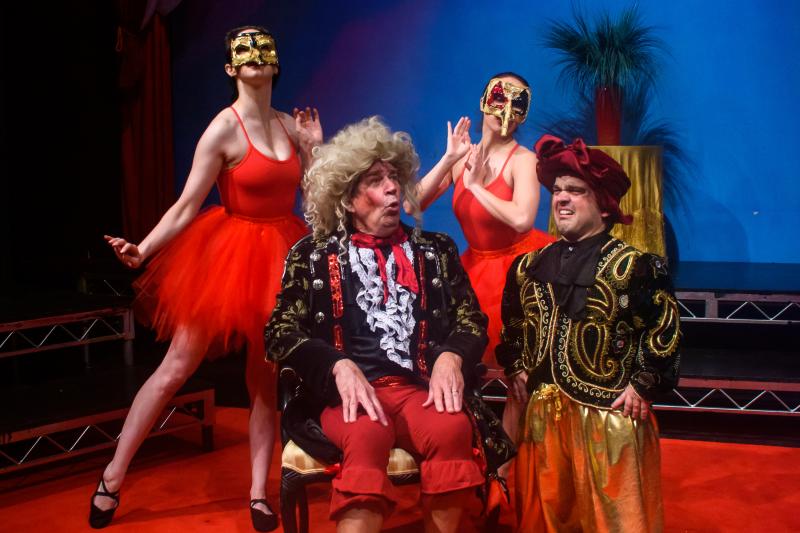 When it came to the actors, I truly didn't have a favorite because I thought all of them stood out in their own way. For instance, Bo Roberts led the cast as Monsieur Jourdain and kept the audience rolling with laughter with his ridiculous antics and quick quips. When Roberts broke the fourth wall in multiple instances, it provided a sense of intimacy and inclusion, like we were in Monsieur Jourdain's living room getting a firsthand look at him being a complete fool.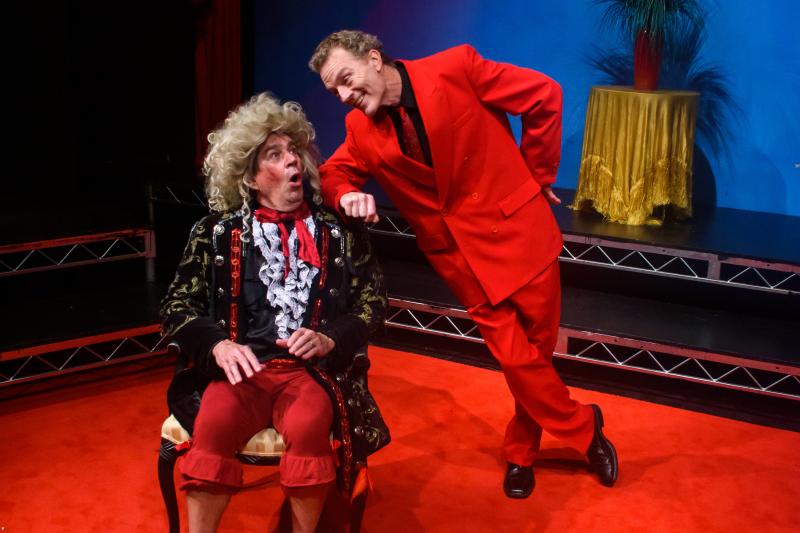 Although I felt all actors were on an even playing field, I did think the women were stronger in performance, delivery of lines and overall conviction. Geraldine Fuentes' (Madame Jourdain) dry humor bolstered her character's utter disgrace of her husband's eccentric lifestyle. In my mind, her no-nonsense attitude was a win for 17th-century women. She showed that despite living in a male-dominated era, she got to have the last word. And Trace Taylor as the philosophy master felt effortless; she overpowered Roberts' kitschy Jourdain with comical fluidity.
This was the first show in a long time where the set, the costumes, the directing and the actors overwhelmed me in a positive way. It was a resounding success when a performance made me snort while laughing, and THE BOURGEOIS GENTLEMAN did just that. This witty tale about the nouveau riche is bound to continue to make audiences gasp for air.
THE BOURGEOIS GENTLEMAN plays now until April 7 at City Garage Theatre (2525 Michigan Ave. Building T1) at Bergamot Station in Santa Monica. Performances are at 8 p.m. Fridays and Saturdays, 4 p.m. Sundays. Tickets are $25 but are $20 for students and seniors with proper ID. On Sundays, you can "pay what you can" at the door only. Tickets are available by calling 310-453-9939 or by visiting www.citygarage.org.
There is free parking past the main gate on Michigan Avenue, and the theatre is located at the west end of the parking lot.
Photo Credit: Paul Rubenstein
Ilana Lifshitz is a University of Florida alumna who hails from Wellington, Fla. but resides in Los Angeles. She moved to LA after her college (read more...)