BWW Interview: Post-SNL, OLDER & WIDER Julia Sweeney's Comedy Rules
Funny lady Julia Sweeney brings her latest one-woman show Julia Sweeney: OLDER & WIDER to the Geffen's Audrey Skirball Kenis Theater stage for a limited comedy engagement February 5 through February 10, 2019. I had the pleasure of delving into the comedic genius of this Saturday Night Live/The Groundlings alumnus, getting some very insightful responses.
Thank you for taking the time for this interview, Julia! I was one of the lucky ones who got to see your preview of I, AS WELL at The Groundlings this past September. What issues and topics will your new one-woman show, Julia Sweeney: OLDER & WIDER be tackling?
The show is mostly about being a parent, being married, launching a teenager and trying to re-enter a career.
Will OLDER & WIDER feature a number of familiar and, possibly new, characters to aid you in your storytelling?
Well, no. Ha! I guess my daughter Mulan is the major character. I do talk a lot about her, a bit less about my husband - and, of course, I speak about my mom. The newest "character" is my daughter's first boyfriend and how we navigated his entrance onto the family scene.
What shows have you experienced at the Geffen, either as onstage or in the audience?
Well, I've probably been seven to ten times to the Geffen. I can't remember now what, because I forget everything. Of course, I saw my friend Sandra Tsing Loh do her show about Christmas there, it was wonderful. I recently saw A CHRISTMAS CAROL with Jefferson Mays - OMG! OMG! I am speechless. It was so friggin' good! It was one of the best theater experiences I've ever had. I literally couldn't speak afterwards, the tears were just flowing. I tried to talk, I couldn't. I was in awe from head-to-toe, and into the deepest recesses of my soul. It was spectacular and I hope it goes to Broadway next year. It deserves to. I saw STAGE KISS a couple of years ago - again it was brilliant. I haven't had a bad experience at the Geffen. Which I guess should make me nervous about my show. But no, I will remain calm. I am just so tickled to get to be at the Geffen.
How scripted are your one-woman shows? Julia Sweeney the writer doesn't get upset if Julia Sweeney the performer goes off script? Who usually wins out in the end, Julia Sweeney the writer or Julia Sweeney the performer?
Oh, Julia Sweeney the writer is constantly in a snit about her actress and how she flubs jokes, ruins set-ups, forgets whole sections, and relies on laughs to carry her through when it should really be all about the writing. Julia Sweeney the actress feels that Julia Sweeney the writer is a little full of herself. Anyway, by the time I finish a show, it's pretty much scripted. I think of it like I'm an actor. There are areas of possible improvisation - I try to be in a space, in real time, and ready to react to what is happening, and, in that sense, it's like stand-up.
How did a little girl raised in an Irish Catholic household in Spokane with a father for a prosecutor and a mother as a homemaker get interested in imitating voices and acting out characters?
My dad was a great wit and a very funny and humanistic viewer of the tragedy of the human condition. It was the best part of him and the deepest. My mother was just... a character. All of us kids imitated her from babyhood.
You must be of the like mind that laughter makes any subject matter easier to digest and remember. When did you first realize the power of making people laugh?
I can't remember when making people laugh wasn't central to my interaction with the world. I was voted funniest girl second grade through eighth grade at my Catholic Grammar School - which had a high value on comedy - hence the awards. I think that's one great thing about Irish Catholics, they take comedy seriously.
You touch on some heavy subjects, like you did on your monologue/CD/film Letting Go of God, relating a lot of your own childhood tackling religion. Do you feel any subject is fair game for you to riff about? Any subject you find taboo for yourself or for comedians in general?
No. Right now, there is a big wave of reaction to "offensive" material. I think it's worrying. I am solidly on the side of comedians and artists being able to tackle any topic. People don't have to like it. They don't have to attend that person's shows. But I don't think the comedian should be shamed or shunned for their material.
Right now, I'm probably reacting to the reaction of the leaked Louis C.K. material. For someone like me, that sometimes works in areas of controversy, it's frightening to think someone could record something you did in a club - not for publication - working stuff out - and then be condemned for it because it's been released to the public! I'm working on a show right now about Me Too, called I, AS WELL. I say all kinds of stuff that - on its own - might be considered horrendous. But I'm workshopping it! By the time I have a show ready to be reviewed, then yes - I'll defend my choices. Before that, though, it's not fair.
I guess we're all trying to figure out how this kind of thing works now that anything can be recorded at any time.
BUT ANYWAY... Yes, I don't like to think there are taboos. I mean, that's what comedy is often all about, breaking taboos. That being said, I think comedy reflects the individual's deepest self, and, you know, some of the funniest people are not the nicest, fairest, or kindest people. In a way, that's why they do what they do and people love them for doing it. They say what some people think, but dare not say.
However, myself - I'm probably on the kind side of things. I'm kind naturally, but that doesn't mean I don't appreciate cruelty if it's done well. Let me think... Well, I don't like it when comedians joke about people who have less status than them. I think that's wrong, I suppose. "Punching down" is what it's called. For example, I've seen comedians make jokes about TSA workers making minimum wage and then assuming they're not as good as other people who make more money. That kind of thing makes me crazy!! I don't like it. But I would never say not to do that material.
Would you say that political correctness has placed restrictions on comedy material today?
Yes, and that is worrying.
What could you get away with making jokes about in 1988 that you can't now?
Hmmm...? Probably disparaging jokes about gay people, trans people, rape? How stewardesses are sexy? Hmmm...? Maybe I need to take back everything I said before. That's a good thing that those people are not routinely ridiculed. But again, I don't think we should officially ban those jokes. There are a lot of jokes now about white males that weren't said before. Is that a good thing? Probably. But... isn't that because the comedy audience is wider and more diverse now? In sum, I think any joke is fair and able to be said. But we (the consumers) don't have to like it. And we can talk about how and why we don't like it.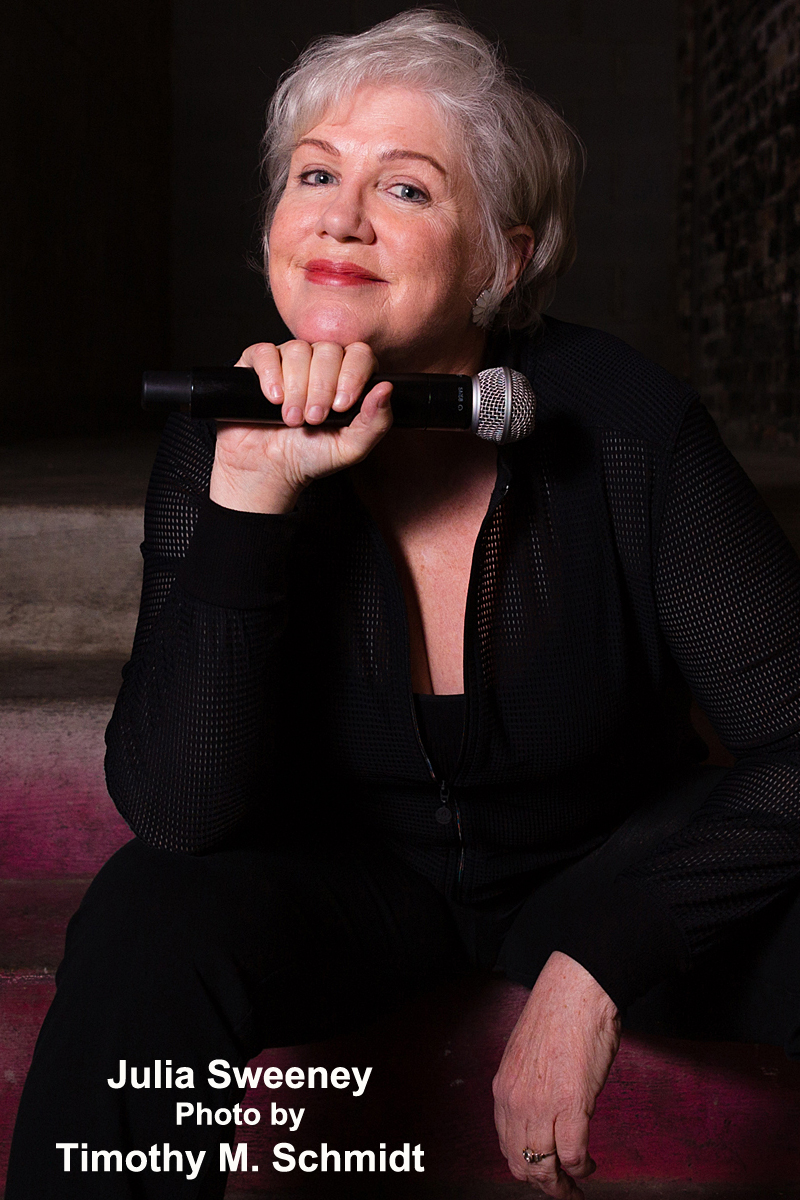 One of your signature characters on SNL, I believe you created at The Groundlings - Androgynous Pat. What inspired you to create Pat?
I was working with someone who drove me crazy. He was a guy. A man. Not androgynous at all. I wanted to do him onstage because it would feel good. But I wasn't that adept at playing a guy. So I figured I'm make it part of the joke that it was unclear what gender Pat was. I actually thought that was the least funny thing about Pat!
I thought Pat's weird mannerisms: the drooling, the gurgling, the standing-too-close was the funny part of Pat. But then when I did the first joke about Pat's gender, the audience went nuts. They loved that. And it was funny - there were people for whom it was very hard to tell what gender they were.
I'm not talking about people who were/are pointedly and deliberately androgynous. I'm talking about people who are accidentally androgynous. They don't think about it at all. To them they are either male or female. They think it's obvious. But... it isn't. And that is what Pat is.
Would you say Pat was a character before Pat's time? Or right on time?
I guess, right on time. It did really take off. I think it's because there was this type of person out there, someone for whom you could not tell if they were male or female, and I was tapping into it.
How would you tweak Pat if you were to perform Pat today? Or would you tweak Pat at all?
I would make Pat less annoying. As I said, I thought the funny thing about Pat was how annoying Pat was. But it turned out people liked the androgynous aspect of Pat. And now, of course, there is a whole community of people who are deliberately androgynous.
But if I were to do it again, I would make Pat more of a blank. It's always been people's reactions to Pat that was funny. We didn't make fun of Pat for being androgynous. We made fun of people who couldn't stand it because they didn't know. We made fun of people for needing to know so much.
Personally, I'm completely on the side of more androgyny in our world. I think we divide ourselves up too much according to sex. What difference does it make unless you are trying to mate with someone?
I may be extreme on this, but I don't even think we should have sex on passports or driver's licenses. Who cares? There are other ways to identify someone besides by gender.
On the other hand, these are my personal beliefs. Pat is fine being a male or a female.
Would you call Pat "Non-binary Pat"?
Pat is not gay. Pat is not non-binary - to Pat's self. Pat feels completely comfortable as either female or male. We just don't know which!
In fact, it I were to write a Pat sketch now, I would make Pat very hostile toward the Non-binary crowd. I think that would be funny. Pat is discriminatory against people for whom Pat cannot tell if they are a man or a woman! And yet... we cannot figure Pat out.
But personally, I am for less gender division in society. I get into arguments with my husband over this, because I think it should apply to sports as well. It should just be by height, weight, and bone density. I could go on and on!
Lots of political skewering on SNL now. Would your reaction to Chelsea Clinton's criticism of your portrayal of her be different today in 2018?
Well, I get why Hilary put an end to it. (She wrote a letter to Lorne telling him it was not okay.) Of course - I hardly did Chelsea. In the sketch, I was sitting and smiling in a stand with Phil Hartman as President Clinton. That was it. But yeah, I think in general, kids under 18 should be off-limits. (As a side note, people accused me of making Chelsea look unattractive, but that was just me being me. I didn't do anything other than have very little make up on, and a wig with hair that looked like hers, and braces on my teeth.)
It was funny to me when people said I made her look ugly. If they thought that, then they were saying I looked ugly! Okay, but still. I was just trying to look young. Anyway, it was a lesson all around.
You joined The Groundlings in 1988. If there is one major take-away from your initial training from The Groundlings, what would that be?
Find a group! The best thing about The Groundlings - I have a tribe. Also, they taught me everything about how to have a career in show business. Also, I met the most amazing people. I'm still doing improv shows there on some Wednesdays and Thursdays. I'll probably be buried under the stage.
Who in your Groundlings classes/group went onto national recognition as you did?
Oh, wow. There are too many to mention and I'll forget people - Kathy Griffin, Lisa Kudrow, Phil Hartman, Jon Lovitz, and many, many, many others.
Which do you prefer: the bright stage lights and the immediate audience feedback? Or the more quiet confines of your writing space, and then watching others performing your words?
I love both so much, I could not choose. But I think I cannot live without doing something on stage.
Stand-up comedians exercise their comedy chops popping up at various open mikes. Do you a comedienne/writer feel the urge to test your comedic material on stage?
Yes, that's the only way I know.
Any Julia Sweeney projects in the near future you can share with us?
Yes, I am determined to make this other show called I, AS WELL work. Not sure if it's possible, but I'm going to give it my all.
Thank you again Julia! I look forward to laughing with you again at the Geffen!
For Julia Sweeney: OLDER & WIDER ticket availability February 5 through 8, 2019; log onto www.geffenplayhouse.org