BWW Interview: Marilyn McCoo and Billy Davis, Jr. Talk New Album, Hollywood Walk of Fame Star, SUMMER OF SOUL & More!
McCoo and Davis Jr. recently topped the charts with their first album in over 30 years, and are set to receive their second star on the Hollywood Walk of Fame.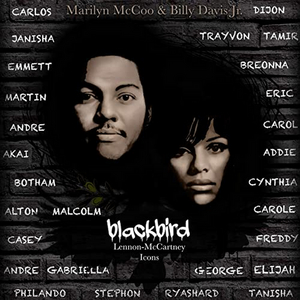 Marilyn McCoo and Billy Davis Jr. are entertainment industry titans who first exploded onto the music scene as part of the The 5th Dimension, with hits such as "Up, Up and Away", "Aquarius/Let the Sunshine In (The Flesh Failures)" and many others. The married superstar pair have have received 7 Grammy Awards and earned 15 gold and 3 platinum records, and have conquered the arenas of live performance, theatre, television and more!
McCoo and Davis Jr. recently topped the charts with their first album in over 30 years, 'Blackbird: Lennon-McCartney Icons', are set to receive their SECOND star on the Hollywood Walk of Fame, this time in the Live Theatre/Live Performance category (they received their first star in 1991 as a part of the 5th Dimension), and are featured in Questlove's lauded documentary about the Harlem Cultural Festival (which they performed at as members of The 5th Dimension in 1969).
We spoke with Marilyn McCoo and Billy Davis, Jr. about this incredible time in their career, what inspired them to record their new album, how it felt to perform at the Harlem Cultural Festival in 1969, and much more!
---
You are having an incredible moment right now, you just released a new album, you're featured in Questlove's Summer of Soul documentary, you are getting a second star on the Hollywood Walk of Fame, let me first ask, how does this moment feel for you both right now?
Billy: For me, it's unbelievable! Where we're at in our ages, and where we're at in our careers, we've been out here a long time. And then all of a sudden for all this stuff to start happening all over again, it makes me think of one of the song selections on the [Blackbird:] Lennon-McCartney Icons album, starting over again.
Marilyn: Yes! Just like starting over.
Billy: That's what it feels like to me!
You just mentioned your album, Blackbird: Lennon-McCartney Icons. This is your first studio album in 30 years, when did you decide that it was time to get back in the studio and what inspired you to record this album?
Marilyn: Well, you know, we've done a couple of our own projects, just because when you're out there working and performing, you want to have product out there...
Billy: Something to show, to give to people that know that you're still in it.
Marilyn: Right. And sometimes they'll hear a song that's in your show that's not a song that's on a record, and they'll say, "Do you have a recording of that song? We'd love to have that! We'd love to be able to play that again!" And so, that kind of inspired us, "Well, let's go in the studio and at least have some product together." And not only that, but the young people, and the way they started going into studios when they didn't have any...
Billy: Record company backing, they started doing their own thing.
Marilyn: And we said, "We've got to take a lesson from the young folks!" The record company EE1 wanted to take us into the studio. They felt like it was time, they said, "You guys sound as good as you ever did, and you should have some new product out there!" EE1 is Kathy Ireland's record label, and our manager, he was excited about the concept too, and he had been wanting us to get back in the studio. So, we said, "Well, if there is any interest, sure, why not!" We were delighted that at this stage in our lives they were showing that interest.
And why Lennon and McCartney? How did you decide that was the direction you wanted to go in for this, and how did you actually decide what songs you wanted to put on the album?
Marilyn: We started talking about the music that was out there. And we felt like a lot of the new artists, they write their own material, and that's what it's always been about, but, we felt like there's so much good music that came along when we were recording, in our time, that it would be nice to re-introduce them to some of the quality music that's out there. And we were thinking about Lennon and McCartney, and we have been doing some of the Beatles' music in our live show.
Billy: We had been doing a whole medley of Beatles songs for people, and they really enjoyed that. So, when our producer came, he said, "You've been doing these Beatles songs, what do you think about what's going on in the world today? A lot of young people would like to know how you guys feel about what's happening." And one of the songs we were doing in the show was Blackbird. So, we started thinking about the Beatles' songs, and how many ways you can take them. Their writing is so good you can take their songs different ways! So, we started saying, "Maybe we can do something different with them,"
This album really is speaking to this moment in time, and it's really touching a lot of people, it's really resonating right now.
Marilyn: It's saying things that need to be said. We need to be looking at our world and our country, and looking for ways to bring us together.
Billy: One of the things we were hoping was that this album would be like a healing project for the country. To start making people think about where we're at, what we represent around the world, and how are people going to respect us around the world if we can't get along in our own house?
I love the album, I think you sound amazing. Are you working on an expanded version of it as well?
Marilyn: Yes, well, there is a lot of conversation about that! We're very excited about that direction because, again, the market today is so different from what it was when we were at our peak. And we feel there is just so much new stuff to learn as far as direction and how the business is approaching things now.
Billy: Our managers and producers have been talking about this expanded version, and we went, "Expanded? What's that!" [laughs]. We just finished it!
Marilyn: They said, "Yeah, but there's a whole new way to do it!"
Billy: We said, "Okay, we're ready for it."
Marilyn: We said, "Show us! Show us what you mean!" [Laughs]
Another project you're a part of that I mentioned earlier is Questlove's film Summer of Soul, which is about the 1969 Harlem Cultural Festival. Can you tell me what it was actually like performing at that?
Billy: Well, I'll tell you, that was a real treat for us back in 1969, because the 5th Dimension was known for doing pop music, and performing, but basically, 80/20% of artists were white. So, where we would perform, a lot of black people couldn't afford the tickets to come and see us, especially in those days. So, when we were asked to perform then, we were very proud because we wanted to be able to perform in front of our own folks. So, it was a real treat for us to be a part of that.
Marilyn: We marvel at the timing of all of this. Our project Blackbird coming out, and then Summer of Soul coming out, it's like God put this together, you know? The timing couldn't have been more perfect. It made people become aware of us again, it made people become aware again of the wonderful music that was being done during that time and was missed. During that time the Harlem Cultural Festival was happening, but Woodstock was getting all of the attention. And when you start looking at all of the artists that ended up being a part of that festival, it was just amazing. B.B King, and Sly and the Family Stone, and Nina Simone, and Edwin Hawkins, and Stevie Wonder, and Gladys Knight, on and on and on. It's a celebration of the music that needs to be remembered and celebrated.
And just adding to the amazing moment you are both having, you two are receiving a second star on the Walk of Fame, this time for live theatre/live performance!
Billy: We got one with the group.
Marilyn: And we were delighted to have that! So then, to start talking about celebrating us, and in the area of theatre, it's amazing!
I'm so happy that you're being recognized in this way because you deserve it! Do you have anything else you'd like to share?
Marilyn: We were going over things that we've done through the years, then we started realizing that the 5th Dimension, we made our Broadway debut back in 1974 at the Uris Theatre, that became the Gershwin Theater. So, the 5th Dimension, we did a two week performance at the Uris Theatre, and that was a very exciting thing for us. We had on our show with us, an opening act called JoJo's Dance Factory, and in that group was an up-and-coming, amazing dancer by the name of Debbie Allen! And another thing about that is that the Gershwin is where I performed in Show Boat in the role of Julie.
Billy: Not only that, we've done a few things [in theatre]! I did Blues in the Night at The Old Globe in San Diego!
Marilyn: So, we do have a little history with theatre!
Would you return to the theatre? Is that something that would ever interest you, coming back in a theatrical way to the stage?
Marilyn: We'll see what comes along! We can't say never, because we never expected all of this to start happening again!