Interview: Maral Milani Tackles Groundbreaking Material in The Matrix Theatre's PARADISE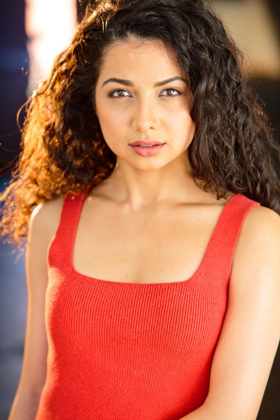 Two actors, one stage, and a poignant story that sheds light on pivotal current issues. This is what audiences can currently experience at the Matrix Theatre in Los Angeles. Paradise- a groundbreaking play about an unlikely partnership between a student and her teacher- captivated audiences during its run at the Westside Odyssey Theatre... so much so, that the production gained a new, fresh run at The Matrix starring Maral Milani and Jeff Marlow.
Maral Milani, who plays young Yemeni student, Yasmeen, caught up with BWW about her journey throughout the show, and the growth that Paradise has brought to her own life as a performer.
Tell us about your show!
The show is called Paradise. It's produced by the lovely Viola Davis and her husband Julius Tennon. Their company, JuVee Productions, brings people of color and diverse backgrounds together and puts them onstage in leading roles. This story revolves around two characters - something that I haven't seen onstage very often over the years. I play a girl named Yasmeen, who is a very devout Muslim. She lives in the Bronx in a very poor neighborhood. Both of her parents have died, and she lives with her four sisters and her aunt and uncle with their four children. She has no time for herself, which is a huge struggle for her. She goes to what she calls a 'D-Rated High School' in her town, and dreams of becoming a scientist majoring in biology at Columbia. Her family has different dreams for her. They don't want her to pursue higher education, and emphasize the importance of staying true to her cultural ideals. When she finds out that her aunt and uncle don't support her dreams, she gets flustered and fails a major exam that would get her a 4.0 GPA and further improve her chances of getting into Columbia. This revelation is what starts the play, and prompts her going into the classroom to talk to her teacher. The whole show takes place in the classroom, and audiences see their interactions over the span of three months. They discuss race, culture, gender identities, her identity as a woman in Middle Eastern culture, his identity as a white man in today's society... it's all very relevant to our current societal climate!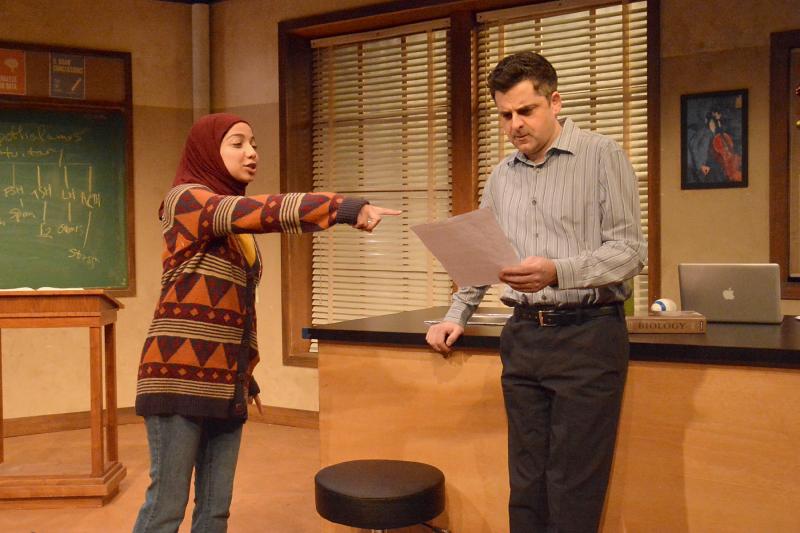 What has been the most interesting part of working on this show for you? With all the topics you cover, what are the story lines that stand out particularly to you?
I think, on a personal level, it has been so inspiring to delve into a youthful character who grew up completely different than myself. There are certain similarities that I see because of the Middle Eastern culture I was raised around. The differences are what surprised me, though. I grew up with two Atheist parents. Religion was never a topic in my household. To explore a character's world where Muslim faith is her entire life... it dictates her decisions.
Yasmeen is also still young, and doesn't understand what love is yet. She hasn't even had her first kiss. She grew up in such a different environment than I did. It was a beautiful challenge to see where I could take her innocence and not portray is as naïvety, but her exploring her own curiosity as a product of her environment.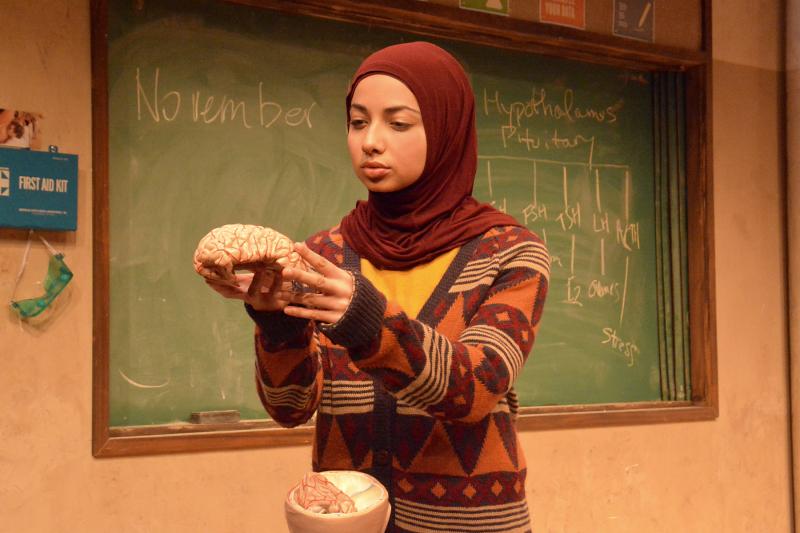 When you started working on this show and found out you would be acting opposite one person, how did the direction facilitate the movement of the show?
We have a wonderfully dense script, and there is a lot of ground it covers. It takes the audience on an emotional and mental journey. It makes you open to so many things that people are afraid to talk about nowadays. Working with Jeff Marlow, who has an amazing theatrical background, we stressed the closeness between our characters. We work in a very intimate theatre. There's no space between the audience and the stage, so our director wanted to take his film background and immerse the audience in the classroom. You almost feel like you shouldn't be in the room listening to the conversations happening, and we wanted to keep those moments very personal. I've never worked on a show where I had to maintain such a strong relationship with another actor.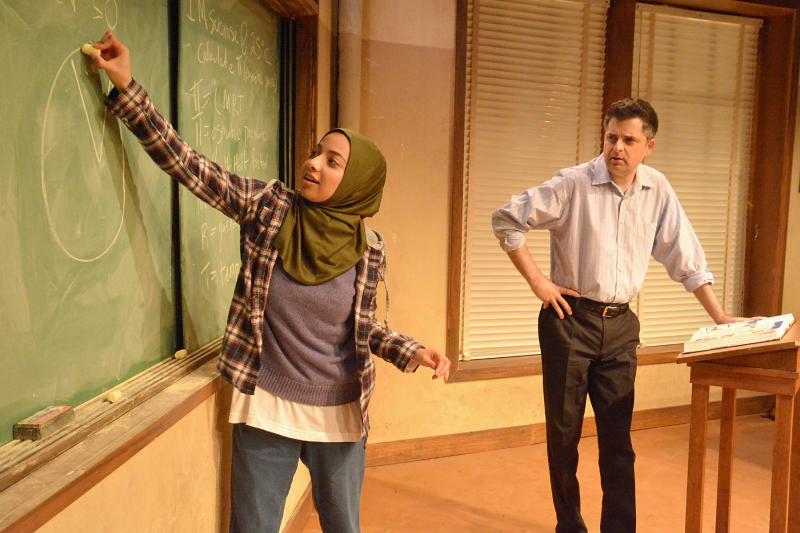 What do you want audiences to experience when they see this show?
I want audiences to walk in with a very open mind. Walking out, I want audiences to be inspired to make a change. I want them to have the courage to talk about the hard topics we discuss in the show. There's a lot of hatred and bigotry in the media we see today towards Muslim culture. I hope audience members gain respect for the different religions we talk about in the show, and I hope we bring awareness to the Yemeni culture that is not really represented in the media or the entertainment industry. Being Persian, people think because I'm Middle Eastern that I know all about Arabic culture... and I didn't. Getting to research that, and seeing how being a Yemeni girl in American society has it's challenges but can also be a beautiful story to learn from was incredible to learn from as a performer, and I hope audiences can learn from that, too.
What is something you learned from this show that you want to see more of in the entertainment industry?
I hope that people in entertainment see the value in a strong, female lead. It's not about a woman being athletically strong, or having a woman raise her voice... there's already so much strength in the journey girls experience when they grow as women in this society. We face so many challenges everyday, and there's so much power in that alone. We shouldn't be ashamed of where we come from, and we need to celebrate womanhood in all cultures. Going forward, I'm excited to see different scripts that celebrate women and don't try to change their cultural narratives in order to make them more "comfortable" or "palatable" for audiences. Our playwright was not from Yemen, but she did the right research, and properly articulated the script to surround a Yemeni teenage girl's narrative. There are female stories and cultural details that should continue be celebrated in this industry.
-
Following four weeks of sold-out performances at the Westside's Odyssey Theatre, the acclaimed production of Paradise, Laura Maria Censabella's moving, funny and thought-provoking drama produced by Viola Davis and Julius Tennon's JuVee Productions and American Oasis, will re-open at the Matrix Theatre for a second four-week run beginning March 8.
Maral Milani and Jeff Marlow star as a gifted Yemeni-American high school senior at a poorly rated school in the South Bronx and her disillusioned biology teacher. The two form an unlikely scientific partnership in the hope of securing her a scholarship - but when conflicts arise over differences in culture, religion and the boundaries of mentorship, their capacity to alter the course of each other's lives becomes greater than either had imagined.

"We signed on to this compelling, complex play because it speaks to the mission of JuVee Productions to highlight women of color and issues that speak to the humanity in all of us," explain Davis and Tennon. JuVee Productions is an artist-driven entertainment company that develops and produces independent film, television, theater, and VR and digital content across all narrative platforms. JuVee Productions seeks to produce sophisticated and character-driven stories with an emphasis on narratives from a diverse range of emerging and established voices alike.
"This is an important piece of theater that explores many current cultural issues," says Bulluck. "I wanted to direct this play because it deals with women in STEAM and men mentoring women. It is also a fully realized portrait of a young Muslim woman. But what I really want people to know is that this is a beautifully written play and a great night of theater."

STEAM is an educational approach that incorporates the arts into the more-familiar STEM model, which includes science, technology, engineering and mathematics. Paradise was commissioned by Ensemble Studio Theatre and the Alfred P. Sloan Foundation, dedicated to developing new works about science and technology, and was a runner-up for the 2016 Saroyan/Paul Playwriting Prize for Human Rights.
Censabella was an artist-in-residence in the New York City schools for nine years, including in poverty-stricken Hunts Point where the play is set. During the writing process, she conducted numerous interviews with young women from diverse cultures and spent two years researching the play's science, then had the play vetted by scientists at Columbia, MIT and the Alfred P. Sloan Foundation for accuracy. "I'm fascinated that there's real science behind romantic love," she says. "Who doesn't want to try to find the biological reason behind who we love and why we fall for them?"
The award-winning creative team for Paradise includes scenic and lighting designer Jeff Rowlings, sound designer Jon Gottlieb, costume designer Mylette Nora and casting director Michael Donovan, CSA. Also on board are scientific advisor Colin Cox, cultural advisor Roxi-Rabab Muthana and associate producer Nawal Bengholam. The production stage manager is Jenine MacDonald and Racquel Lehrman, Theatre Planners is general manager. Paradise is executive produced by Viola Davis, Julius Tennon and John Cappetta; and presented by JuVee Productions and American Oasis.
Performances of Paradise take place Fridays and Saturdays at 8 p.m. and Sundays at 2
p.m., March 8 through March 31 (dark March 10). There will be one additional performance on Thursday, March 28 at 8 p.m. All tickets are $35. The Matrix Theatre is located at 7657 Melrose Ave. Los Angeles, CA 90046. For reservations and information, call (323) 960-7724 or go to www.OnStage411.com/Paradise. Visit us on facebook: facebook.com/Paradise-the-Play, or follow us on twitter: @paradisetheplay and instagram: @paradisetheplay.