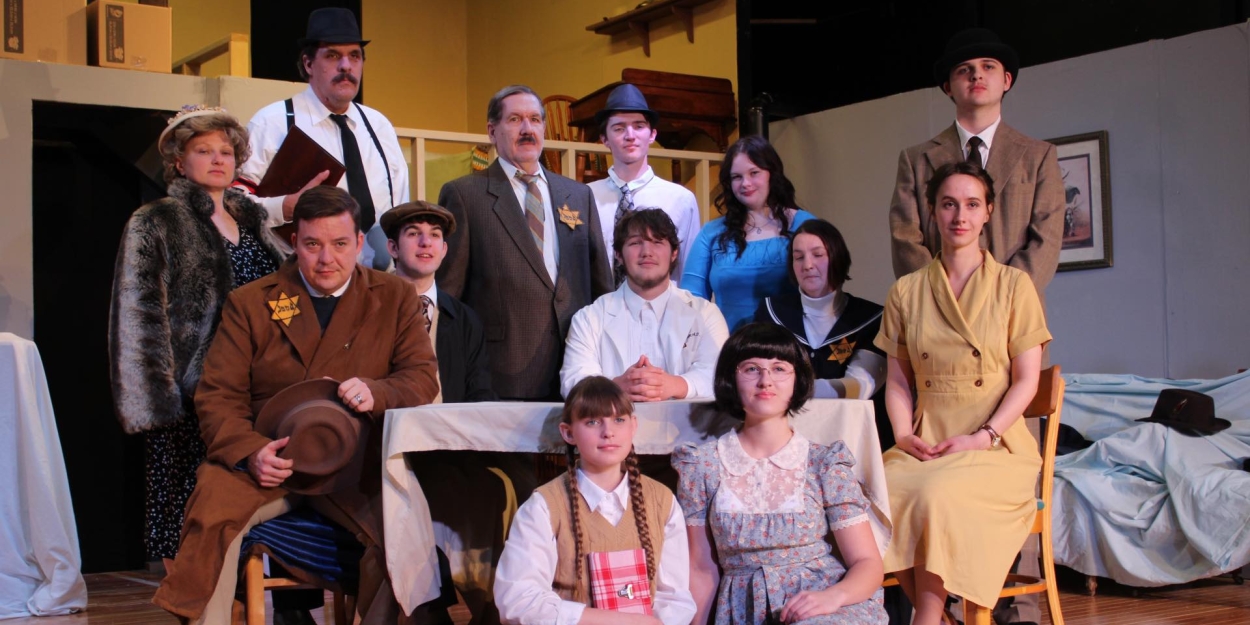 Review: THE DIARY OF ANNE FRANK at Twin Lakes Playhouse
All remaining performances are sold out.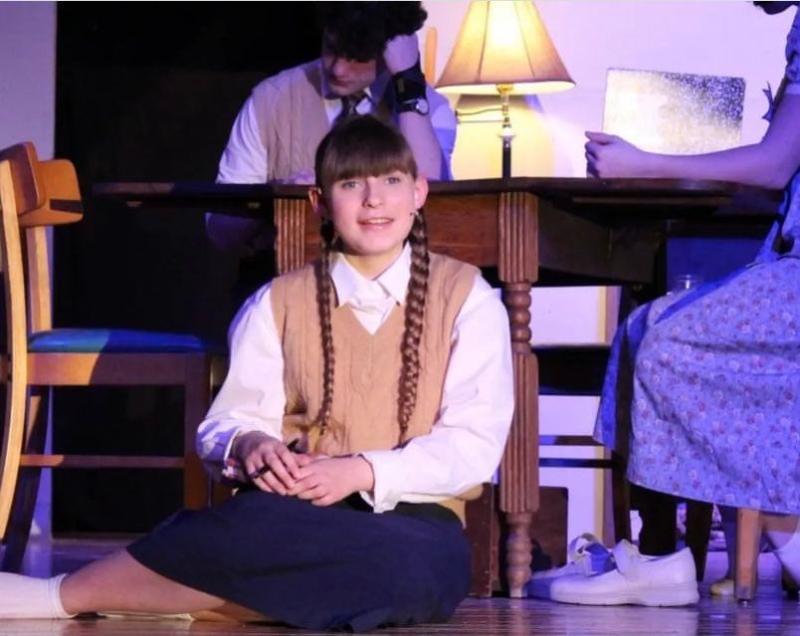 I am always excited about checking out a theater that is new to me. I have wanted to make the trek to visit the Twin Lakes Playhouse, 600 West Sixth Street, in Mountain Home, and when I saw that they were performing THE DIARY OF ANNE FRANK, I knew now was the time to go, and I am so happy I did. This group of Thespians are so respectful of the material, it conjures feelings in the audience of both warmth and dread. I would love to tell you to buy tickets to see this masterpiece brought to life, but they are all sold out of the performances for their last weekend, January 27-29. So, for the lucky ones who bought tickets early, you are going to love it-and probably shed a few tears.
Walking into the theater, memories of my 8th grade literacy class came flooding back to me as visuals of THE DIARY OF ANNE FRANK were adorned in the lobby of the theatre. A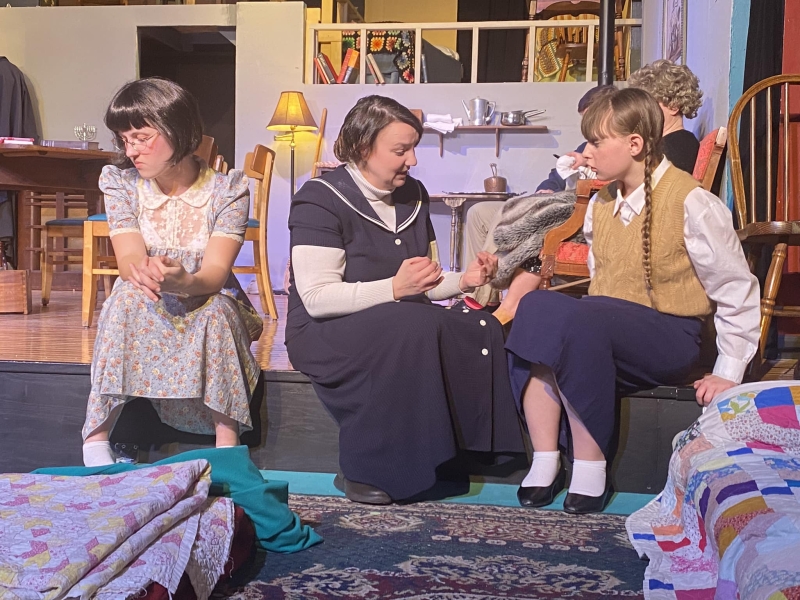 fabulous display of Anne Frank, along with the other characters and the actors that portray them, welcomed theater patrons and help set the tone of what was to come. The front of house staff members are lovely and very helpful, and the smell of fresh popped popcorn will lure you to the concession counter. The auditorium isn't huge, but then I do prefer the intimate settings, anyway. The seats are cushy and my seatmate Deana, who I just met, was very friendly. She mentioned that instead of the arrests, she hoped that they would just fade to black. I told her that you never know how brave a theatre will be, and after viewing this production, I can tell you that these storytellers are delicate, yet truthful.
With Book by Albert Hackett and Frances Goodrich, this play is intense! In order to avoid going to a concentration camp, The Frank family- Otto (Mike Johnson), Edith (Kelsey Ledford), Margot (Charis Green), and teenage Anne (Elizabeth "Lizzy" Smith), go into hiding. They are joined by The VanDaans- Peter (McKoy Dobbs), Herman (Mike Horberg) and Petronella (Angie Leach), and then by Mr. Dussell (Noah Merry), everyone's favorite dentist. Protecting and caring for them all are Miep Gies (Olivia Wolfe) and Mr. Kraller (Trey Wentworth). Though life seems bleak, Anne still looks at the world with wonder. With an abundance of teenage energy, she is expressive with her emotions and lives out her life on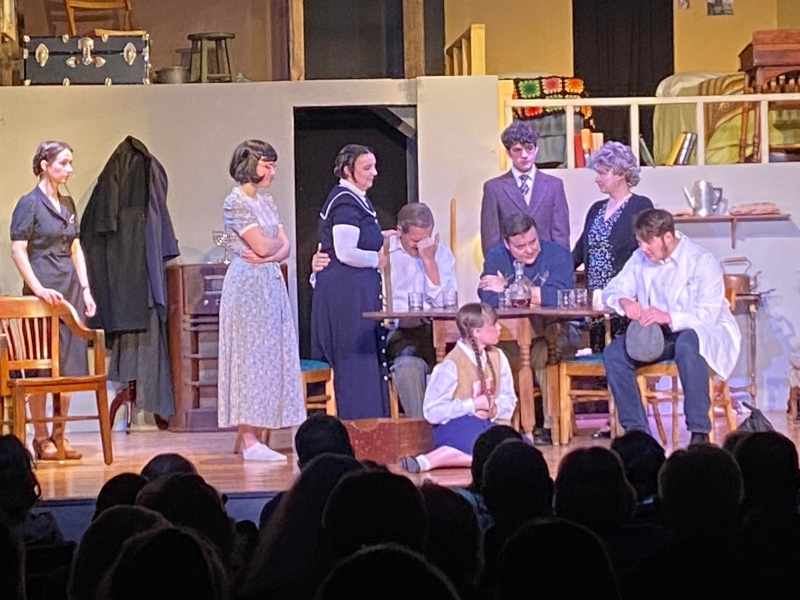 her own terms, and chronicles her thoughts in her diary. She talks about her relationship with her mother, her relationship with Peter, daily living, and the hope of being set free to see her friends. Though they rejoice for the invasion that is to end World War II, it doesn't come soon enough, and they are arrested by Nazi Officer (Hannah Ehlinger), Second Man (Tanner Bohrtz), and Third Man (Craig Perry).
Before I start tearing up again, I want to tell you about this incredible cast. Directed by first timer Cindy Young, this unit worked well together. Their subtle reactions and the way they played off each other was telling of a good Director. Lizzy Smith as Anne was amazing! She was articulate, full of emotion, and even transitioned well from being an erratic 13-year-old to a more mature 14-year-old. Smith took charge of the stage and her interpretation of her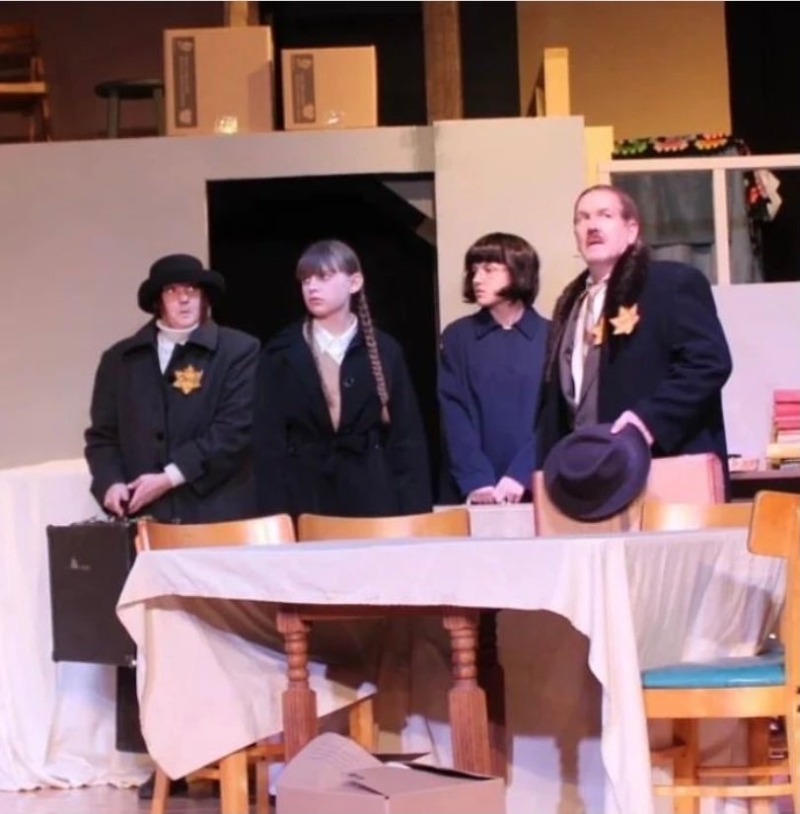 character made her worthy of being the leading lady. Her chemistry with Dobbs as Peter was noticeable. They played well off of each other, and they were believable with their budding relationship. Watching the reactions of Ledford's Edith as she disapproves of Leach's Petronella flirting with her husband was fun to watch. Green's Margot really embraced her depressive state, and my new friend Deana wanted to mention that Noah Merry had great timing with his deliveries and interactions. The whole cast made the shift successfully from being able to tolerate each other, to driving each other crazy by the end of the play. It is obvious why this playhouse sold out.
Broadway World would like to give a big 'thank you' to Ila Smith for the use of these wonderful pictures. To find out what this fabulous theater is doing next, visit their website at https://cloud.broadwayworld.com/rec/ticketclick.cfm?fromlink=2220722®id=105&articlelink=http%3A%2F%2Ftwinlakesplayhouse.org?utm_source=BWW2022&utm_medium=referral&utm_campaign=article&utm_content=bottombuybutton1.